Humans are very good at detecting position within 3D space, that is precisely what Google's Project Tango, Intel's Real Sense and others entering the space are looking to achieve.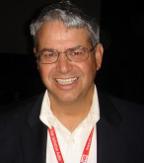 2nd Gen Tango Device Shown in Korea SKT Event, Source: GoogleThe companies are using positional or "motion tracking" of mapped 3D space to give the sense of proximity or "computer vision" to any enabled device. This is primarily done by tracking motion and mapping 3D space in real time, and perhaps this more than any other application, it the application that may renew interest in the beleaguered 3D technology.
Google's Johnny Lee, in his recent mobile 3D tracking talk at the Google I/O 2015 said: "Computer Vision and 3D Tracking was going to be an essential part of new mobile experiences, from indoor navigation, to VR, AR and potentially robotics." Google I/O 2015 is a 2-day Developer Conference and was held in late May – Google showed its latest "Cardboard" VR Viewer. Then just one month later, in June, South Korea Telecom (SKT) and Google announced a partnership demonstrating virtual content displayed from 2D camera feed and the Tango platform's unique 3D Space recognition technology.
Part of the solution offered by Google comes from a new Movidius technology called the Myriad 1, (and now gen II Myriad 2) a proprietary visual processing chip that seeks to gain "intelligence extraction out of any scene," according to CEO Remi El-Ouazzane. His company created a computer vision processor chip that goes beyond depth perception and into the realm of object and context to create space recognition in the form of a 3D map. Other hardware used in Tango includes motion sensing and 2D plus 3D depth sensors.
Meanwhile, along with Project Tango, Google has also been seeding its "Cardboard" low cost VR device, an enterprise, born out of Google's "20 percent" side project initiative that encourages independent brainstorming by its employees. This reminds me of the 3M Post-it-Note legend and the 15 per-cent outside effort that 3M sanctioned for its employees. That eventually created a multi-billion dollar industry for 3M. Now some four decades later, Google hopes the same kind of breakthrough may be duplicated with a DIY cardboard cut out template, rubber bands and magnets all used to create a cheap virtual reality viewer out of an ordinary smartphone. Of course, this is along with some sophisticated visual capture technology and a software engine.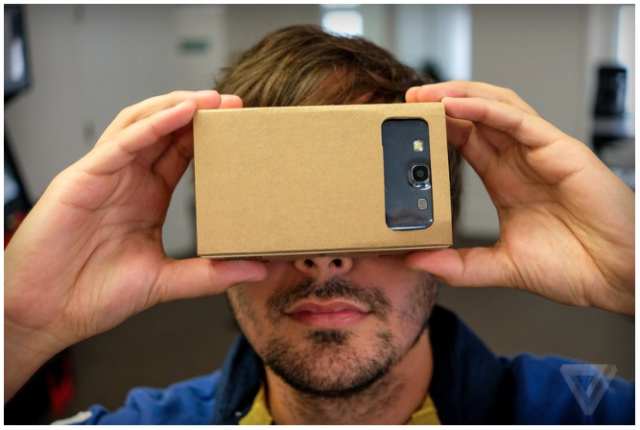 Low cost cardboard vr viewer developed by Google's Tango TeamThe Korean government agency IITP (Information & Communications Technology Promotion) reckons the size of the AR market will boom, from $500M in 2016 to $120B by the end of the decade, as reported in a June 9th. BusinessKorea.co.kr story. The group sees AR applications that include education, remote medical diagnosis, broadcasting, architectural design, and manufacturing process control. They also track recent developments in the space including Apple's acquisition of Metaio (May 2015) Facebook's acquisition of UK-based Surreal Vision (to join Oculus Research).
Suffice it to say, everyone's favorite 'whipping boy' technology, 3D, is emerging, yet again, but this time in streamlined visual processing form and targeting the hot new AR and VR space, delivering human scale understanding of space and motion. And it is here that 3D may have finally found its true purpose as a technology mainstay.
As the world continues to change, building upon itself, creating, re creating, and tearing down all at the same time, we see this messy process as nothing less than life itself expressing all the fantastic possibilities that bring diversity and (OK, I'll say it, joy) to our lives. People way smarter than I continue to pursue their passion for making things better, simply because we can. Case in point, who would have thought a card board cut out, magnets and rubber bands would help usher in an augmented reality experience with the potential to take school children on "Google Expeditions"? What a wonderful world… Oh Yeah! – Steve Sechrist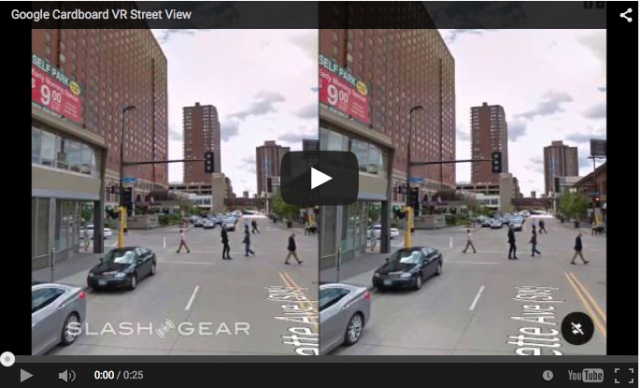 YouTube screen shot of Cardboard VR Street View, Source Slashgear.com