We've reported on Absen a lot, already this year, from ISE, ProLight & Sound and NAB, so there was not a lot that was new, although several products were new to the US market. A focus was a 1.2mm LED control room presentation.
However, the company has been promoting the idea of promoting its CoB technology. However, at Infocomm, the company eased back on that, quoting significant 'supplier issues' to go on top of the technical challenges that all CoB developers have been having. (We heard at Infocomm that suppliers are asking for cash with order, despite long lead times, so going for CoB demands a lot of working capital). Absen is currently treating CoB as a special order category.
Absen had a tall structure based on its M2.9 series rental and staging products. Image:Meko
ColorLight, which makes controllers for LED displays and we last reported from in Frankfurt (ColorLight Supports HLG as Well as PQ), was showing its X16 controller which can support 4K and also can support HDR10. The company also showed its Z6-Max which is a modular style product for rental and staging applications and has been specifically designed to minimise latency to provide optimal support for this application. The use of different HDMI and DVI input modules means flexibility.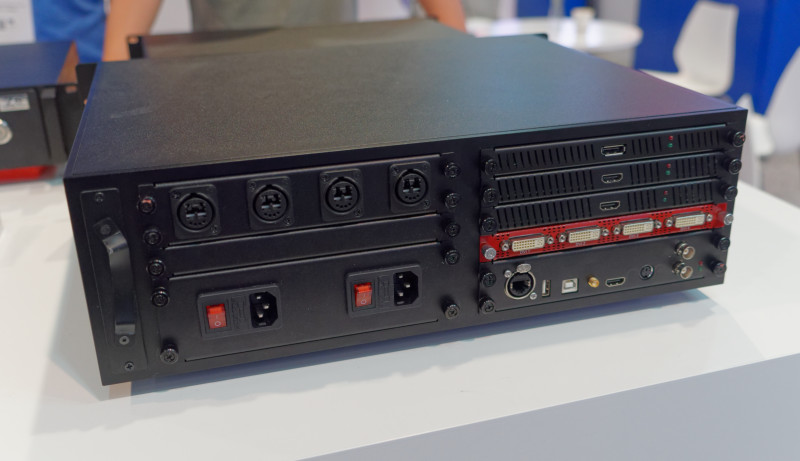 The Z6-Max from ColorLight is based on a proprietary module architecture. Image:Meko
Chris reported on DeepSky at NAB just a couple of months ago, so there haven't been a lot of developments in its CoB LEDs. (LED Screens at NAB) At Infocomm, the company had the 0.9mm 'older' delta configuration LEDs and a more recent 'Altair' design with 1.68mm pitch. Both systems share the same mechanical design. The Alitair LEDs can get up to 2,800 cd/m2 (with a target of 3,000) and the content was being shown with 10 bit encoding at 60fps (4:2:2 sub-sampling) to give very good HDR performance. As well as PWM, the company told us that it uses four bits to control the current in the LEDs to give a kind of 'local dimming' to improve the low grey level. Deepsky has developed its own driving circuits to enable this Altair products can also be used outdoors.
The Altair product will start to ship later in 2018.
Infiled introduced its Air Carbon rental and staging product at ProLight & Sound and had promised to send Matt information about its DB series after ISE, but didn't. However, we caught up on the product at Infocomm. The LED display is based on black LEDs with a black matrix in 1.9mm, 2.6mm and 2.8mm pitch. The cabinets have '3 step' curving at +5 deg, 0 deg or -5 deg. Features include 'fast lock' and magnetic module mounting. The cabinets have integrated data and power, so cables are not needed, although cables can be used if preferred. Weight on the 500 x 500 cabinets is 8.8kg and there is special side protection to make the modules less prone to damage.
There are bottom 'feet' for protection of cabinets when not assembled.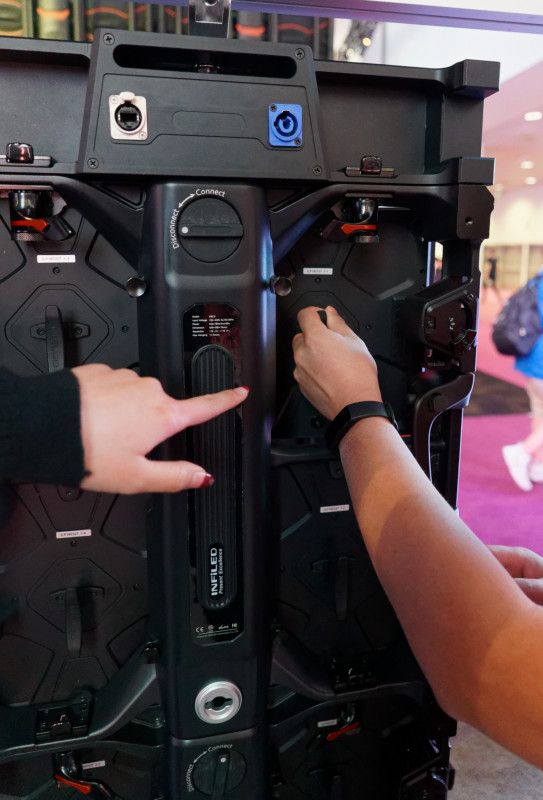 Staff showed us how easy the Infiled cabinets are to connect. Image:Meko
Liantronics was showing its 0.8mm pitch LED which it believes is the realistic limit for SMD devices. It is looking at miniLED but has concerns about the practicality of repair and also about the uniformity of such displays.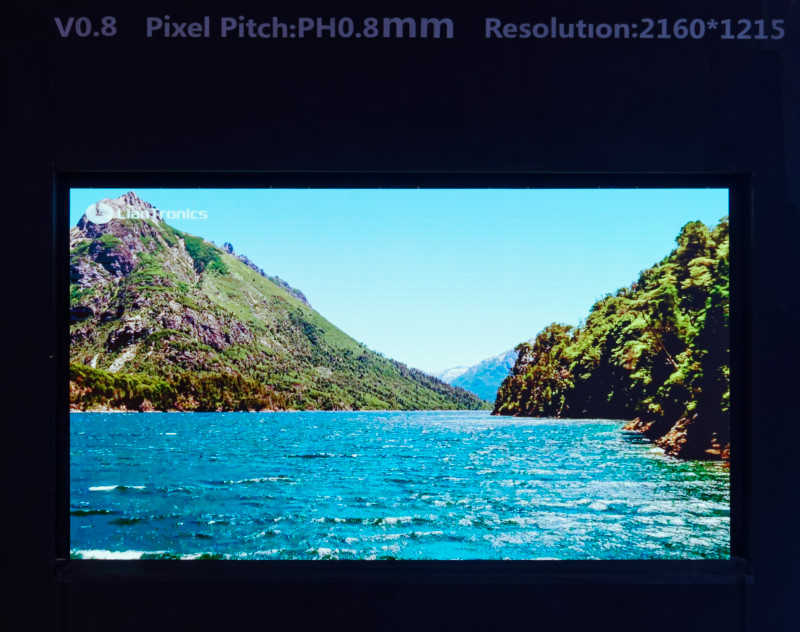 Liantronics has SMD-based LEDs down to 0.8mm pitch, which it thinks is the limit for SMD. Image:Meko
Lighthouse, which is the supplier to Panasonic of LEDs installed as systems by that company, highlighted to us the Dynamic LED products which are designed to be monolithic displays and which were shown in 89″ and 118″ as it showed at ISE. They have 2.5mm pitch.
Macroblock, which is the largest supplier of driver chips for LED displays, showed miniLEDs again, as it had at ISE. The display has 0.75mm pitch, and used 125 x 225 um 'flip chip' LEDs in a 400 x 400 array in a 300mm square cabinet. Grey scale is 16 bits and refresh rate is 3840Hz, using the MB15539 driver chip. The display is said to have better viewing angles than other LEDs as well as a boosted colour gamut. Since ISE, the company said that it has improved the manufacturing yield rate and is ready to come to market with mass production.
The company confirmed to us that it is working with PlayNitride on microLED transfer technology.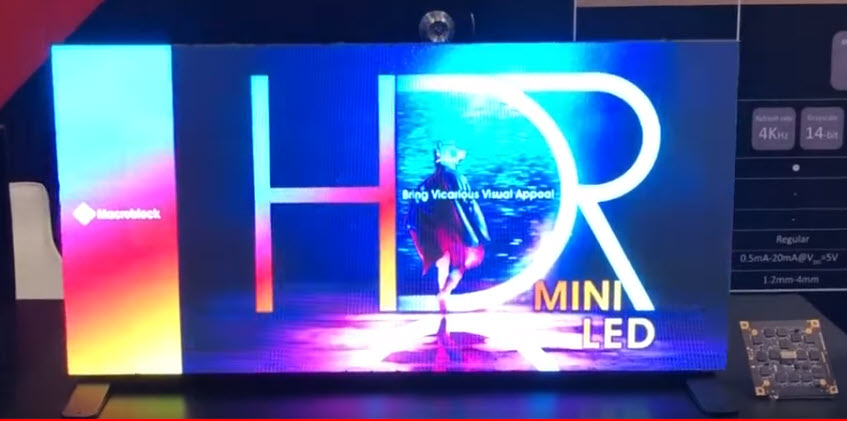 Macroblock's miniLED display is said to be ready for mass production.
Macroblock sees flip-chip as a better solution than 'traditional' CoB technology because it uses direct bonding rather than wire bonding, as well as allowing smaller LED devices and providing higher efficiency.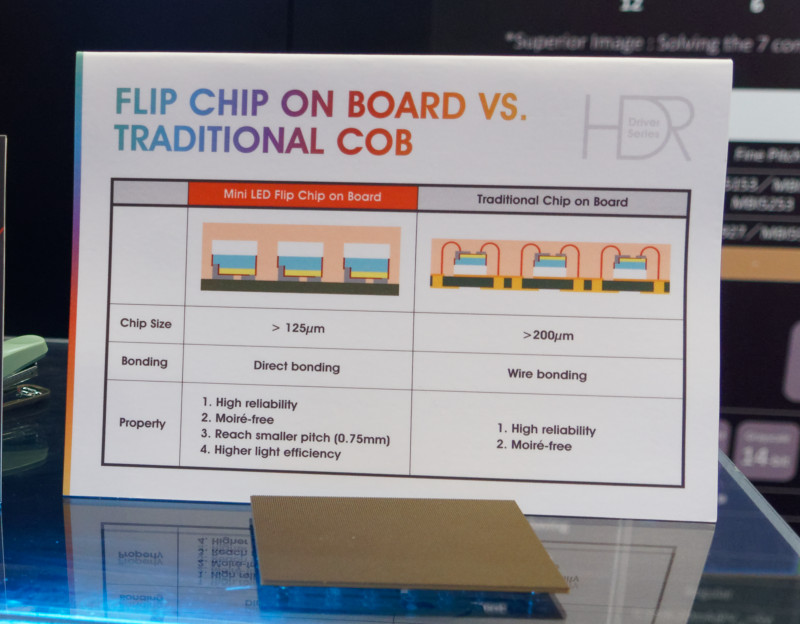 Macroblock thinks that Flip Chip is better than CoB. Image:Meko
Mitsubishi was showing the cubes and flat panels that it had previously shown at ISE. The main development was in small pitch LED which is being developed from the 1.5mm unit that started to ship in 2017 to 1.25mm pitch. The new version will ship at the end of 2018.
Unilumin had a number of LED products on display for fixed installation as its ROE company covers rental and staging. Chris reported on Unilumin a couple of months ago from NAB and there was not a lot that was new as the highlights were the touch screen shown then and the Unano P1.8mm cabinets. The firm also had the UTP-V totems that we have seen before. However, the company told us that it has bought the company that makes the totems and which, apparently, makes pretty well all the LED totems that are currently on the market.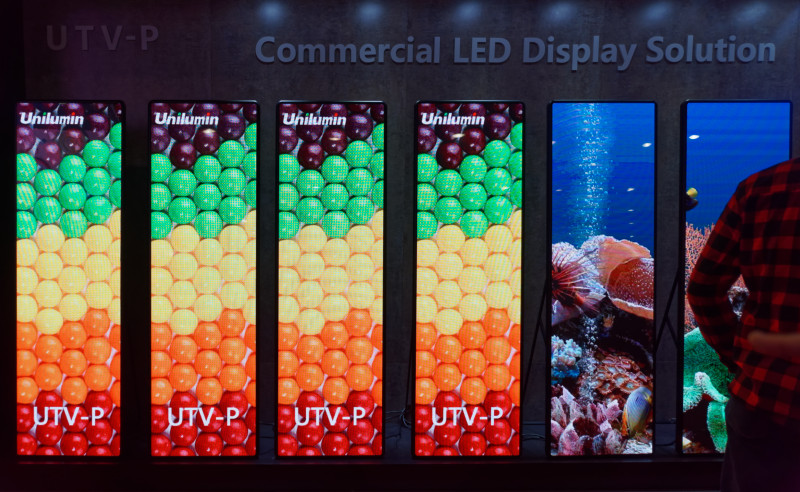 Unilumin bought the company that developed these totems, which are being supplied to other companies. Image:Meko