According to the most recent data from Canalys, the second quarter of 2023 witnessed a significant decline in PC shipments in India, with a 15% year-on-year (YoY) drop, resulting in 3.9 million units. The decline was across all categories: notebooks fell by 12% (2.3 million units), desktops had a 17% decline (764,000 units), and tablet shipments suffered the most with a 22% drop (873,000 units). On the bright side, the PC market (excluding tablets) observed a 2% sequential growth.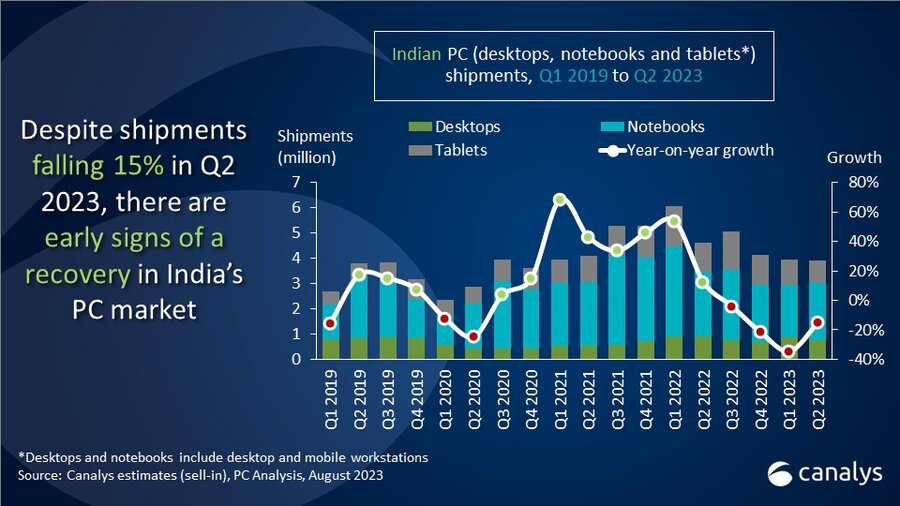 Education, a vital segment for the country's PC industry, experienced a 23% decline, attributed mainly to postponed tablet deployments. However, Indian government initiatives in states such as Gujarat, Tamil Nadu, and Madhya Pradesh are making progress in distributing notebooks to students. The commercial sector, despite an improved economic outlook, saw a considerable decline, with small and medium-sized businesses (SMBs) as the primary drivers. The public sector underwent a 9% reduction, but upcoming deals provide hope for growth by the end of the year. The consumer market, on the other hand, despite a 13% YoY decline, had 7% sequential growth, suggesting positive recovery signs as India's festive season nears.
A 9% drop in PC shipments (including tablets) for 2023 is predicted, but 2024 and 2025 are expected to witness 15% YoY growth across all segments and categories. However, challenges exist. The Indian government's recent decision to impose import restrictions on desktops, notebooks, and tablets might cause market disruption. The impact will be mostly felt by foreign vendors that do not have a local manufacturing base. These restrictions, which are set to begin in November, could cause vendors to push inventory aggressively in both the consumer and commercial sectors. With an anticipated device scarcity, rapid deal closures are expected. In response, the Indian government is fast-tracking the import licensing process to prevent potential price surges.
| Vendor | Q2'23 Shipments | Q2'23 Market Share | Q2'22 Shipments | Q2'22 Market Share | Annual Growth |
| --- | --- | --- | --- | --- | --- |
| HP | 987 | 25.3% | 1,152 | 25.0% | -14.4% |
| Lenovo | 643 | 16.5% | 973 | 21.1% | -33.9% |
| Dell | 409 | 10.5% | 529 | 11.5% | -22.6% |
| Acer | 393 | 10.1% | 518 | 11.3% | -24.1% |
| Apple | 319 | 8.2% | 168 | 3.7% | 89.5% |
| Others | 1,146 | 29.4% | 1,262 | 27.4% | -9.2% |
| Total | 3,896 | 100.0% | 4,601 | 100.0% | -15.3% |
Indian PC (including tablets) shipments (market share and annual growth). (Source: Canalys)