Aiptek, the specialist maker of pico-projectors was showing its Boombox P800 which we reported on in detail in June (Aiptek Shows Pico and Micro Projectors at CE Week). The Boombox is now going on sale for £899 in the UK for the 16GB version, £999 for the 64GB. The iBeam stackable projector that we saw in June is now in mass production and the company told us that an audio box add-on would be available 'later' and the company is developing a video conference option.
BenQ was at the show on a distributor booth and was showing the GS1 pico projector, a 300 lumen DLP unit with 720P resolution. It was also showing a new 31.5″ curved FullHD monitor, the EX3200R, based on a 300 cd/m² VA panel with 4ms GtG response time and 144Hz refresh. The product is expected to start shipping in for Christmas.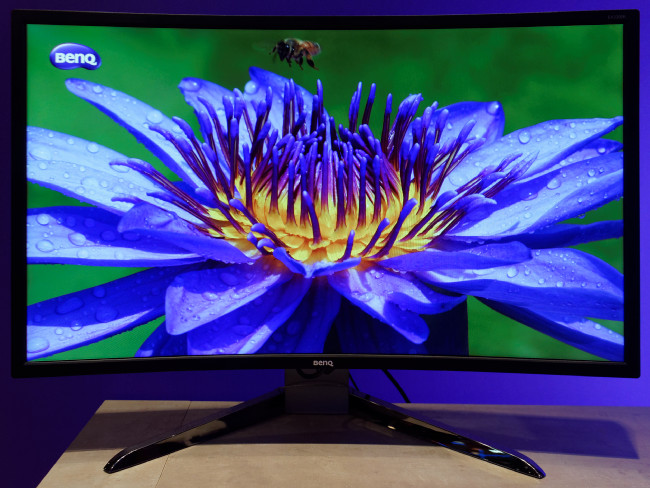 The Deutsche TV Platform was in the 11.1 hall (Tecwatch) and we spotted Stefan Heimbacher of Sky Deutschland doing his duty supporting the organisation over the weekend. In discussion, he mentioned a frustration in the move to HLG for HDR in Europe because the HDMI group, which has a lot of voting members, has not developed a flag for signalling to the display that data is in HLG format. HDMI added a flag for the PQ curve with HDMI 2.0a and Heimbacher would like to see the same for HLG. At the moment, there is no problem to get HLG from the camera, through broadcast and to a receiver, but it's not simple to get it onto a display!
Fraunhofer Fokus, based in Berlin, was in the Tecwatch hall and was showing its work on synchronising broadcast and OTT content using HbbTV and its HbbTV Application Toolkit. The group was also demonstrating how its HbbTV 2.0 Media Synchronisation framework and the Fokus 360º Video Cloud solution could be used so that a viewport of a 3D environment could be rendered in the cloud and streamed to a viewer with content then being synchronised. The group can support the server, a 360º player, the 360º Video Control App and a 360º mobile App.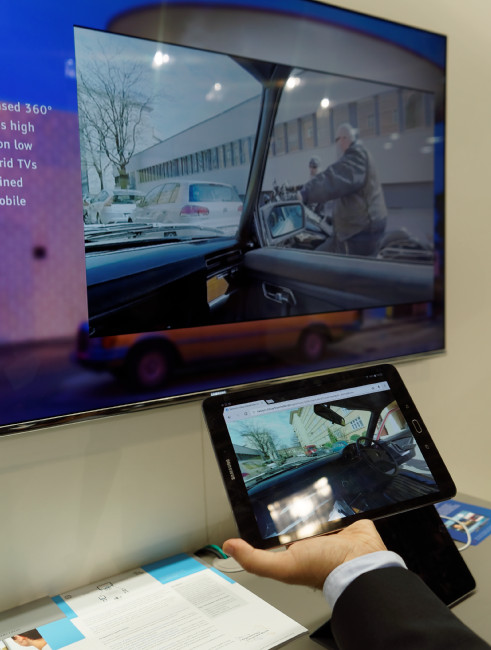 Fraunhofer showed 360 Video with HbbTV. Image:Meko
Garmin was at the show with its latest sports devices. We were surprised to see that the AR add-on that the company has developed for cyclists was not on display.
Gypi sprl was showing two new 'LCD writing tablets' which we found were based on the Kent Displays cholesteric technology. Gypi is the importer for the EU had had an 8.5″ unit that could sell at €15 to €20 and a 12″ that could sell at €25 – €29.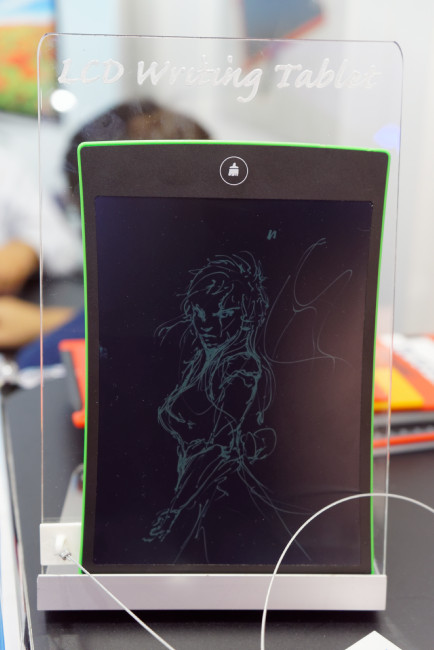 Gypi Writing board – Image:Meko
HKC, described recently as a 'rising star' in the OEM TV manufacturing area by IHS, with a business plan of 5.5 million TV sets for 2016, had its usual booth at the event to talk to brand owners as the company is not emphasising its own brand as much as in the past, although it does still sell in Europe using the brand. Around 90% of the firm's TV business worldwide is through OEMs. The company told us that it did not have anything new in the TV side, but was showing new curved monitors, a 27″ FullHD unit and a 34″ 21:9 3440 x 1440 model, that it hopes to sell through OEMs.
We reported on Infinitton in our CeBIT report (CeBIT Round Up) and at IFA the company was showing its latest keyboard, the iDisplay, which uses an LCD underneath the transparent keyswitches. This means that the graphics on each key in the 5 x 3 matrix can be changed. The company's software allows the images to be changed automatically according to the application that is running.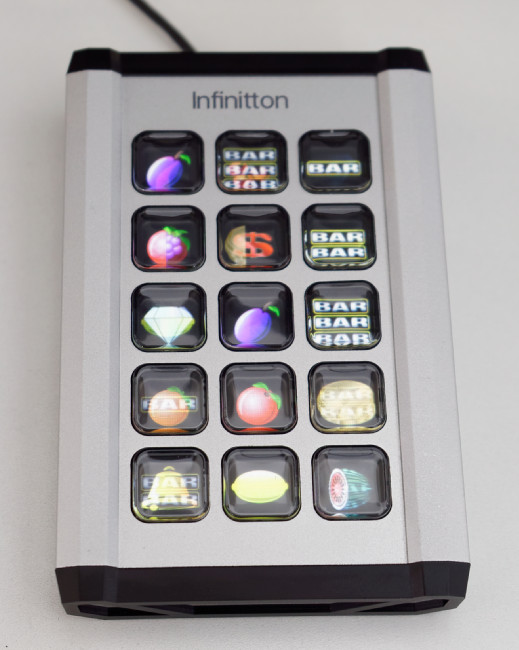 Infinitton iDisplay Image:Meko
PanzerGlass is a Danish company that makes protective screens for phones and tablets and had an impressive demo using a hammer to batter a phone fitted with its protection.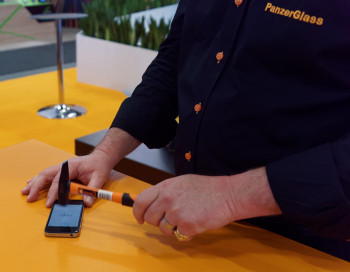 PanzerGlass's Demo was impressive. Image:Meko
Picopix is the sub-brand of Philips for pico projectors and is licensed to Sagemcom. There were two new models at the show. The PPX4935 has 350 lumens of output with 720P resolution with images up to 150″ supported. There is a Bluetooth radio to support wireless audio and WiFi for screen mirroring. There is an HDMI interface for physical connections and both MicroSD card and USB inputs for media playback. The weight is 12.38 oz (351 gms) and the internal battery supports two hours of playback. Pricing is €579.
Philips Picopix PPX4935. Image:Meko
The PPX3417 is a second and lower cost unit at €399. It is intended for wireless use and produces 170 lumens. There is a Wi-Fi dongle although the projector has HDMI/MHL and VGA interfaces. Battery life is 2 hours and weight is 9.52oz (270g). There is an integrated media player and office viewer than can be driven from the USB or SD card connections.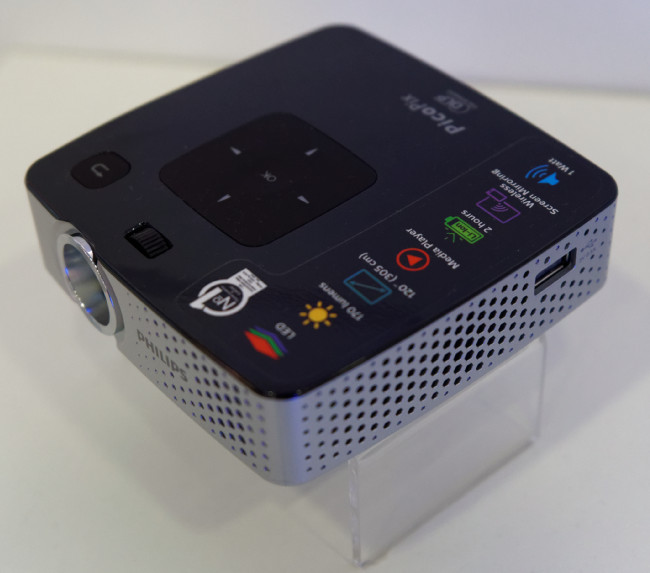 Philips Picopix 3417. Image:Meko
The Polaroid brand has been licensed for TVs and is selling in France, Belgium, Switzerland and Italy (and at low prices – as we went to press, an order on the FNAC website for a 32″ Polaroid TV was priced at €149.99 including tax!). At the show, the company was also showing notebooks that will become available in 2017. They have 11.6″ and 14.1″ displays and the company told us that it has entered the notebook market because of requests from dealers.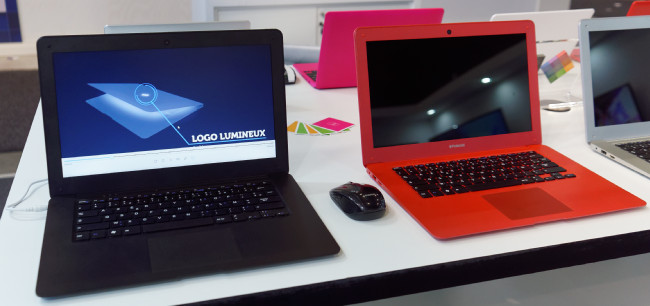 Polaroid's notebooks will ship in 2017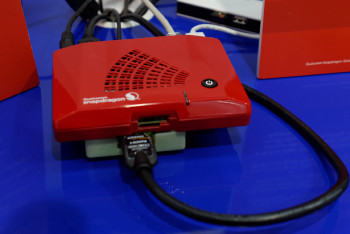 As we have reported before, Qualcomm believes that VR and AR are going to be big (Qualcomm Thinks VR is Going to be a Big Deal) and at IFA the company had a private meeting room to meet potential customers. It was talking about a partnership with Fossil and that the company uses the Snapdragon Wear 2100 processor in its Fossil Q Marshal and Fossil Q Wander smartwatches, the first smartwatches to ship with this chip. It was also showing a reference design for UltraHD media boxes (3840 x 2160 60P) using the SnapDragon 820 and supporting 802.11ac Wi-fi, Bluetooth (Classic and Smart). The design is available now with commercial boxes expected by the end of the year. The company also announced the QCA9379, a connectivity chip supporting Wi-Fi and Bluetooth and capable of streaming UltraHD content using Multi-user MIMO.
In the back room, Qualcomm was showing the SnapDragon VR820 being used in a VR reference design that allows 6 degrees of freedom in motion. The kit was developed with Goertek and the headset includes dual cameras on the front (one for images, one for depth) and dual cameras inside for eye tracking. The integrated Adreno 530 GPU has plenty of power and we were impressed with the smoothness of the graphics, which use the cameras to support foveated rendering. The display is an OLED, apparently with 1440 x 1440 resolution per eye and supporting 70Hz refresh. The system can play back 360º UltraHD HEVC video at 70 fps.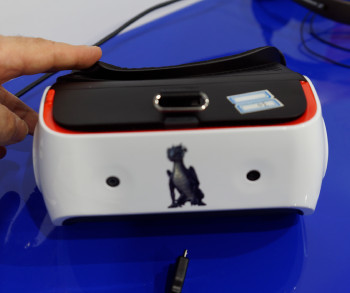 Qualcomm was also showing a reference design for an 'audio assistant', like the Amazon Echo (Alexa). This kind of device is proving popular (and Amazon has just announced its release in the UK) and Qualcomm believes it has the chips for this kind of application.
Rif6 showed us its 50 lumen cube projector at CES and was promoting again at IFA for sale into European markets. (RIF6 Claims 'First' Mobile-Focused Projector. The company told us that it is working on adding Wi-Fi connectivity.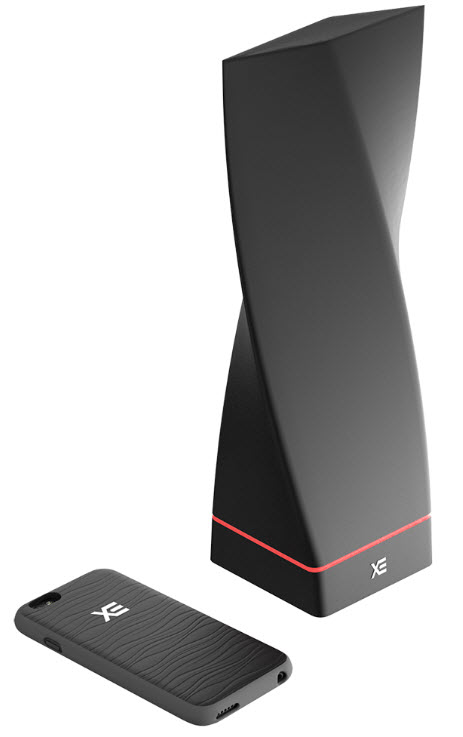 Technovator's wireless charging systemIn the Tecwatch hall of technology innovation, we spoke to TechNovator which has developed a wireless charging system for mobile devices that can operate at up to 5 metres (although the company told us that a more realistic distance with 'sensible efficiency' is 3 metres). The company hopes to have a prototype of a mass production system by the end of the year, with full production arriving in mid-2017. The company told us that the maximum efficiency is around 15% but typically, with 40W in the hub, 2W would be available at the phone. The company is also developing a receiver that clips onto the phone and told us that resonance is the principle. The firm told us that a base station will cost around $250.
THTF or TongFang Global was at the show with a range of its brands including Seiki, which it sells in the US and the UK. It also sells under the Orion brand in Germany. The company is a major player in the Chinese tier 3/4 maker ecosystem of OEMs and ODMs and has plans to make 6.5 million TVs this year according to IHS Markit. As well as these brands, the company controls the Westinghouse brand in the US and Matashi in India.
At the show, the main news was about the company's own Muse Smart TV platform which supports Netflix, Vudu and Youtube etc. and the firm was highlighting HDR and UltraHD. There was an area of the booth devoted to Seiki Pro, a brand being used by THTF to promote B2B products and there was a transparent display among others. It will not come into production as it is based on the discontinued Samsung Display OLED panel.
Zeiss was showing its smartphone-based VROne headset for VR. As you would expect from Zeiss, our notes say that the unit seems to have better optical performance than other headsets. It costs €129 and is available now.