I'm writing this in my hotel room after the first couple of days of press events leading up to IFA. The show floor opens this morning. There have been quite a few press conferences, the main IFA opening press event and 'Showstoppers' – a small multi-vendor event.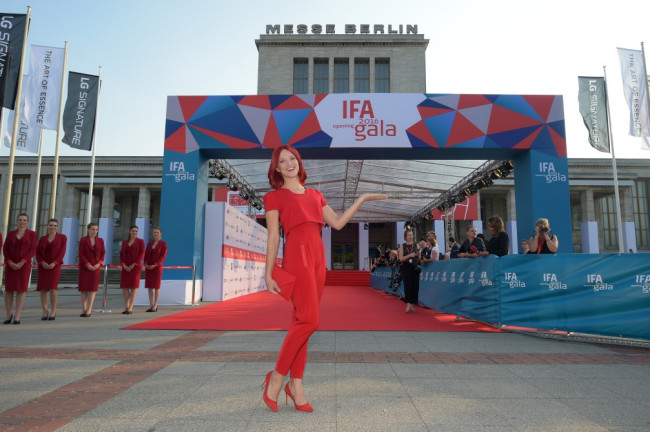 IFA is not IFA without a 'Miss IFA'
So far, I haven't seen a great deal that is very exciting from the point of view of displays. The show started well with Acer having a new monitor with gaze recognition integrated for gaming. Long term readers will know that I have been suggesting that this is a key technology for the desktop, going forward. Acer has put the technology into a gaming monitor, and it worked well, better than the separate gaze system that I have played with. The monitor is 27″, and that's about the limit for reliable operation at the moment, but it worked well in the brief demonstration that I had. I'm meeting with Acer today, so hope to have more on this in our full IFA report. Acer also showed a new VR headset, but I was, frankly, unimpressed with it.
Samsung had a big event in the Tempodrom in Berlin, away from the show, to launch its Gear S3 smartwatch. A few weeks ago, I wrote an article about smartwatches and how they don't really appeal to me. However, Samsung has done a lot of work on the new S3, which really does look pretty good. I was surprised that it was much lighter than it looks (it still looks too thick to me) and it really does have the appearance of a high quality tradtional watch. Battery life is claimed to be 3 or 4 days and it has an 'always on' display. It also accepts standard 22mm straps, so can be easily customised. It's a very different proposition from the first Gear smartwatch and Samsung might do quite well with it. Sadly, the LTE connection is only available in Korea and the US, so that will reduce the functionality in Europe.
Samsung also threw out a challenge to LG's OLED TVs by offering a "10 year No burn in warranty" on its SUHD sets which use quantum dot technology. That will raise the question of image burn with many potential buyers of LG and other OLED TVs. So far, this has not been a huge problem for LG, but Samsung's move is bound to raise the question in buyers' minds. It's an agressive move.
Sony's press conference was notable for not mentioning TV at all. There were new phones and other products, but the TV division just didn't get a mention. There was a demo of the Sony backlight technology on the booth, but CEO Kaz Hirai didn't mention TV once. There has been a view that all the years that his PlayStation group made money only for it to be poured into the ailing TV division meant that he has little empathy with the TV business. The speech might be more evidence of this!
Lenovo showed some nice new products at an event and at Showstoppers (including the OLED notebook, which is now available). My feeling from them and Acer at the show is that the PC vendors are currently among the most innovative as they struggle to excite buyers to upgrade their older PCs.
Finally, the Toshiba/Vestel deal on the front page of Large Display Monitor (for MDM subscribers, Vestel of Turkey, which is a big OEM supplier of TVs in Europe, is licensing the Toshiba brand in Europe and has set up a division to market the sets) is quite a big deal for Vestel. It will help the company develop higher specification sets earlier and should help it win more margin.sams
Bob