Amazon introduced UltraHD HDR content streaming earlier in the year (High Dynamic Range Coming to Amazon Prime Instant Video This Year), but it was only available to customers using Samsung's SUHD TVs. Now, the service has been expanded to HDR-capable sets from Sony and LG. A software update was launched on the first day of IFA.
Archos was showing the 50 Cesium, 50e Helium and Diamond S smartphones that it announced in late August (Archos 'Reveals' Windows 10 Mobile Release).
Asus was not on the show floor and we trecked halfway across Berlin to see its new products, only to find the newly announced gaming monitor was not being shown! The ROG Swift PG348Q is a curved 34″ 3440×1440 IPS gaming display with built-in Nvidia G-Sync. We did get more on the Zenfone Zoom, which has a 3X optical zoom using a 10 element lens from Hoya and a sensor from Panasonic. The display is a 5.5″ FullHD unit. We were impressed with the look of the TOGGX700 which is a gaming notebook with a 17″ UltraHD display. We wouldn't like to carry it, though. We were also impressed with the Zenbook Pro we looked at which has a good quality UHD LCD that features IPS and gives a good look. There was no sign of the beautiful QD display shown by 3M at SID.
AUO had a meeting room and we used it to meet with them. However, the firm did not show any new panels – everything having been recently shown at Touch Taiwan. (High Resolutions Rule Touch Taiwan)
Carl Zeiss was showing its VR visor product, which can accept a smartphone (much like the Gear VR).
There was nothing new from Changhong. The company was showing its laser projector TV (a UST projector) and curved OLED TVs, which it has exhibited previously. The only difference was that the OLED sets – which use panels from LG Display – were UltraHD.
Fraunhofer HHI's OmnicamThe Fraunhofer HHI was in the TecWatch area and was showing its Omnivision 360 camera being used with 10 cameras and with "live" streaming of 360 degree video content. One of the keys to being able to do this is to use mirrors to make the edges of the images very close and the overall image seamless. Using cameras in any other configuration makes stitching between the images much harder. There was around a 1-2 second lag from the processing, but the system was supporting multiple live users with VR headsets. With a single viewer, the latency would be much shorter.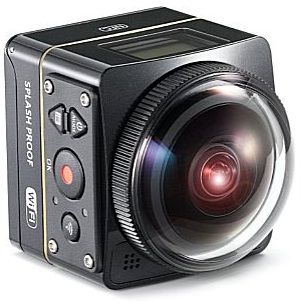 There was also a group from HHI that was talking about its UltraHD scaling technology, which uses temporal filtering and can detect detail that is only visible over a number of frames (typically 10 to 15).
We spoke to Jeff Park of HDMI Licensing about the rollout of HDMI 2.0. There has been little movement in terms of technical advancements in recent months, apart from the release of HDMI2.0a, although Park pointed out that "most" major manufacturers are now using the spec. The group is also 'sticking to its guns' regarding its use of 4:2:0 colour subsampling – which was not allowed in any of HDMI's 1.x versions.

A new Kodak camera was being shown by JK Imaging Europe: a '4k' 360º camera called the Pixpro SP360-4K. An update to the existing SP360, the new model can shoot at 2028 x 2028 at 50fps. It is tipped to be launched in October, with cost expectations ranging from $300 to $500.
LG Display had meeting rooms in the back of the LG booth, but the only demonstration was of two RGBW panels, compared with RGB. One RGBW was set for the same brightness as the RGB, but used less power, while the other had the same power, but more brightness. The brighter panel was apparent. LG believes that if the market wants to, eventually, move to 8K, the technology will have to move to RGBW to maintain efficiency.
Optoma rarely launches new products at IFA. This year, the company was showing its EH320UST projector (Partnership Promotes Mapping at Optoma). We found out that UST technology will be extended to different resolutions, such as 1280 x 720 and 1024 x 768, in the future. The company is also due to release a new projector in October called the HD28DSE (Darbee Special Edition). It will be a home cinema model with 3,000 lumens of brightness, and a new processor. Images will sharper and more colourful than current models, we heard.
There was nothing new in terms of displays at Polaroid, in most of Europe, although the company was showing off some upcoming camera drones. On the other hand, Asda of the UK, a supermarket, has a fifteen year exclusive use of the Polaroid brand in the UK. The company had a small event away from IFA to show a new curved TV. The company has standard (1 Series), smart (3 Series), smart and 3D (5 Series) and curved TVs (6 Series) aimed at the "Asda mum" – as most of those buying in Asda stores are women. The company is proud that it has got 4/5 ratings for its sets from local UK media and wants to create a 5/5 55″ curved set. Pricing is 40″ (£449), 48″ (£549), 55″ (£699) and 55″ UltraHD curved (£1099). Polaroid, which sources from Vestel, was one of the few set brands to mention 3D – the company uses active 3D, although the glasses looked light enough that we initially thought they were passive. The UltraHD curved TV will launch early in 2016.
Razer had no new display products. It had launched a new pair of headphones for mobile use and a new Xbox controller with remappable buttons. The company also relaunched its famous Diamondback mouse – its most popular ever – in the form of the Diamondback Chroma (I still use the original Diamondback as a travel mouse! – TA).
Spin Digital is a developer of codecs and was showing its HEVC implementations which are aimed at high quality 4K and 8K compression for production, supporting 4:4:4 video and 10 bit data in a 75Mbit stream. The company was looking for companies to license its technology which is currently supporting offline processing. Compared to the best of the H.264 codecs, Spin told us that, so far, it has achieved 31.5% reduction in bit rate, so there is still room to get to the hoped for 50% reduction compared to H.264. The next step for the firm is to finalise its real time processing and it is in discussions with two decoder companies. It promised to demonstrate 8K processing at IBC.
There was a new TV from Technisat, for the German market. The Technimedia UHD+ is an UltraHD set, with 3D support and H.264 and HEVC decoding. It features a DVB-T2/C/S2 tuner and will be available in 43″ (€1,510), 49″ (€1,680) and 55″ (€1,930) sizes.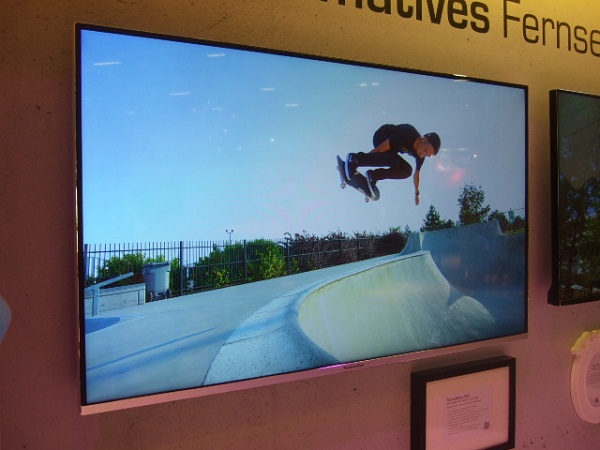 Prices are ex VAT, where applicable.