According to IDC, global shipments of traditional PCs and tablets are expected to decline 3.5% year-on-year in 2018, which is an even steeper decline from the 2.7% in 2017. Looking forward, the category is expected to drop at a five-year CAGR of -1.8%.
Convertible and ultra-slim notebooks, as well as detachable tablets, continue to be bright spots in a challenging market. All three product categories are expected to grow year-on-year throughout the forecast. IDC's Ryan Reith commented:
"Overall, the challenges for traditional PCs and tablets remain the same as in past years. However, we continue to see pockets of opportunity and growth when you peel back the onion. With notebook PCs, it's clear that marketing and development resources are being poured into premium/gaming, convertibles and thin and light devices.

All OEMs, some of which are new to the space, seem to be laser-focused on these areas. Detachable tablets are another area that has seen growth. However, it currently feels like the trends around notebook growth opportunities have overshadowed detachable developments."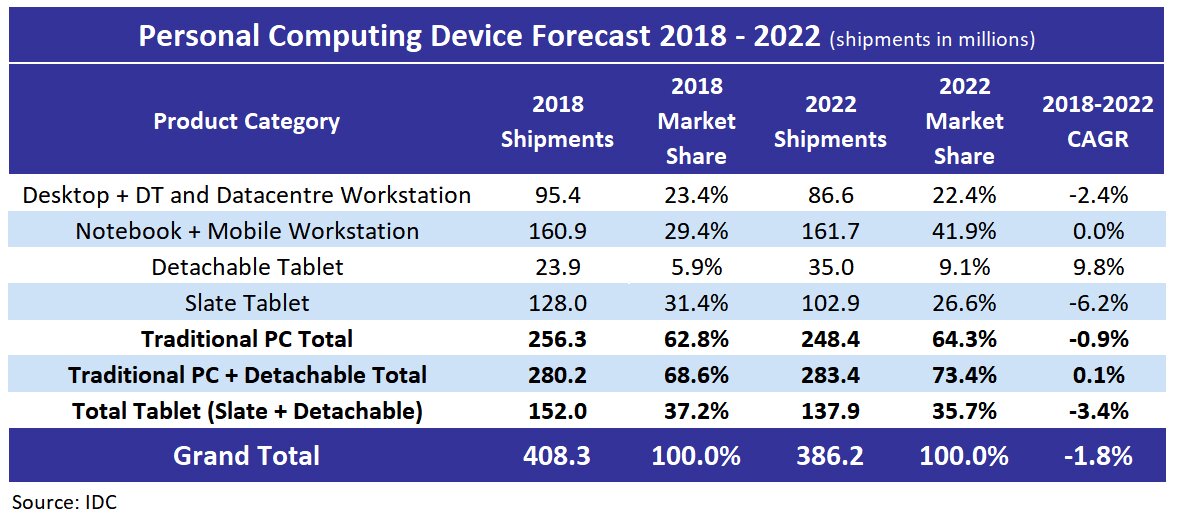 Slate tablets, which peaked as a market segment in 2014 and has been in decline since, is expected to contract over the five-year forecast with a CAGR of -6.2%. The overall decline has improved but the category remains challenged by consumers spending more time on smartphones, as well as having life cycles that are more in line with traditional PCs.
Desktop PCs are also expected to decline at a five-year CAGR of -2.6%. Commercial demand remains stronger than consumer but given the saturation of that market segment, it isn't expected to grow at any point during the forecast.
On the consumer side, gaming has certainly provided some hope for desktops, although many gamers are still doing manual upgrades or moving toward gaming notebooks. Both continue to pose challenges for the segment. IDC's Jitesh Ubrani also said:
"Despite the continuous decline of desktops, it's clear that not all are created alike as the growing demand for gaming PCs is bringing with it plenty of changes to the design and form-factor of desktops, while opening up opportunities for brands.

Consumers are increasingly valuing small and ultra-small form-factor desktops along with smaller components like low-profile graphics cards. Combine that with the progressively diverse base of gamers and it translates to a shift in gaming PCs from the gargantuan, RGB-lit towers of yesteryear to smaller, sleeker and subtler boxes in the future."