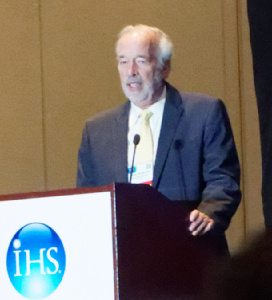 Sidney Rosenblatt is the CFO from UDC (introduced as having a market cap of $3 billion) and we have regularly reported on his talks. He said that he saw a single green pixel OLED at SID in 1996 – it takes a long time to get materials to market. The company has 3,600 patents issued and pending. UDC makes red, green and blue materials and the company's red and green materials are in the Galaxy smartphones and the company has a current agreement with Samsung that is due to be renewed at the end of 2017. The company also has a licence with LG through to 2022, which uses UDC's greenish yellow material. With Samsung, UDC gets a fixed annual royalty, with LG paying depending on the usage. UDC expects the company's material business to grow in line with the development of the OLED area business.
Rosenblatt went through the benefits of OLED and highlighted the claim that the better response time of OLED is critical in VR applications. He also went through the market and advantages of OLED lighting.
UDC continues to innovate in printing technology using vapour jet printing (not ink jet) and the company is working on single barrier encapsulation technology.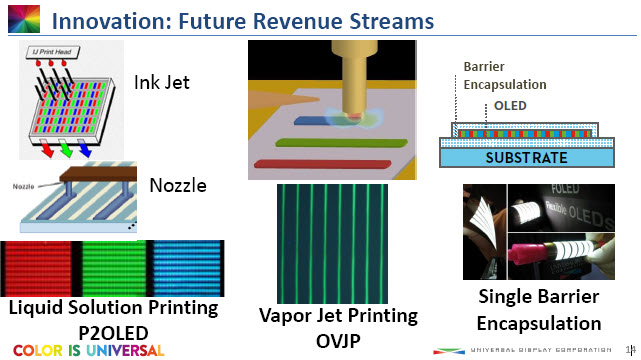 UDC gets around 67% of its revenue from Samsung and 25% from LG and the company expects the capacity of the OLED fabs to increase by 50% by 2017.
Turning to the challenge of developing deep blue, Rosenblatt said that the company has a deep blue material, but at the moment it is not yet ready for commercial shipment. It will not reveal more until it is ready for shipping, he said. (in contrast to Cynora and Kyulux).
Alain Harrus of Kateeva then talked about his company, but we covered them in the Business Conference report. BC15 Kateeva May Enable Printing of OLEDs
In response to a question about solution processing, there was agreement from Cynora, Kyulux and UDC that modified materials would be needed but these are possible, while the priority is to currently deliver materials which can be used with today's factories using vacuum deposition. UDC said that it had worked on printable materials with Epson for five years.