The next speaker was a "late notice" speaker as the planned speaker was not able to make it. The speaker was Dr. Conor Madagan, the co-founder and President of Kateeva, a developer of inkjet-based equipment maker focusing on thin film encapsulation (TFE) and deposition. It is also making formulations for inks and qualifies them (although it doesn't supply the inks). The company is ramping up and has doubled its staff in the last year to 160 and plans to go up to 250 by the end of the year. It has opened offices in Asia and has a headquarters in Newark, California. It has investors including Samsung, BOE and TCL.
The firm is already in mass production for TFE for flexible and rigid OLED production and the equipment is already in use. The encapsulation structure is designed to stop water and oxygen getting to the OLED device and is around 2 micron to 10 microns thick. Before Kateeva developed the inkjet, evaporation was used by companies for the encapsulation process, but it is rarely used these days as inkjet has fewer problems with particles compared to evaporation.
After the inkjet process, the drops of ink merge and spread out and are then cross-linked using UV. It all has to be done inside an enclosed structure, with a nitrogen atmosphere to avoid the OLED material coming into contact with water or oxygen. The glass substrate is floated on a nitrogen bed and is moved using the edges. This minimises mura compared to using a vacuum chuck. Because the material has a low index compared to the high index materials above and below the film, the 'sandwich' creates an optical component, so extreme care has to be taken to keep the film very even to avoid mura.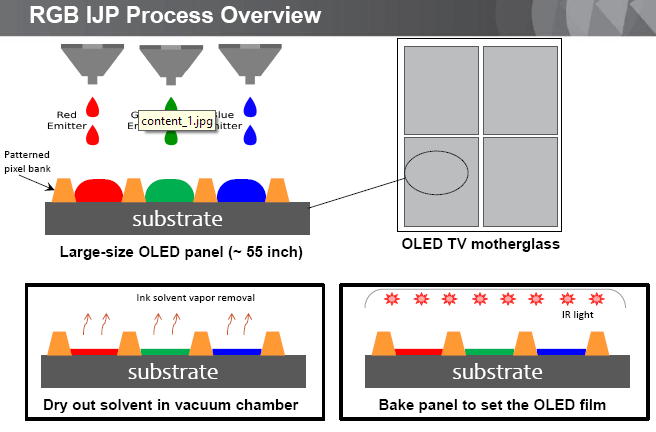 The company is shipping up to "half cut" G6 with G8 coming soon and is the only company currently shipping. Madagan said that his firm still believes that OLED can be cheaper than LCD, and so it is working to deposit RGB material which is deposited, dried and baked. Very long lifetimes remain a challenge for ink-based products, but working under nitrogen helps. The company expects to start installing G8 equipment for OLED deposition in the next two years. Around 95% of the equipment in the deposition system is the same as the TFE
The company has 40 patents with a further 140 patents applied for. The company sees a potential opportunity for panel manufacturing equipment to around $9 billion in 2019.