Alain Harrus of Kateeva talked about its encapsulation technology at the Investor's conference. The firm has competition but claims around 80% market share in encapsulation. The TAM for the market could be $1.6 billion for inkjet (including large displays). As we have reported, the company has recently increased its space and facilities. One of its printers typically weighs 50 tonnes and takes 2000 sq ft (200m²) of floor space.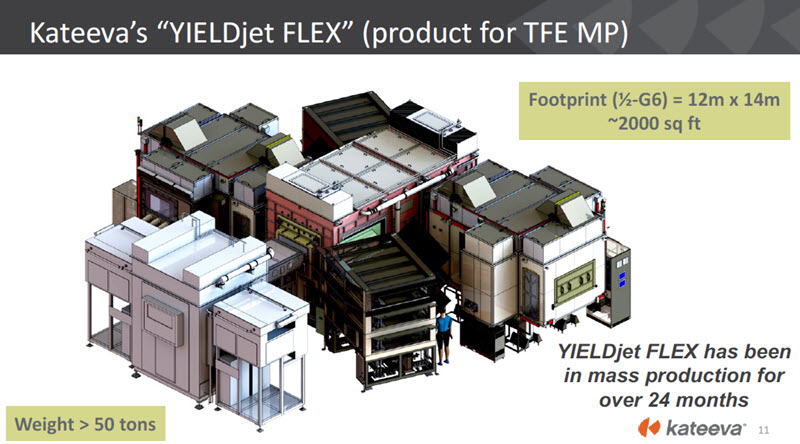 The core printer operates in a nitrogen atmosphere. The company has a lot of ip around its application and has a special technique to hold the glass, which is only touched at the edge. The system is 'very performant' in its control of particles, Harrus said.
Inkjet has had some issues with reliability, and the company has some special 'smart mixing' technology that can avoid some of these issues, which arise from variability in drop size.
Turning to material desposition, the company has made a 4.8″ sample display with 80ppi, made in the lab. PPI is a challenge for near to eye displays, but as the eye is further away, the ppi needed reduces. Harrus said that he doesn't believe in the idea of blue OLED and QD filter as a solution to replace WOLED. However, he believes that LCD will probably get to QD on the filter by 2019.
The work on large displays with RGB OLEDs is still at the pilot production stage and, of course, Kateeva thinks that IJP is the way to go. He thinks that we will see direct printed OLED by 2019, with direct QDs by around 2021.
There are still some challenges using metal oxide backplanes.
Printing has a challenge with really high ppi and 250 ppi is probably the limit of the resolution, so that will limit the use of inkjet to particular applications. However 250 ppi would mean you could make a 13″ UltraHD notebook with printing.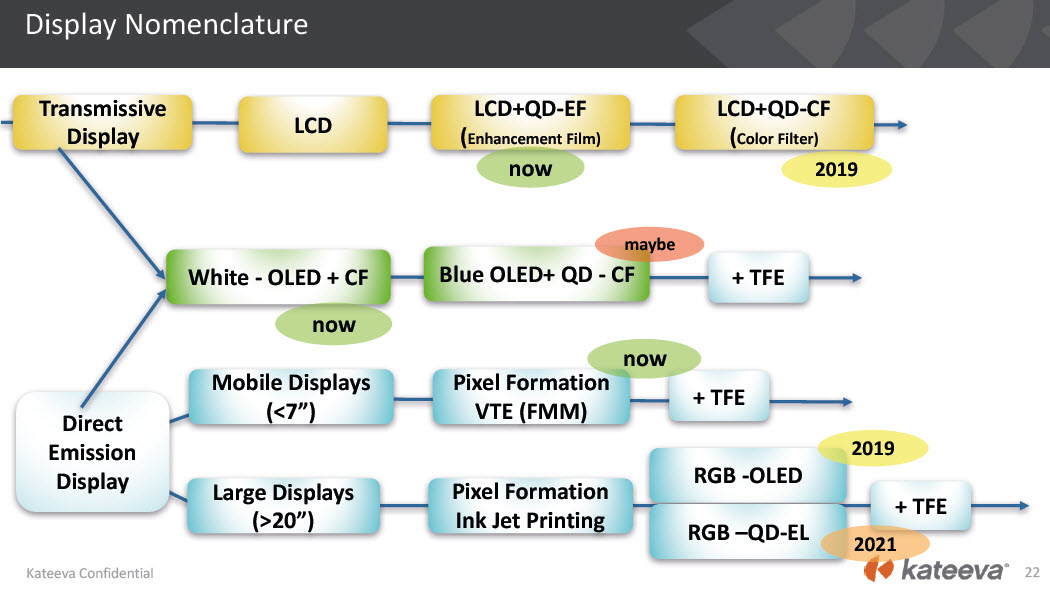 This is how Kateeva sees the display roadmap
In summary, all of the new approaches using QDs are possible with IJP. Harrus also said that Tokyo Electron is the main competitor in pixel printing. He said that for a long time there was a feeling that you didn't have to use a nitrogen atmosphere to perform IJP, but that has changed.
(Note – Kateeva also spoke at the Business Conference BC13 Kateeva Still Working on Deposition by Inkjet)