Luxury watchmaker Hublot recently introduced its latest smartwatch, the Big Bang e Gen3. Hublot, established in 1980, is a Swiss luxury watchmaker that stands out for its one-of-a-kind designs and the perfect blend of traditional craftsmanship with a modern touch. The hefty price tags associated with Hublot watches are a result of their meticulous craftsmanship, the combination of innovative materials like ceramics, rubber and exotic metals, and the incorporation of cutting-edge technologies. The limited editions, collaborations, and partnerships with brand sports events add an extra layer of exclusivity and desirability, making Hublot timepieces sought-after by collectors and enthusiasts.Unlike previous releases the Big Bang e Gen3 does not coincide with any major sporting event, or specific occasion. The watch retails for about $5,700 (5,600 Euro, 4,600 GBP).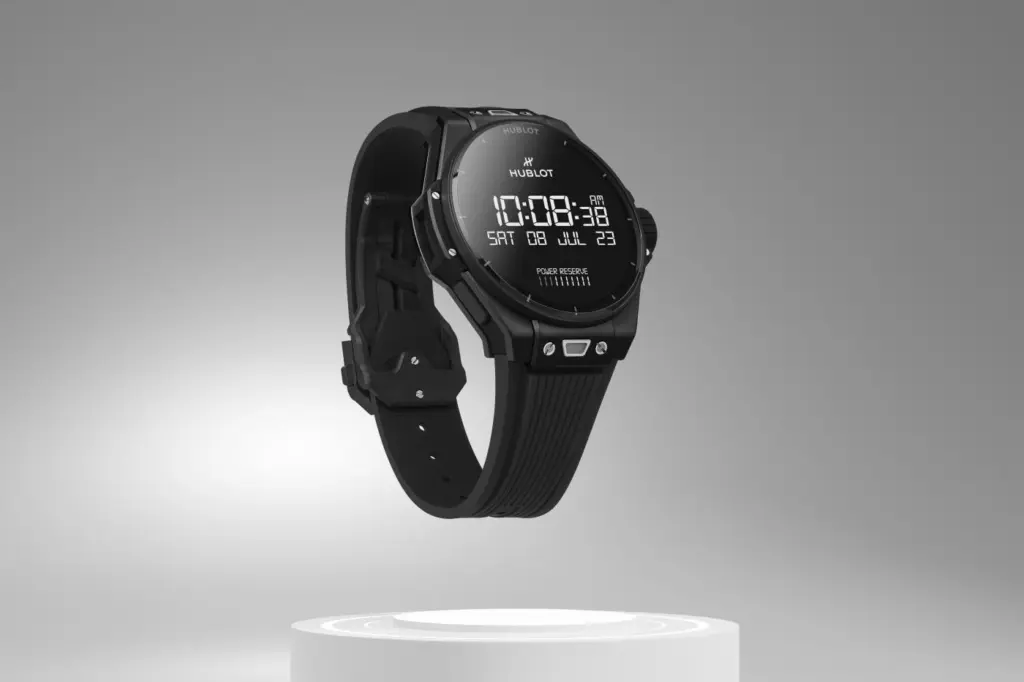 The Big Bang e Gen3 boasts a 44mm diameter and a slim 14mm thick ceramic case, available in either black or white. The case has been meticulously polished and microblasted to exude a chic and sophisticated aesthetic. The watch features Hublot's signature H-shaped titanium screws and black-plated titanium crowns, which are reinforced with rubber inserts for added durability.
One of the key highlights of the Big Bang e Gen3 is its high-quality display technology; with a sapphire crystal screen, the 1.39-inch (35.3mm) AMOLED display boasts a resolution of 454×454 pixels. The in-cell AMOLED technology is from AUO. The electronics are the Qualcomm Snapdragon Wear 4100+ processor, with 1GB of RAM and 8GB of flash storage (ePoP).
In terms of connectivity, the watch supports GPS, Bluetooth 5.0, Wi-Fi, and NFC payment capabilities. Additionally, it features a heart rate monitor, accelerometer, gyroscope, ambient light sensor, microphone, speaker, and vibration motor for enhanced functionality and convenience. The Big Bang e Gen3 uses a lithium-ion battery with a capacity of 400 mAh, providing approximately one day of battery life. It utilizes a 4-pin pogo charging system for quick and hassle-free charging.
Feature
Specification
Screen
Sapphire Crystal
Size
1.39'' (35.3mm)
Resolution
454×454 pixels, 327 dpi
Display Technology
AUO In-cell AMOLED
Processor
Qualcomm Snapdragon Wear 4100+
RAM
1GB
Flash
8GB (ePoP)
Sensors
HRM (Heart Rate Monitor)
Accelerometer
Gyroscope
LLOB (Low Latency off Body)
ALS (Ambient Light Sensor)
Microphone
Speaker
DC Motor (Vibration)
Compatibility
Android 8.0+ (excluding GO Edition)
iOS 15.0+
Connectivity
GPS
Bluetooth 5.0
Wi-Fi
NFC Payment
Battery Type
Lithium-Ion 4 Pin Pogo Charging
Battery Life
1 Day
Battery Capacity
400 mAh