HTC launched its new Vive Pro in a dedicated meeting room in the Wynn. The company has upgrade the headset from the original design and from our point of view, the main change is the upgrading of the displays to dual 3.5″ 615ppi 1440 x 1660 resolution AMOLED (up from 1080 x 1200, so a 78% boost in pixel count), the same display as used in the Samsung Odyssey. It also has integrated headphones and a revised headstrap. Connection is via USB Type C and DisplayPort 1.2 and there is a wireless option, based on technology from DisplayLink. Unfortunately, although HTC had a station set up to compare the new and old headsets, it wasn't in operation during the time we were with the firm.
The new headset is aimed at professional users, but will, no doubt, will be popular with consumers that have the money to afford it. At the show, there were games being shown, but the main focus was on professional applications. It continues to use external controllers and outside tracking (initially the current Vive versions, but with improved ones later) but availability and pricing have not yet been confirmed.
At the event, most of the space was taken up with different demos. We tried two. The first was a demonstration of a fork lift truck training application, which added the latest Magic Leap hand sensors, so that the fingers and hands could be seen operating the controls of the training simulator. The demo was impressive (and past experience of driving a dumper truck, which also had rear wheel steering, helped!). The ability to practice safe procedures and develop good work habits as well as learning how to deal with situations that would be dangerous in real life makes this kind of training very valuable. One advantage of simulation is that the trainer can also be audited. VR really adds to the experience, especially combined with the hardware controller. The hand and finger simulation in the headset, using Magic Leap, was very impressive.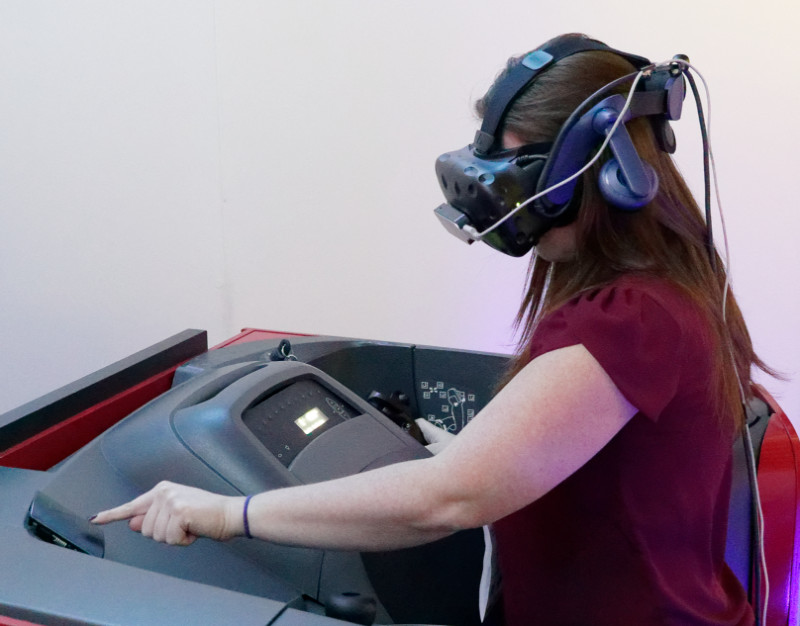 In this fork lift training demo, the Magic Leap sensor was used to map the hands – it was impressive. Image:Meko
The second experience we tried was mainly for fun as it was a driving simulator for professional racing drivers. The system uses physical actuators to simulate the effect of driving a range of cars and any circuit in the world. We didn't find it totally realistic, but it was certainly engaging (and while we wouldn't have set any records for speed, we avoided crashing!). It was certainly an interesting experience and the experience was very immersive.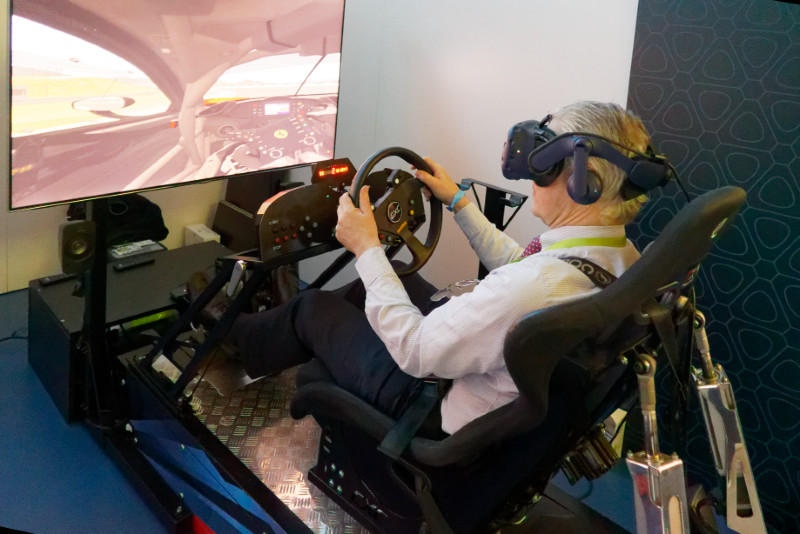 The author tries driving a Ferrari around a race course. Image:Meko
The company also showed a new Viveport VR-native store for content that allows previews to be tried in a VR headset. The system looked good in the brief demo that we tried, although more extensive reviews have suggested that it is 'clunky'. However, it's a start!
Analyst Comment
The Vive Pro addresses the main issue that I have with VR headsets at the moment, the degree of pixellation. The pixels are still visible in the Vive Pro, but are much less objectionable. One or two more iterations of development and it will get to the point of being really good, but the Pro level certainly makes some 'suspension of disbelief' possible so that you can focus on the experience, rather than the technology. The images were smooth and the headset more comfortable. It's impressive to see the speed of development in VR. (BR)