Hisense did not have a press conference at IFA so we learned what we could from booth personnel. In the booth, the company was featuring FIFA-themed demos as the firm is a sponsor for the World Cup in 2018. However, there were some new products and concepts on display.
New is a second generation LaserTV from the company. The current model was shown on the main booth floor area and is sold in the US and China. It features a single blue laser and yellow phosphor wheel packaged with short throw optics to create a 100″ TV. At IFA, an upgrade was being shown in a back area and now includes an image-shifting UHD resolution DLP chip set and a two laser source.
The two lasers are blue and red, which should expand the color gamut (specified at 110% of NTSC – a useless way of denoting color gamut). On-screen brightness listed as 350 cd/m², so comparable to an SDR TV, although it is said to be HDR-capable (so it can, presumably understand HDR10 data). The image looked quite good and the set will be far less expensive than a flat panel display of this size. The projector includes a TV tuner and SmartTV features with the same Hisense TV remote. It is packaged with the screen and audio solution so consumers don't have to think about these additions. A 2018 introduction is planned for the HE100LN60D.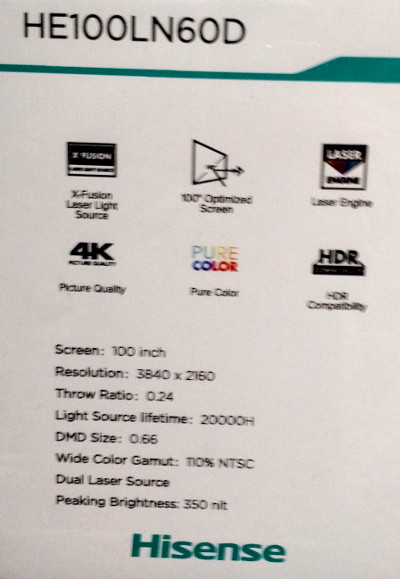 Turing to flat panels, we first looked at the "Invisible Cable" demo which takes all the electronics from a very slim (5.9 mm) ULED LCD TV and places them in a separate box designed to sit on a table or credenza below the TV – similar to what Samsung and others have shown. This is still a concept design but has a part number (HZ65U8A) and is a 65″ model using quantum dots with 95% of DCI-P3 coverage.
The HZ75U9A is a 75″ UHD model with a lot of dimmable zones in a direct backlight configuration (1056 zones). It achieves 100% coverage of the DCI-P3 color gamut using a quantum dot film. The step down models then drop to 516 zones. It is part of the ULED line which means they must have ultra color, best motion compensation and highest contrast, but they do not have to use quantum dot technology to be a ULED. This particular model can reach 2200 cd/m² of peak white. A similar model, number LED75MU9600 is available only in China right now.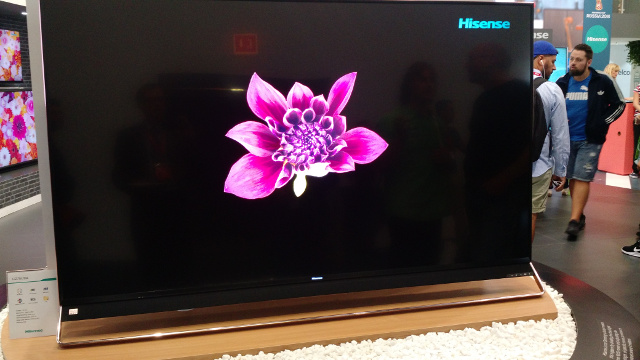 A prototype 8K TV was also on display, the LED65MU9800V. This is a 65″ model with 240 dimmable zones in the direct BLU, 800 cd/m² of peak brightness and 95% of P3 coverage. It is HDR10 compatible as well. They are just waiting for the 8K market to come and they will be ready, said the company.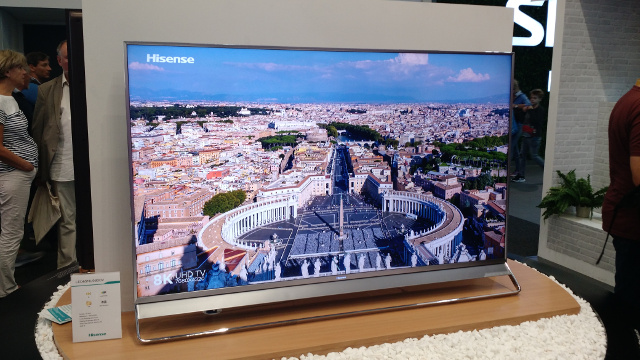 In a press release, Hisense also said it was highlighting their NU9800 and NU8700 series of UHD TVs at IFA, but the booth personnel didn't mention these models. Apparently, they are quantum dot models with HDR support. – CC