The SID is one of my favourite shows, because of the sheer depth of technical content – it usually gives me a chance to see what will be at CES next January and the January after. This year's show seems to be a bit quieter than last year. At the moment, we don't have confirmed numbers, but the show floor really didn't feel desperately busy. However, there was plenty to see.
There were some clear highlights, most of them from Samsung. As with last year, Samsung Mobile Display didn't show anything from its OLED development area, apparently because of paranoia about giving away something secret, although it seems to me that the firm could have shown its shipping product and still got some good coverage. Exciting items on the Samsung booth were a gorgeous looking 2560 x 1600 10.1″ display that has been widely rumoured to be the display for the iPad 3. There was a great 3840 x 2160 (Quad FullHD) LCD built using Oxide TFTs, a 10″ display using the Printronix MEMs technology and a range of good looking electrowetting displays based on technology from recent acquisition, Liquavista.
Elsewhere, Asahi Glass and Corning were showing glass that is just 0.1mm thick – as thin as a sheet of paper – and so flexible that it can be used in reel to reel processes. Corning had a loop of the glass that was rolling around some reels for the show period. This kind of glass could be used for flexible displays or for OLED encapsulation and could dramatically reduce the weight of LCDs. (Corning actually said in one of its talks that it has made glass sheets that are just 0.050 mm thick.)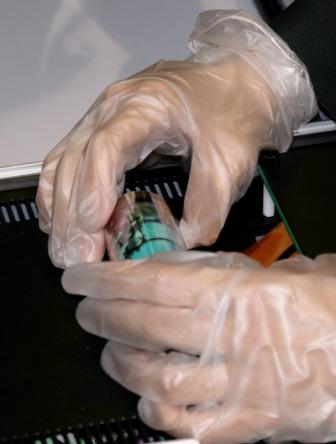 Another highlight was the 3M backlight system that eliminates the light guide and all the loose films typically built into an LCD. A single collimating film can be fitted to the LCD cell, while the full backlight system is completed by adding a reflecting box on the back of the LCD. This represents a potentially radical simplification and cost and weight reduction in LCD making, although it doesn't help in making the panel slim.
An interesting area at SID is the 'Author interviews'. We got to those on two of the three days and noted that a lot of Sony display guys were there showing some great looking prototypes and development displays. I got a feeling similar to the one I had when Philips started to get out of displays and many engineers came to SID with Philips projects looking for backing for technologies, or just looking to establish their names for future jobs!