IHS has been running a series of webinars on developments in the flat panel display industry and at the time of writing, we've listened to three: one from Charles Annis on equipment, one from David Hsieh on the strategy in China and another by Jerry Kang on OLED developments.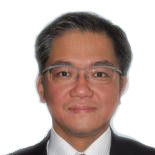 There's one more to come, from Paul Gagnon, on TV, next week. I thought I'd highlight some of the points from David's talk particularly in relation to the large fabs in the G10 range. Like most of David's talks, there was lots of detailed content in the slides, but we have focused on the main points.
For the last twenty years or so, we have been going around the 'crystal cycle', from boom to bust and it seems as though we're now heading in to the 'bust' phase.
As everyone knows, the Chinese are investing very heavily in LCD production capacity and the country is already the biggest supplier of LCDs, having taken the lead in 2017. By 2023, China will control 58% of the global supply chain (a level of dominance that is bigger than the Koreans achieved, if I remember correctly)
.
Now, this big growth depends on large investments. Hsieh pointed out that different companies are working differently, with CSOT investing along with its customers, while BOE is more independent in its planning, but all of the development depends on state funding, both local and national. There is also a lot of bank investment, which means that, for example, BOE only had to find 10% of the investment needed for its Hefei fab, with most of the rest coming from state sources, but as much coming from banks. (45% from Hefei government and 45% from bank loans).
Most of the planned investment is at G10. Up until BOE opened its fab, only Sharp had a G10 fab. I know from my past reporting that the Korean makers talked about going to G10 to improve competitiveness in 65″ and above, but were deterred from the investment by concerns about the arrival of the Chinese. When the money is nearly free, it's really hard to compete if you want to make a return on investment.
When the Chinese first appeared in LCD, they focused mainly on panels for monitors and smaller TVs. That meant that the Koreans and Taiwanese moved to make bigger panels at 65″ and above, but that part of the market will be increasingly under pressure from G10 fabs which can be more economical in these sizes. There was some expectation that the ramp up by BOE might be slow, but Hsieh said that it was much better than expected and is going to BOE's plan and panels from BOE have been qualified by the TV businesses of Samsung, LG and TPV as well as Chinese and Turkish brands.
There is a lot of interest in China in G10.5, BOE and CSOT are planning to have two each and both HKC and CEC Panda have plans to go in this direction. However, Hsieh is not so convinced that the last two will get to finish and ramp up the fabs because the investment support may not be available and the companies may struggle to gain the competence to ramp up. As well as support from investors, there is need for support from the supply chain and, in particular, glass makers.
There are also challenges in driver chip supply as chip makers are not so interested in making display driver chips as other chips are more profitable. That means that some companies are looking at vertical integration back into semiconductor manufacture to support the LCD business.
Because of these issues, IHS has had to take a view about the likelihood of the plans of Chinese companies coming to fruition. As we heard at SID, some equipment makers have quoted for a dozen or so different G10 fabs in China but none of the analysts that I have spoken to thinks they will all happen.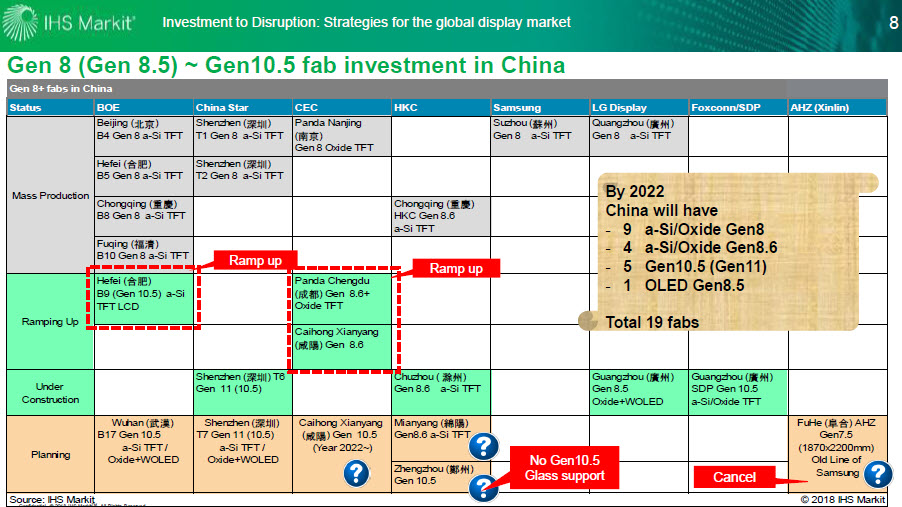 IHS takes the view that there will be five G10.5 fabs in China by 2022, two from BOE, two from CSOT and one from Foxconn/Sakai Display Products (Sharp). The company is not expecting the HKC and CEC Panda plans to go ahead. By 2022, that will will be in addition to nine G8 plants, four G8.6 and an OLED at Gen 8.5. Even with this very limited level of investment (when compared to the plans), Hsieh expects oversupply from this year through to 2021 and the oversupply coming to an end depends on some restructuring and closure of older LCD fabs. He listed 19 current fabs that are likely to be shut down or converted for another application.
However, if there is not a smooth ramp up of the G8.6 fabs, there could be some shortages in very large panels as IHS believes that 65″ and above to grow from 20 million units this year to 40 million in 2022.
All in all, then, there are still quite a few unknowns that could modify the expected course of the industry, but Hsieh has been around a long time and seen a lot of the industry. I think his most likely scenario for the supply demand balance looks very realistic. It shows that the feeling of oversupply (when the glut is more than around 10%) will probably last to 2021. However, it's quite possible that it could go on even longer.