Horiba is a specialist in health care technology and Dr Jai Hakhu said that the company is 70 years old and based in Kyoto, Japan, but with more than 50% of its staff outside Japan. It works on analysis of data in the medical field and the medical group is run from Montpelier in France.
Smartphones are pervasive – there may be even more phones than humans in the world. Technology has allowed countries to accelerate mobile communications very quickly even if they didn't have wired networks, and sometimes because they didn't have existing wired systems.
Mobile phones have many economic effects, for example, they can allow small traders to make home deliveries very easily. Because calls are free to receive in India, even a village supplier can take orders for delivery and this has lead to a lot of economic growth, Hakhu said. He worked at Rockwell in the defence group many years ago and he proposed getting into the cell phone business. However, he could not persuade his colleagues of the potential and Rockwell stayed in GPS and power control. He was working at Intel when Apple brought out the iPhone – he said that there was 'no clever technology' but great packaging.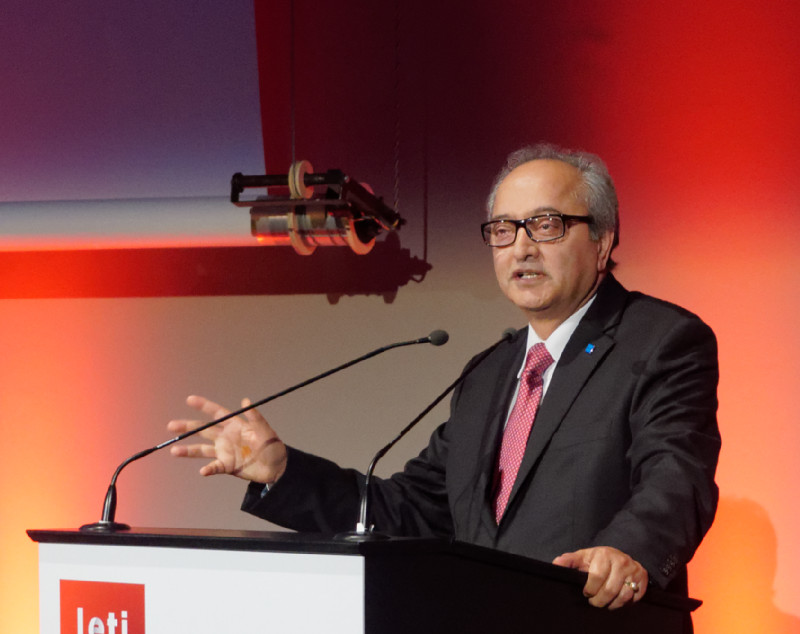 Dr Jai Hakhu said that he wanted Rockwell to start the smartphone business many years ago. Now he wants to exploit smartphones for health care. Image:Meko
The same thing is happening in medical today. Throughout the world, outside the cities, everybody has clever technology in their smartphones, but you can't get medical help unless you are dying – there are no tests for, for example, diabetes (populations often eat too many carbs and have many health problems). Diabetes leads to many different medical problems, but there is little or no work going on in prevention or diagnosis, outside the rich world. The question is how to test for diabetes and other important diseases using the technology that is available?
In the US, and other advanced countries, medical organisations are getting more centralised and specialised. HELO is a system that Horiba has developed for centralised labs, which are very efficient and cost effective, but it doesn't help in 80% of the world which is not so developed.
Horiba sees home testing or village testing as being the means to change things outside the developed world. The company is working with Leti to build small, simple testing systems that can exploit smartphone availability and processing power. A prototype has already been built.