In the midst of unveiling new phones this week (Google Learns from Competition With Dual Flagships), Google also updated its Chromecast dongle with a new, redesigned version.
Rumours about a circular Chromecast first appeared in September (Second-Gen Chromecast Seen in Leak), and was confirmed during an event at the end of the month. Naturally it encompasses the features of the original model, including streaming video and making a 'dumb TV' smart, but updates focus around ease of use.
Physically, a round device is not going to be easy to fit into a USB port – certainly not if there are other dongles and so on already connected. The new Chromecast is supplied with a self-contained HDMI lead, so it can hang behind the TV without bumping into anything else.
Games enjoy better support, as a user's smartphone can now be used as a motion-sensitive controller. Dual-band 802.11ac WiFi compatibility is also built in.
Google also unveiled Chromecast Audio, which is designed to cast music to speakers, wirelessly. Although lacking multi-room support at launch, this will be added before Christmas, said Google.
Pricing will remain at $35.
At the same time as its new Chromecast, Google showed off the Pixel C (Google Chooses Android for Pixel Tablet): a convertible that will be the first-ever Google-branded tablet.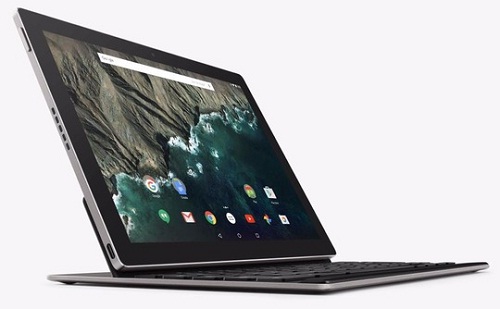 Google's Pixel line has so far been limited to high-resolution Chromebooks, so the Pixel C is a new direction – although it will still target the high end of the market. Aimed at the iPad Pro and Surface Pro 3, the unit will have a 10.2″ display, 2560 x 1800 resolution and 500 cd/m² of brightness.
The display – and Android 6.0 OS – are driven by a quad-core Nvidia X1 CPU and Maxwell GPU; Google says that the tablet will enjoy 'desktop-class' graphics performance.
A convertible requires a keyboard, of course, so Google will offer a Bluetooth model for $150. This will attach to the tablet using magnets, and will charge inductively when the device is closed. The tablet can also be tilted between 100° and 135° when docked.
Google has said that the Pixel C will have 3GB of RAM and a USB-C port for charging. The 'light bar' from the Chromebook Pixel, which can be tapped to check battery level, will also be a feature.
The Pixel C will go on sale before the end of the year, for $500 (32GB) or $600 (64GB).
Analyst Comment
Audio specialists are suggesting that the Audio dongle might have a big impact. At the moment, Sonus is leading this market with a proprietary system, so there should be room for a competitor. Although Google has tried to enter the audio market, it was a long time ago and it didn't have the support of major music providers, but it does have that key support this time. (BR)