The global smartphone market experienced a decline of 8% year-over-year (YoY) and 5% quarter-over-quarter (QoQ) in the second quarter of 2023, as reported by Counterpoint's Market Pulse service. This marks the eighth consecutive quarter of YoY decline for the industry.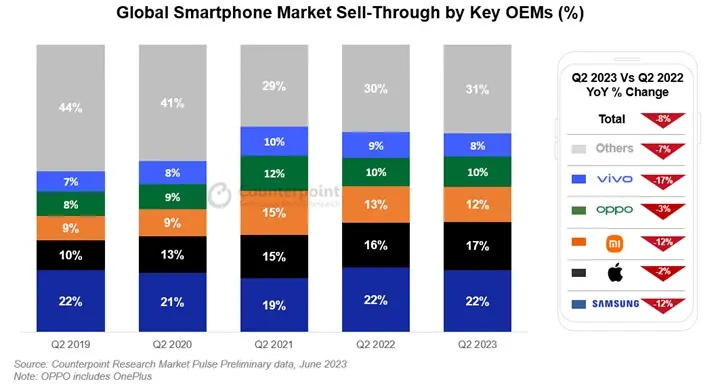 Samsung emerged as the market leader with a 22% market share, primarily driven by the strong performance of its Galaxy A-series worldwide. Apple secured the second position and achieved its highest-ever Q2 market share. Xiaomi, the third-largest brand, faced challenges in its key markets of China and India. To counter these declines, Xiaomi is focusing on expanding into other markets and refreshing its product portfolio. Oppo performed well in its domestic market of China and India, thanks to its association with OnePlus. Despite experiencing losses in Western Europe, Oppo managed to maintain its global market share. vivo, including iQOO, witnessed significant growth declines in China, facing stiff competition from Samsung and Oppo, as well as in the offline markets of India and Southeast Asia.
The global smartphone market seems to have moved past its phase of rapid growth, with consumers extending their replacement cycles and device innovation converging. Furthermore, the refurbished smartphone market has become more mature, particularly in the demand for low-to-mid-tier priced devices.
In contrast, the premium segment (devices priced at $600 or above at the wholesale level) continues to grow steadily, unaffected by broader constraints. Discerning consumers in this segment prioritize superior experiences and benefit from easy access to finance options across various regions. During the quarter, the premium segment witnessed its highest-ever contribution to the overall market, with more than one-fifth of smartphones sold belonging to this segment.
Apple has capitalized on this trend of "premiumization" and achieved record market shares in new markets that were previously considered non-core. Notably, Apple experienced a 50% YoY growth in Q2'23 in India. The sustained strong performance of the premium segment has mitigated revenue declines compared to sales volumes, prompting brands to invest in market expansion and innovation in new technologies.
While all regions worldwide experienced sales contractions, more developed markets such as the US, Western Europe, and Japan faced the steepest declines, all surpassing double digits on an annual basis. Conversely, the decline in China, India, and the Middle East & Africa was relatively less severe. Original equipment manufacturers (OEMs) and channels resorted to promotions and "big sale" festivals to clear excess inventory in the market. For instance, postpaid carriers in the US revamped their unlimited bundled plans to offer greater flexibility to consumers. However, weak demand persisted due to higher interest rates impacting disposable income in American households. In China, the 618 premier sales event, which spanned several weeks, saw a lukewarm response despite aggressive promotions. Nevertheless, the event managed to halt the decline in the Chinese smartphone market and indirectly impacted global sales in June.
Despite these challenges, there are glimmers of hope for the smartphone industry. Global smartphone inventory levels (sell-in vs. sell-through) have reached healthy levels in the past four to five months. This provides OEMs some breathing room to launch and promote newer models in the second half of the year, encouraging consumers to upgrade their devices and accelerate the replacement cycle.