TrendForce reports that gaming monitor shipments experienced their first decline since 2016 due to high inflation, with only 19.8 million units shipped in 2022, a 13% YoY drop. However, the firm forecasts a 2023 rebound, reaching 20.8 million units, a 5% YoY increase, driven by three factors: the replacement of 75Hz models with 100Hz models, increased demand for gaming products due to the 2023 Hangzhou Asian Games featuring Esports, and the gradual recovery of demand for internet cafes in China as COVID restrictions are lifted.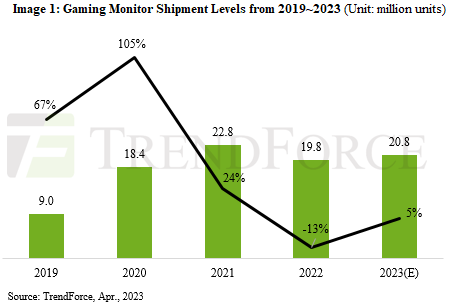 In 2022, vertical alignment liquid crystal displays (VA LCD) monitors dominated the market with a 51% share, followed by in-plane switching LCD (IPS LCD) monitors at 43.4%, and twisted nematic LCD (TN LCD) monitors at 5%. OLED gaming monitors, though still niche, gained popularity with a 0.6% market share in 2022 and are expected to grow to 1.6% in 2023 due to product diversification. IPS monitors may challenge VA monitors, as they continue to increase their market share and undergo continuous price reductions, making them more competitive.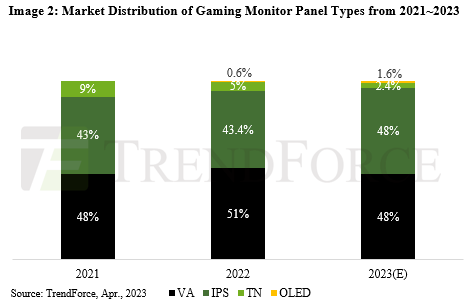 The market for high-refresh rate gaming monitors is continuing to grow, with 165-180Hz monitors being the most popular in 2022. TrendForce predicts that this trend will continue in 2023, with both 165-180Hz and 100Hz monitors seeing significant increases in market share. It is also expected that 165-180Hz monitors will eventually replace 120-160Hz monitors, as the price difference between the two ranges is not large. Additionally, 100Hz monitors are expected to replace 75Hz gaming monitors, with their market share increasing by 5.1 percentage points to 9% in 2023. Overall, this suggests that consumers are increasingly interested in high-refresh rate gaming monitors and are willing to pay more for better performance.