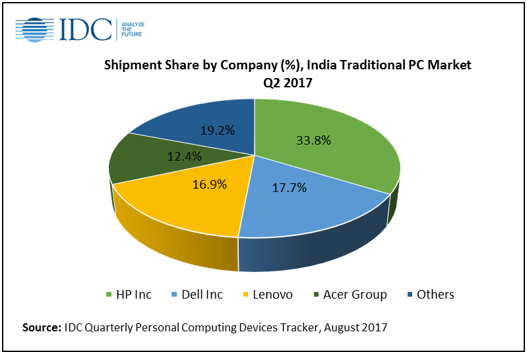 Overall Q2 PC shipments to India were 1.75 million, down 18.9% QoQ and 18% YoY, according to IDC. Consumer shipments were 0.81 million, down 22.6% QoQ and 22.7% YoY. Commercial sales went down 15.3% QoQ and 13.4% YoY to 0.94 million. IDC attributed the drop in both sectors to the GST implementation (a change in the Indian tax system – Man. Ed.), with the reforms causing the channel to plan for destocking. The commercial market also suffered from slower government spending.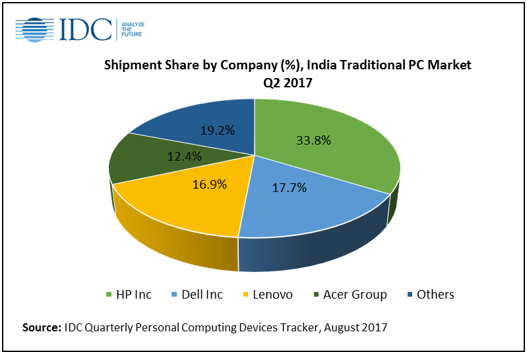 HP led the market overall with a 33.8% share in Q2. The company saw 6.5% growth QoQ in the consumer market, resulting in 35.4% share. Dell was second with 17.7% share overall. The firm was affected by the GST implementation and saw a 57.8% QoQ decline in unit shipments. Lenovo remained in third place with 16.9% share overall, but ranked second for consumer PCs with a 1.3% QoQ increase to gain 17.4% of the market.
Looking ahead, IDC said that the Indian traditional PC market is looking to recover after the GST implementation. Seasonality aided by an increase in consumer spending along with fulfilment of ELCOT and other state owned education projects are anticipated to drive growth for the India traditional PC market.
Manish Yadav , Associate Research Manager, Client Devices, IDC India, said
"Demand for PCs would be fuelled by small business buying as this segment of business users would look to comply with GST norms which came in effect from July 1st 2017."