The Germany-based Fraunhofer Institute for Organic Electronics group was at SID Display Week 2015 with a new SVGA Bi-directional Microdisplay OLED chip that can both reproduce and record images. The OLED on silicon display includes an embedded image sensor that can be used for eye-tracking in HUD (head up display) applications. Bernd Richter told us that the group is targeting mobile personal electronic devices, particularly those that are head worn and can take advantage of the full color SVGA resolution and benefit from eye tracking systems near to the eye and targeting the center of the pupil. Applications include video or data goggles, augmented reality eye wear and even machine to machine applications, according to Fraunhofer.
To get there, the group uses a special RGBW pixel arrangement plus a photo diode embedded in the pixel for light detection. Richter describes the structure as having "a pixel matrix with two sub-matrices that include a display matrix with a nested image sensor matrix", he said.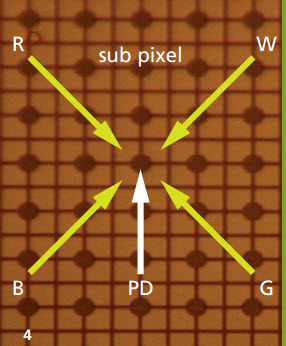 On the display side, the 800 x 600 SVGA has an active area of 12.8 x 9.6mm and pixel pitch of 16 x 16 micrometers, brightness of 250 cd/m² and data stream is in a 24 bit parallel interface (using 8 bits per color channel) connected with a simple two wire interface. The camera resolution is the same 800 x 600 SVGA with 8 bit grayscale. The entire system operates on 1.6V is 0.18 micrometer CMOS process based, and can operate at a temperature range of -20C to +65C.
For this evaluation kit version, Fraunhofer is also providing a development system for evaluation and pre-product development that works on a standard HDMI i/o system. Richter also said the entire system will run with parasitic power from a standard USB3.0 interface making device integration easier.
Future iterations are in the offing according to Richter, who told us that for applications like iris detection (for biometric/security apps) and other ID based systems will require a 720 HD resolution at minimum, preferably full HD. That will essentially double the resolution of the camera sensor, and the present limitation is the maximum mask size of 20 x 30 mm with a typical mask currently at 20 x 20 mm to 20 x 24 mm. A next generation chip could grow to a 1.3-inch diagonal but to do so under current technology would require stitching of the displays creating lower yields and subsequently higher cost.
We have seen embedded camera sensors in displays (LCDs in particular) before, but this micro display with embedded camera may be appearing at just the right time to allow system designers to include eye tracking. The potential is offering interface control that can open up new HUD (and other) applications we are just now beginning to imagine. And like in-cell touch that came before, we may see more of this technology moving into the mainstream, as display makers look to find ways to boost profits by adding value and differentiation going forward. – Steve Sechrist