Omen, HP's gaming brand, has been refreshed with high-resolution laptops and a 32″ monitor, which reaches a refresh rate of 75Hz. In addition, HP plans to introduce the Omen X platform this summer. There is little information, but one of the products will be a (currently concept) high-end PC carried in a backpack, for virtual reality.
Starting with the confirmed products, HP will launch 15.6″ and 17.3″ laptops, with 1920 x 1080 resolution and an optional upgrade to UltraHD. The UHD 15.6″ uses an RGBW pixel configuration.
HP has built the Omen laptops with a dual fan design. The 62W battery faces towards the front of the machine and sits flat, presenting more surface area for cooling.
Processor options go to 2.6GHz Core i7, although 2.3GHz Core i5 and 2.7GHz Core i3 (on the 15.6″) are also available. All models have RAM options ranging from 4GB to 16GB. They use GTX 950M, GTX 960M or GTX 965M graphics cards.
Storage comes in the form of a 1TB or 2TB HDD or a combination of HDD and SSD (1TB + 128GB, 1TB + 256GB or 2TB + 128GB). The 17.3″ model can also use a hybrid hard drive (1TB + 8GB NAND).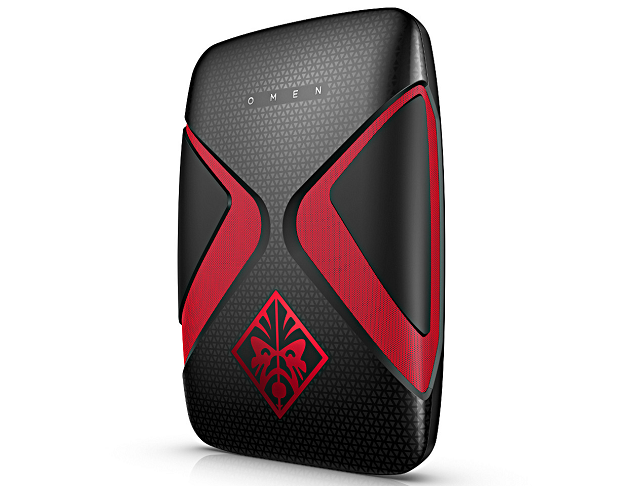 That's either a Rorsach test or the Hydra symbol. Either way, I have concerns.HDMI, USB 3.0 (x2), USB 2.0 and RJ45 ports are featured. An Intel Realsense camera can also be fitted as an option. The 15.6″ model will be launched on the 10th July, starting at $900. The 17.3″ will be out at the same time, starting at $980 at Best Buy and $1,030 on HP.com.
HP did not release much information about its 32″ monitor. It will have 2560 x 1440 resolution and cover 100% sRGB. The display will also support AMD FreeSync. It will use a VA panel, with a 5ms response time. HP will launch the unit in August.
Finally news came of Omen X; the PC reminds us a little of the 'backtops' used in The Void (The Void Creates VR War Games…And Dragons). It will hold a Core i5 or i7 processor, up to 32GB of RAM and a discrete graphics card. The system will weigh less than 4.5kg, and there will be a belt carrying two batteries (powering the CPU and GPU separately). These will last for about an hour, but a smaller third battery will keep the PC running while they are changed.
A wireless display, keyboard and mouse will be bundled with the backpack PC, which will mainly be used for troubleshooting VR problems.