Satellite broadcaster, Eutelsat gave an update on the development of 4K and its impact on content creation and consumption in a webinar that you can view here.

The panellists were:
Andrea Michelozzi of Communicare Digitale
Nelka Pavlouska of Museum TV/MyZen TV
Ben Schwarz of the UltraHD Forum
Luca de Bartolo of Tivu Srl
Paul Gray of Omdia and
Cristiano Benzi, SVP of Professional Video at Eutelsat

Pavlouska was the first speaker and explained that her company tried to be innovative and already had two channels of UltraHD in 2016. For MyZen TV, there are French and international feeds. All productions are created on location and that is great for capturing compelling content. There are many languages supported and is distributed in 85 countries with 20 countries showing native UltraHD. The firm distributes through Eutelsat.
After a small trailer for that channel, she explained that Museum TV was set up to highlight the visual arts and is all captured in UltraHD to exploit the high visual quality of the content. Again it is widely distributed to more than 50 countries. It has a VOD add-on. Anain, Pavlouska showed a small video sample.
Michelozzi pointed out that her firm was one of the few that is almost completely UltraHD in content. How big is the challenge and what about the results of the investment? Pavlouska replied that the production changed a lot from the beginning. Early on, a lot of work had to be done to teach people how to create UltraHD in a number of continents. By now, everything is now in UltraHD, even if the plan is not to transmit in that format. She said that she could not imagine anything else, except perhaps 8K!
Paul Gray of Omdia spoke next and gave some charts to 'set the scene'. He said that it's important not to believe all the PR, especially from the 'streamers'. LIve TV remains the biggest way that TV is watched, and he pointed out that the numbers for streamed content also include catch-up content from live broadcasters. Broadcasters are also using catch up as a way to drive viewing of upcoming content. It's being used 'tactically'.
TV viewing dropped a little in 2021. Around 40% of households now have a 4K TV as their main set and that will hit half of the market by 2023 or 2024. It's getting harder to buy a 1080P TV that's much bigger than 43″. There is a real push for HDR and WCG. He highlighted that HDR for content captured from outside can look spectacular on a mobile device.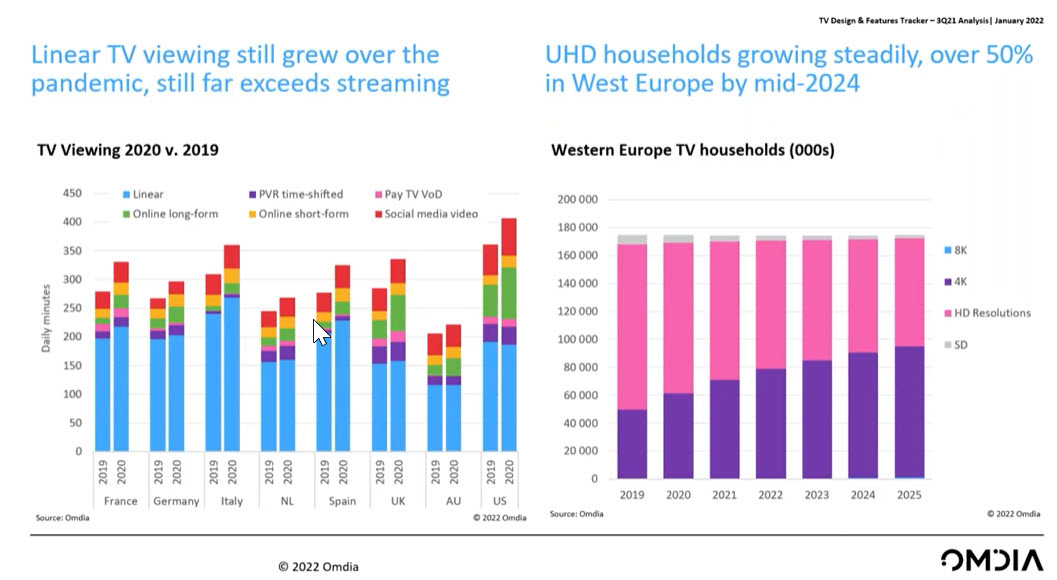 Next up was Cristiano Benzi of Eutelsat and he explained why Eutelsat is talking about UltraHD now. He said that it's because satellite can deliver good content and there is great value in creating in UltraHD. The firm wants to stimulate the debate about UHD production. (It doesn't do any harm that UHD uses more of the Eutelsat capacity and that brings revenue!). HDR is getting recognised.
However, the number of channels has been disappointing. There are still only 34 channels carried by the firm globally and still out of 7,100 channels that it carries, 72% is still in SD. Looking at the HotBird location alone (which means broadcasting for Western Europe – editor), 14 of the 900 are UltraHD and HD is over 50% at 457. There are a couple of 'demo' channels but there are five mainstream channels for sports and movies from public and pay channels. Half of the UHD channels are thematic – typically small producers with their own content. The channels do not overlap in theme (although the two nature channels might disagree! – editor)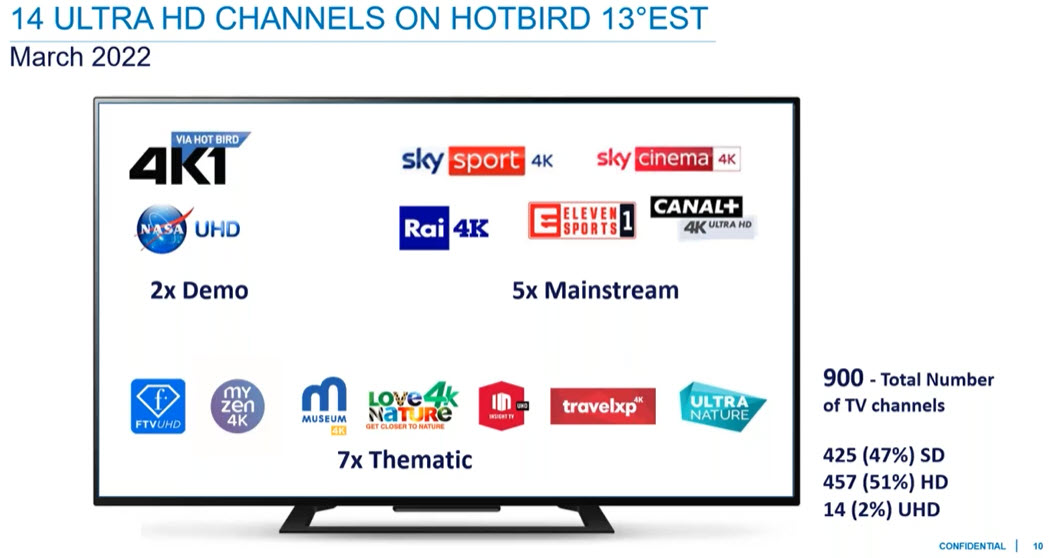 WCG and HDR really help these thematic panels.
Ben Schwarz of the UHD Forum then said that the Forum thought a lot about what the definition of UltraHD is and it believes that a lot of what it does is in trying to maintain the artistic content of creators. He showed a nice chart of UltraHD services showing how they slowed in lockdown. (the chart is publicly available on the UHD Forum website). The number of channels is over 311 and he said the number would be updated around now (NAB time). The Forum counts services with 4K or HDR or both. YouTube was the first to provide content in 2013 and there are now five 8K channels.
The flattening of the number of services is seen as a function of the lockdowns, and it will be interesting to see how the market develops. Next Generation Audio (NGA) is also developing, going from mono to stereo to surrond and to immersive, and in the future to 'personal audio'.
Looking at HDR, 40% of channels with 4K do not supply HDR, but that only represents 14.1% of subscriber reach, so it is mainly smaller services. HLG has more channels than subscribers, because that is again smaller service providers.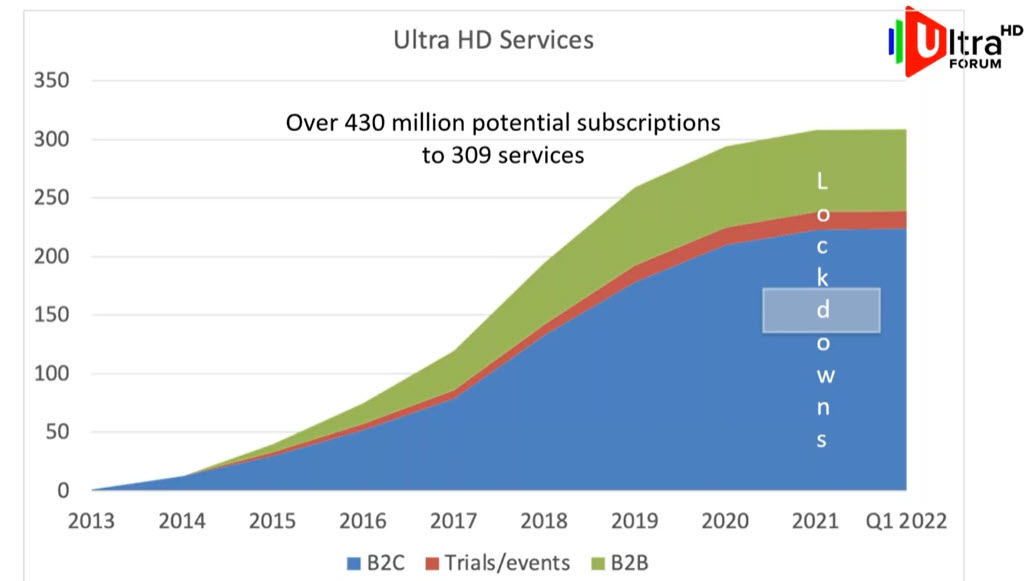 Luca de Bartolo of Tivu explained that his service uses satellite facilities that were established by earlier providers and Sky. He showed the Italian promotional advertising of UltraHD that the firm (which is a company owned by RAI and Mediaset) does. It has 140 channels, 60 in HD and 7 in UltraHD, some that are not encrypted. There are now 700K devices in Italy available to display 4K – around 14% of households. RAI will produce content from the World Cup in Qatar in 4K. In May, the Eurovision Song Contest will be in 4K on RAI.
In response to a question about the importance of live sport, Schwarz said that to make 4K HDR really shine, the producer really has to use it. In the old days when HD became a standard for capture, past SD, sports broadcasters still captured images that were optimised for SD – for example by not capturing so many close-ups. Schwarz said that a wide angle 4K HDR shot of a whole sports pitch is almost like being there. Gray added that it's not just sports, the 'sense of presence' is also important for other live events such as the arts. However, you have to create the content correctly. Audio is also important and that, Gray said, "is the value proposition'.
A question was asked about it's better to have just one 4K channel or to be all 4K. Six years ago, there questions about where the content was to show the great visuals of the latest sets and often, said Pavlouskova, that channel was Museum TV because of the quality. However now service providers are asking for 4K and downscaling for those that can't see the full resolution.
Another question is whether there is scope for FTA UltraHD channels? Schwartz said that early in the days of HD, the premium for viewers to watch HD content was around 20%. However, with UltraHD, Apple was 'the bad guy' because Apple introduced it without a premium and that makes things harder. Benzi said Rai invested in Rai4K and doesn't charge more for advertising, but it does deliver the best experience to the real customers, which are the viewers.
Gray said that 70% of current TV sales in Europe now are in 4K, it's hard to buy something worse such as 1080P. Benzi said that looking at production it is essential for content creators that want a long life for their content to create in 4K and they understand that. On the other hand there are lots of 4K sets. At the moment the issue is the broadcasting part of the process! (BR)