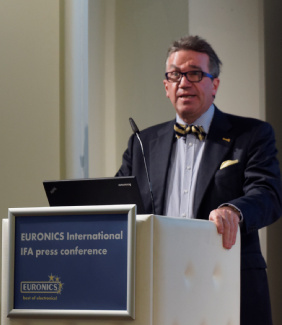 Euronics held its usual press event at the show and it's always interesting to hear a retailer's point of view. John Olsen from the company said it has announcements including a new Gulf partner, SharafDG and also Alser in Kazakhstan. The group now has 29 members in 35 countries. Sharaf is said to have around 20% share in the UAE and is a "value-added" retailer. Kazakhstan is a good market in the longer term, especially for IT and telecoms, although weak at the moment.
Euronics used to have two members in Spain but Consorcio integrated with Sinersis who have joined Euronics. Euronics Norway has become part of EEL (Sweden). Euronics has joined up with Krefel and in the Netherlands, Scheer-Foppe is a partner. The market is not rosy, there is a decline in the market of 0.9% over the region. Many markets are a long way down, especially Germany and, in terms of segments, IT is not doing well. IT is down 6.9% and CE is down 12.4%, although smartphones have been reasonably good.
In 2014, Euronics was able to grow to €18.2 bllion turnover and is the second largest retailer in Europe, behind MediaMarkt/Saturn. Dixons Carphone moved up a lot to €12.5 billion because of the addition of Carphone Warehouse. Best Buy is top worldwide, but Euronics is in third position.
Euronics has pursued "value adding" and is still working on this basis. 200 stores have been added in Spain and eight "new format" stores in the Netherlands. Euronics has developed stores where Expert has had some problems in Scandinavia.
Euronics is 25 years old and recently celebrated that milestone. Hans Carpels, the CEO then came on and said that international marketing has been tough this year.
Omni Channel is the way of the future, but it's hard to do when you have 10,000 stores. The system has been made to work in some countries and much more remains to be done. With a look of pain he said that it would be "much easier" to be starting from nothing, but Euronics has to work with its members' systems.
Over the 25 years, most things that we buy, such as food and energy cost more, but white goods have gone down. A VW Golf has gone up from 4,000 euros to over €16,000.
Average TV pricing has dropped after peaking during the CRT replacement phase. Smartphones have gone down a lot in ASP. As mentioned last year, smart home technology is interesting as an opportunity, but now Euronics has highlighted
Safety & Security
Smart Products
Energy Control
Sport & Health and
Enjoying Life
as key areas for future growth.
Euronics has joined the Allseen Alliance that Qualcomm started to develop open standards for the IoT and home automation. Carpels quotes GfK as saying that 72% of home owners do not know about smart homes, but if you explain the concept and the applications to them, 70% become interested, so there is a lot of opportunity for a company like Euronics that thinks it can explain technology.
Privacy is a concern for consumers, but Euronics believes it is in a good position to persuade people in store that there is no security problem. Euronics wants to be the "competency leader" in the retailing of smart homes. Carpels then showed a video of smart home use cases.
In response to a question, Carpels said that the growth problems in the market are not just related to Russia and Ukraine, although they are a very long way down. The CE market has been down for a year or two, but now the IT market is down as well. The Windows 10 effect has not kicked in, yet, as there have not been many devices. As more devices appear, interest in new PCs should return.