At the recent AWE 2017, Epson formally announce two new Moverio family products. The Moverio BT-350 is based on the optics in the BT-300 platform, released last year, and has a new industrial design that is adjustable to fit any head size and includes adjustable nose pads for users wearing prescription glasses. It is specifically designed for applications where the same headset may be used by a variety of different users, such as visitor attractions and is also designed to be usable outdoors.
Features include a 5 megapixel camera and Wi-fi connectivity. The glasses platform is powered by a quad core Intel Atom X5 processor and Android 5.1, to support of efficient rendering of complex 3D AR experiences. An optional Quint Controller Dock connects up to five Moverio BT-350 controllers via USB to simultaneously charge devices, save and change content, install apps, check status and update the OS. The Controller Docks can be linked to three additional stations for managing a total of 20 controllers simultaneously. Device management software is included.
Pricing is $1,399.
The Moverio Pro BT-2200 is a development of the Pro BT-2000, released in 2015, but re-designed for use with front brim helmets by including a new hinge and we reported on it from the Virtual Laval show. ( Epson Adds Moverio Helmet) The hinge is intended to allow users to easily flip the smart glasses down over the eyes, or up and out of the way, while the Moverio Pro BT-2200 remains firmly attached to the helmet. Pricing is $2,999.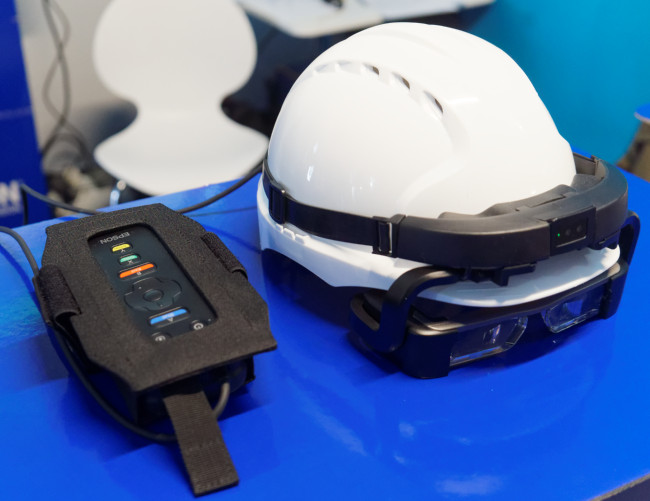 Epson showed the Moverio Helmet in Laval. Image:Meko