Epson had its usual presence at the show and was highlighting a theme that we heard quite a lot at the show, which is the declining gap in prices between lamp-based and laser-phosphor projectors.
The first product we looked at was the EB710ui which is a short throw interactive projector aimed at classrooms and which has a 3LCD (0.67″ D10 with MLA) engine producing up to 4,000 IDMS 15.4 (CLO) or ISO lumens with 1920 x 1200 resolution and a claimed contrast of 2.5 million to one. It has 2,800 lumens in economy mode, when lifetime goes up from 20K hours to 30K. The UST unit has a throw ratio of 0.27 to 0.37:1 and is recommended for use from 70″ to 100″ – it was being shown at 100″ and looked good.
Connectivity includes 3 HDMI ports, VGA in and out and wireless. There are a range of security features and the infrared curtain detector is included.
The EB710ui costs £3,000 ($4,200 plus tax) in the UK which makes it competitive. Epson always reminds us that its lamps cost only £50 ($70) but educators really don't want the potential hassle of lamps failing or needing changing.
In contrast, the EB-696UI has similar technology, with 3,800 lumens but using a 267W lamp with 10,000 hours life in economy mode. The unit costs £2,420 ($3,420), so there is a price premium, but at a lower level than in the past.
The EBU-2265U uses a 3LCD 0.76″ D10 engine with 1920 x 1200. It has been around a while but was looking good in the sub-optimal conditions at the show.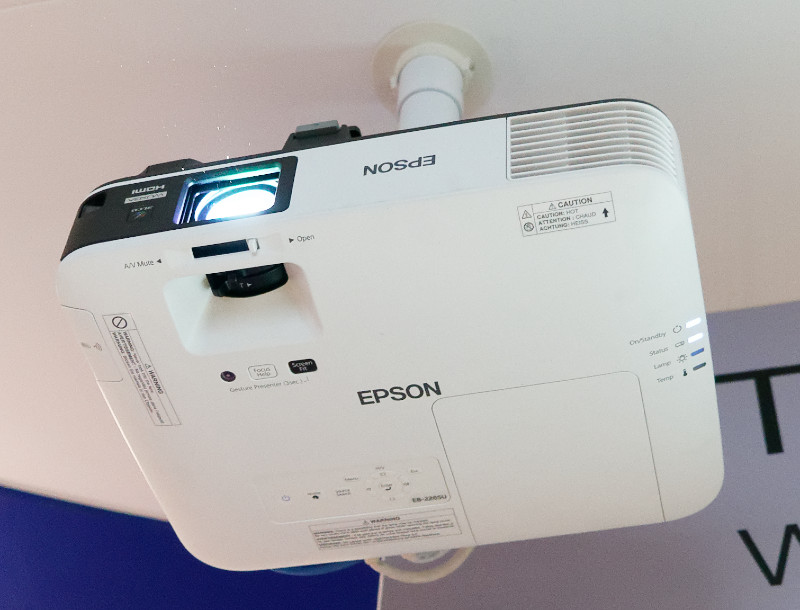 It's not new but the Epson EB 2265U looked good at the show. Image:Meko
The company told us that it is working with Avixa (previously Infocomm International) on promoting the DISCAS standard from the organisation which is intended to help specifiers ensure that they select the right projector for their application.