Epson told us that it is very happy with the sales of its installation products using laser phosphor sources. The company has 6, 7, 8 and 12 thousand lumen versions. New at the show was a 15,000 Ansi lumen laser phosphor projector, the Pro L1700 that, unusually, is able to run from standard 120V power. It has the same form factor as the lower brightness models and it was being shown with the XO2 UST lens which has a negative offset and lens shift which means that the projector can be mounted below the screen. It was shown on a 100″ diagonal, but can go up to 600″. Resolution is 1920 x 1200 and has "pixel shift" technology for displaying UltraHD content.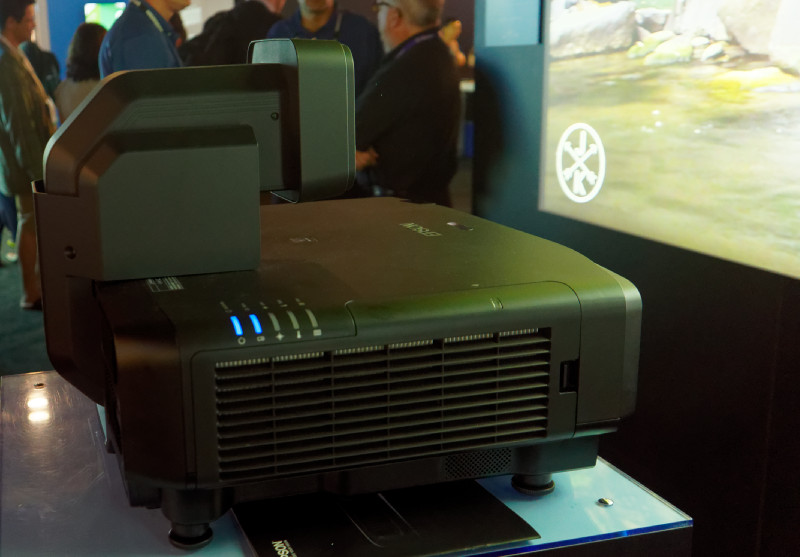 Epson showed this 'periscope' UST lens. Image:Meko
In a statement of intent, all the projectors on the Epson booth were based on laser phosphor. The company still sells lamp-based products, especially in the consumer and entry levels, but the booth at Infocomm was aimed at Pro A/V.
The BrightLink Pro 1470Ui, BrightLink 710Ui are UST projectors for interactivity and collaboration. The 1470Ui is intended for corporates and has 4,000 Ansi lumens. The 710Ui is intended for education, while the 700U is not interactive. The Brightlink and Brightlink Pro series use the DuoLink technology that allows two projectors to be linked to form a single display up to 177.5″. More details will be released closer to when the units start to ship in November or December.