Eizo went to the Medica show in Düsseldorf with a number of new products for medical applications. There was a new 49″ monitor for operating rooms and a new radiology monitor, the RadiForce GX550 that is FDA certified for breast tomosynthesis. The company also added new moduels for the company's 27″ OR monitor as well as a new DVI splitter.
The new RadiForce GX550 is a 5 megapixel (2048 x 2560) monochrome monitor with 21.3″ diagonal and is the successor to the GX540. It uses an IPS panel with 2,000 cd/m² of brightness, (600 cd/m² when calibrated). Contrast is 1,500:1 and response time is 25ms. Grey scaling is to 10 bits with that bit depth supported through the DisplayPort interface, although there is also a DVI-D (dual link) connector and DisplayPort loop-through.
The monitor is smaller than the older version and the the monitor's width, height, and depth were reduced by 21 mm, 36 mm, and 45.5 mm respectively – a 28% difference in volume. Eizo claims that the bezels are now the thinnest in the industry for five megapixel medical monitors. The monitor will start shipping in December.
The unit features Eizo's unique "Sharpness Recovery" technology, with which the decrease in sharpness (MTF) is restored. This allows healthcare professionals to display an image safely on the monitor that is true to the original source data, even at high brightness levels.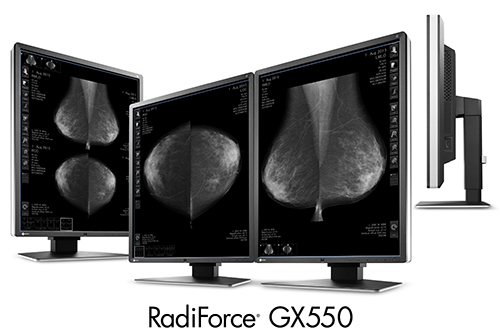 The CuratOR LX490W comes from Eizo's German business and is for operating rooms. It has a 49″ diagonal IPS panel and FullHD resolution and succeeds the LX470W 47″. The bezel widths have been reduced to 13.3mm and so overall, the dimensions of the monitor are the same, but with a bigger display surface and also with 22% less weight. The case is IP65 certified for the front and IP20 at the rear. Brightness is up to 700 cd/m² and there is an integrated stability function to maintain calibration over time. Contrast is 1,300:1 and response time is 8ms.
The LX490W has five factory-calibrated gamma modes for the display of different image types such as Dicom-based X-rays or endoscopic sources with a gamma of 2.2. 10 bit colour is supported. In addition to the predefined 12-bit look-up tables (LUT), the LX490W offers a user-definable LUT for onsite adaptation to specialised viewing needs. The monitor can also be configured to view multiple source images simultaneously using picture-in-picture (PiP), picture-and-picture (PaP) or picture-over-picture (PoP) functionality. Inputs include DVI-I, HDM, BNC and VGA as well as a range of video inputs. There are also video and HD-SDI outputs.
The monitor will ship at the end of the year.