The European Congress of Radiology takes place each year at the end of February and is very much a pan-European event that draws delegates from all over the EMEA region and suppliers from around the world. We hit the show for a half day, as it's a small show. We think we spotted all the display companies, by the simple process of trying to walk past every booth, as the new (but not improved!) app no longer allowed searching by product. This did find us one vendor that we wouldn't have otherwise found.
Most of the companies that we saw are companies that we saw last year, but two were new. One was LG and the other was a smaller Taiwanese company, Acula, and both were at the show for the first time. We heard that staff from Innolux were at the show, which would not be surprising as the company is the leading supplier of LCDs for medical applications, but we didn't manage to catch up before we had to leave to get our plane.
From the point of view of the display, there was little that was really new this year, especially in radiology, which is the main focus of the event. There are two main reasons for that and we confirmed at the show that there has been little change. First, radiology sensors are not improving very much in resolution. They are improving in other ways, but without improvements in the data available to display, there is no need for better displays. Most mammography, for example, is based on 3 megapixel images – which was high when we started to track the market, but is not any more.
The second factor that is critical is that radiology must ensure the integrity of the image data, which means that all data and formats are standardised in a format known as PACS (picture archiving and communication system). The display of the data from PACS is controlled by a system called DICOM (Part 14) which controls how the PACS data is presented. If you want to change the way the display works, you have to change PACS and/or DICOM. And that is difficult because software standards are hard to change.
DICOM is a monochrome system and applies only to monochrome images. Although there is a lot of interest and work being done to produce a colour version of DICOM (and Barco told us at the show that it is still involved, but had no estimated date of completion), the work is not complete. That means that medical monitors for radiology and approved for diagnostics have to support the DICOM monochrome standard, but do not have to do anything special for colour – and they can't be used in colour mode for diagnostics.
It seems likely that the next big wave of innovation will be when the DICOM colour standard is, eventually approved.
A hot topic a the event, in general, was AI. Radiology is a 'mechanistic' process and radiologists are under a lot of pressure to optimise their productivity for cost and service reasons. Adding AI might, eventually, allow automation of the process, but at the moment, these life and death decisions are being taken by humans. We wonder, though, how long this will continue? If the radiologist's job was reduced (perhaps to only deal with 'borderline' cases), then the demand for diagnostic class displays might go down.
However, there are lots more uses of technology using a wide variety of scanning technologies, in medicine, so the number of displays is unlikely to go down.
(by the way, I'm no expert in this area, so if you are and I got something wrong, please feel free to give me feedback)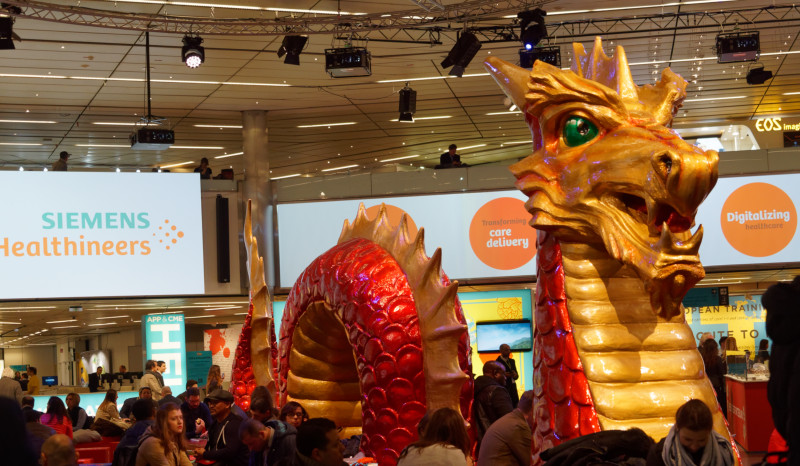 The entrance at ECR had this impressive Dragon. Image:Meko