At Display Week 2016, E Ink showed its new 32-inch flexible display that weighs in at a remarkable sub-150 grams, (yes less than 6 ounces or the weight of 8 UK pennies.) The new panel will be added to E Ink's Mobius line, targeting the DOOH market. The group is looking for applications including a drop-in replacement for digital signage, perhaps in transportation, or other public information systems, according to Harit Doshi, E Ink's head of the signage business unit. And while other application areas are also open for flexible displays, this is the area of 'low hanging fruit' for the company.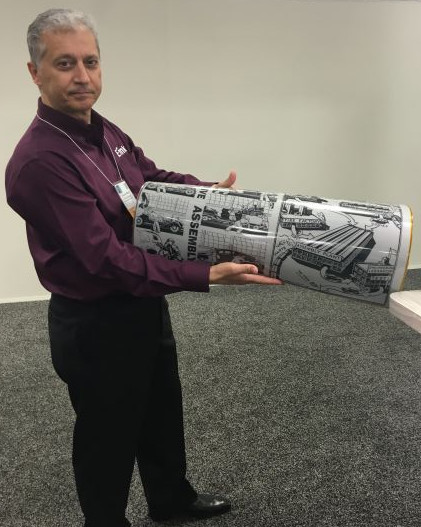 Doshi said its key attribute is that it can be flexed and conformed into either one simple curve or multiple curves as needed. It makes it ideal for the existing transportation ad-based signage including inside buses and trains. Both frequently have overhead display surfaces for information and advertisements and require the use of curved display systems that conform to the interior design. Beyond that, E Ink believes its low power requirements make the Mobius an excellent drop in candidate for replacing existing static or hybrid signs.
On the spec side, the newest 32-inch display offers a resolution of 2650 X 1440 (that's 94 pixels per inch.) E Ink said it has "All the paper-like readability and low power consumption of E Ink displays, plus will not add a significant power load on the system. Some customers are even using solar cells and rechargeable batteries," the group reported in a recent press release.
As stated in our pre-show coverage of Display Week 2016, E Ink was also showing its advanced color ePaper and even won a Best in Show for its efforts. The technology called Advanced Color ePaper (ACeP) is an electrophoretic display technology that, produces 'full colour' at every pixel, without using a color filter array (CFA). It can be used to show all eight primary colors, using colored pigments and is controlled using voltages that are compatible with commercial TFT backplanes. The fluid was incorporated into a microchip structure, with all colors present in every pixel, rather than a standard side-by-side format. Remarkably, only a single backplane is used, albeit with the use of "many" other materials used to independently control the position of the individual pigments, according to the company. A 20-inch ACeP display was shown boasting a 2500 x 1600 resolution.

Analyst Comment
This latest technology demonstration from E Ink show the company has not stopped iterating and improving on a good thing. The group is also targeting the DOOH market where hybrid signage that combines the benefits of both low cost static and flexible dynamic signage is coming into its own. Kudos to the development team for making a long term vision of full color a reality as they empower the next in both flexible and full color EPH displays. – Steve Sechrist
Personally, I thought that the E Ink full colour display looked very good – a huge contrast to previous designs based on colour filters. However, the driving is tricky and the display takes around 10 seconds to fully stabilise the image, so that may limit the applications, although production of the new colour display is around two years away, so that may improve before release. A paper explaining the technology was presented at the SID (BR)
---