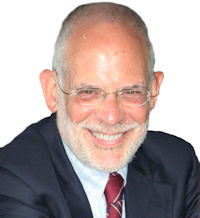 Glass is essential to the display and lighting worlds, but it's hard to make it as exciting as eye candy such as the LG 77″ UHD, HDR OLED-TV that wowed Display Week attendees as they passed through the entry to the exhibit hall. Still, there were some interesting glass developments shown in San Francisco.
Corning was showing LCD modules with its Iris Glass, which won a Display Component of the Year Ward from SID. Iris Glass was designed to replace acrylic and other polymers as the light-guide plate (LGP) in edge-lit LCDs. Using glass instead of polymer provides greater dimensional stability and a thinner LGP without sacrificing performance, a Corning representative said. Although transmissivity was a challenge, Corning says it has now been overcome. Iris Glass is being used in edge-lit TVs that are available today.
Sets were being shown in Corning's booth that measured only about 5mm thick, and thicknesses less than 4mm are possible, a Corning rep said. That's not too much more than the 2.57mm thickness of LG's top-of-the-line OLED-TV. Not far from the Corning booth, BOE was showing a 65″, 8k, 10-bit-per-channel module using Iris Glass and measuring only 3.8mm thick.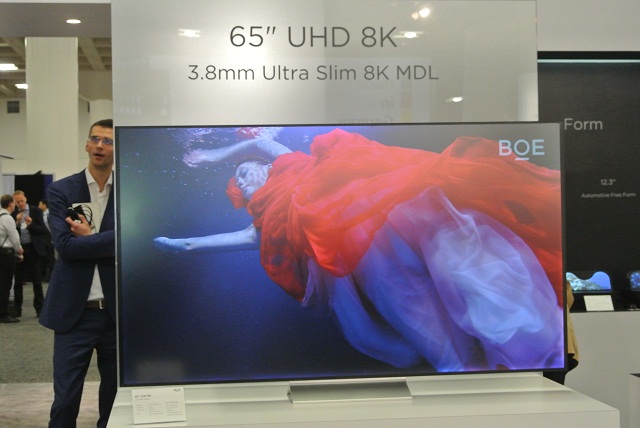 BOE's 3.8mm thick, 65″ module uses Corning's Iris Glass for its LGP (Photo: Ken Werner)Corning was also promoting both its Lotus and Eagle high-stability NXT glasses. There is significant interest in NXT glass for the coming generation of 8k LCDs, Corning said, because display drivers get hot enough for the stability of normal glass to be an issue. But that issue is not limited to TV-sized displays. Since last August, Samsung Display has been using Lotus NXT for the LTPS OLED display in the Samsung Galaxy Note 5, which packs Quad-HD pixel content into a 5.7″ display. To quote Corning, "Dimensionally stable Lotus NXT Glass supports higher pixels per inch, allowing the Galaxy Note5 to feature crisp, clear, true-to-life pictures."
Corning also showed not just Gorilla Glass, but "Vibrant Corning Gorilla Glass," which incorporates durable, high-resolution printing on the back side of the glass, with virtually any image that the customer specifies. The first consumer product using the technology, a Corning rep said, is an Acer notebook having a Gorilla Glass lid with a Hello Kitty graphic. Is it always true that clever technologies developed with the hard work of dedicated and skilled technologists are used for trivial applications (My granddaughter would disagree. To her, Hello Kitty ranks well up the totem pole from Albert Einstein and Elon Musk)?
Vibrant Corning Gorilla Glass put durable-jetted images on the back side of Gorilla Glass. The first commercial product to use the vibrant gorilla is the ACER notebook on the right with "Hello Kitty" on the Gorilla Glass lid (Photo: Ken Werner)Particularly for automotive applications, Corning was showing anti-glare Gorilla Glass with different amounts of haze. Samples with 3%, 10% and 20% haze were shown.
If Corning has Iris Glass for LGPs, can AGC (Asahi Glass Company) be far behind? Well, not too far. AGC was showing its XCV extremely transparent glass for LGP. Asahi was demonstrating the improved inner transmittance of XCV compared to conventional extra-clear glass, showing a significant difference, especially at longer wavelengths. Asahi also compared the properties of XCV with those of poly(methyl methacrylate), better known as PMMA, acrylic, or Lucite, which is a very common material for LGPs. The thermal conductivity of XCV glass is five times that of PMMA; its water absorption is 0.0% versus 0.3%; and its thermal expansion coefficient is 84×10-7 x K-1 compared to PMMA's 700. AGC will supply XCV with a light-extracting dot pattern but did not say when it would be available to panel makers or what the maximum available size will be (Corning has Iris Glass available up to Gen 10).
AGC also showed its Glascene glass projection screen that retains its transparency during image projection. The company also showed its Infoverre smart glass windows that change from transparent to highly diffusive.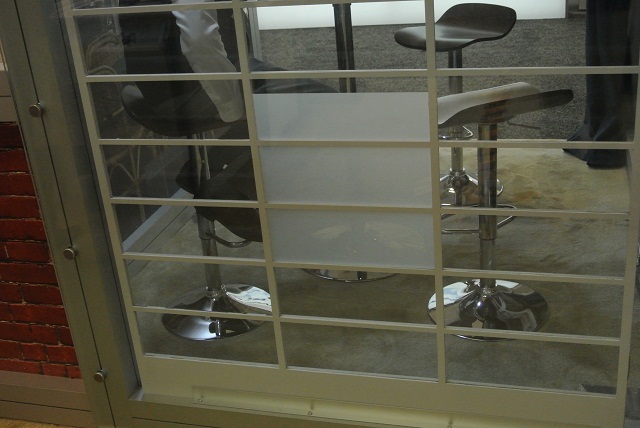 AGC Infoverre smart window (Photo: Ken Werner)Merck/EMD was also showing smart windows using guest-host liquid crystal, which it calls Licrivision. The window can turn from clear to diffuse, and can also change from clear to a color with the appropriate guest material. The technology is well-developed, said Merck/EMD, and the company is now working with architectural glass makers on high-volume production. Interest from architects and builders is intense, said EMD's Bob Miller.
3M showed its Advanced Light Control Film (ALCF) family. The polycarbonate films contain internal optical louvers for controlling the direction of light. 3M sees the primary application as reducing windshield reflections from automotive displays. The film can be included in the LCD's optical stack. A hardcoated version can be the top film over the front polarizer.
Luminit was showing its well-known light control films. New are products based on computer-generated holograms. One customer is using the technology to create an automobile welcome projection, which projects the brand's logo on the ground to welcome the owner to his car. Luminit would not reveal its customer, but Lincoln is known to offer such a feature.
Global Lighting Technologies (GLT) has been a master of precision light guides and light-guide based lamps for years. An unusual addition to GLT's technological portfolio this year was an extremely thin and flexible light guide that can be sewn into clothing. In the photo, a GLT rep wears a flat lamp based on the light guide behind the cut-out Los Angeles on the front of his baseball cap (The lamp is not lit in this photo).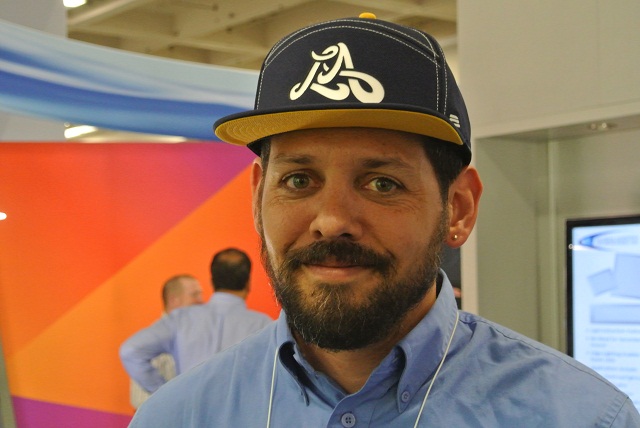 GLT's thin light can be sewn into a cap (Photo: Ken Werner)Finally, a company called Redux was showing a glass panel with transducers that created a very sophisticated, adjustable, and localized haptic experience. Virtual controls — such as sliders, knobs and pushbuttons — could be established anywhere on the panel, and they felt much like the mechanical controls they mimicked. Adjustments could be made for button resistance, button edge sensation, friction and clicks in a rotary control, etc. The same transducers can make the panel, which can be a separate panel or the front glass of a display, act like a loudspeaker (or a stereo pair). If the audio part of the Redux technology sounds a lot like the defunct company NXT, it's because Redux acquired NXT's IP and hired some of its former employees. There was nothing wrong with NXT's technology, said Redux CCO John Kavanagh, just its product strategy. But Redux is adding its very sophisticated haptics to NXT's audio-on-panel approach.
These Display Week exhibitors have not been sitting on their glass. – Ken Werner