At SID Display Week 2015, we took time to meet with global marketing director of E Ink Holdings, Giovani Mancini to discuss the latest developments in the E Ink (e paper) universe. This includes adding a new color to its EPH (electrophoretic) displays, "…making them particularly suitable for the electronic shelf label market," Mancini told us. To that end the company partnered with Displaydata, a top dynamic digital display solutions provider and one of the top suppliers into the ESL (electronic shelf label) market.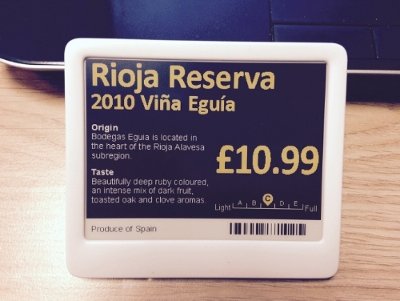 On the display side, a new chroma yellow version, in the "Spectra" product line (color active matrix EPH displays) includes three pigments, initially black, white, and red and is in mass production. Now, a new yellow pigment has been added to the three pigment ink system, replacing the red microchip ink structure with the color yellow. The multiple color displays will help vendors in the ESL space by adding the two most popular colors used in retail pricing, and to differentiate between categories of products on sale, (clearance items, special promotions, regular price items etc.)
Mancini emphasized that the shift to ESL's in retail is accelerating particularly due to the rise of brick and mortar stores directly competing with on-line competition like Amazon. "Seeing and touching, and ultimately walking away with the product is highly desirable to customers and they are willing to pay a premium for this peace of mind. In short, that they are getting exactly what they see, touch and feel," Mancini said. "This, plus the instant gratification of taking it with you when you pay offers a tremendous host of advantages over the singular advantage of price that Amazon and other on line retailers offer," he said.
The move to ESL helps retailers keep pace, and respond immediately to price changes in the greater market of the world wide web. No delay, no mail or UPS rendezvous issues, theft or other headaches, Mancini explained. It's also a high growth market. The ESL business has experienced 100 percent year over year growth for the past two years, and E Ink expects similar growth in 2015 as well, Mancini told us.
Meanwhile Eink is partnering with Displaydata and made this formal announcement at the SID: "Displaydata is… working in partnership with E Ink to build the world's first range of 3-color ESLs displaying fully graphic images in yellow, black and white, which will be unveiled at SID Display Week 2015" says Andrew Dark, CEO of Displaydata Inc. Dark also said their tier one retailers are moving in the EPH display direction that the company combines with their go to market know-how. This includes the Displaydata enterprise software to manage (automate) dynamic pricing, product information changes and even price comparison data product specifications, and all applied wirelessly.
Beyond the ESL market, Mancini told us the company will be looking at other applications for its the three color active matrix Spectra displays, including industrial, smart card and medical market, where can be used to display information on electronic identification badges. – Steve Sechrist
(Ubiquitous Energy was in iZone showing ESLs that are comletely solar powered Ubiquitous Energy is Display Week IZone Prototype Winner)
---