In the past, we have had reporters at DSE, but the show is so close to ISE that we didn't get much that was really new, so we haven't repeated the exercise. However, we have been watching out for news and here are some items of news from the show.
Brightside and NEC announced a deal in the US under which the companies will offer special display + media player bundles with 'deep discounts' to the channel. The deals will be offered by Ingram Micro, Stampede, Almo and BlueStar and will be based on NEC C Series and V Series displays offered with a BrightSign Series 3 LS, HD or OPS-compatible HD media player (HO523).
Mount maker, Chief, was busy, with a number of new products. The Impact On-Wall Kiosk is a frame for display mounting and protection that can make service easier and help to fit displays to uneven walls. It is available in sizes from 46″ to 75″.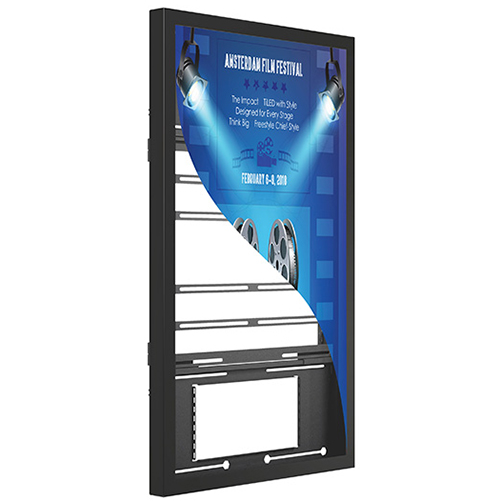 Chief's Portrait Wall Kiosk.
Chief also introduced new outdoor mounts that include a wind deflector for systems that have not been designed to deal with wind exposure.
Tony Caruso, Product Manager, said
"When you add large displays to outdoor columns, they can act like a sail. This new mount system definitely takes the wind out of those sails."
There are 6′ and 8′ (1.83m/2.44m) columns with up to 30cm of adjustment. There are also specific mounts for Samsung LFDs.
"We have universal outdoor-rated mounts, but the unique mounting patterns and ventilation needs of the Samsung displays required a custom option,"
said Caruso.
The PSMO2085 fixed wall mount supports the Samsung OH55F in landscape or portrait orientation while the FHBO5085 bracket connects the OH55F to Chief's ODMLT outdoor tilt mount. '
The PSMO2086 supports the Samsung OH46F in landscape or portrait orientation, while the FHBO5086 bracket connects the OH46 to Chief's ODMLT outdoor tilt mount.
Chief also announced the latest version of its TiLED Ser4ies for LED displays, specifically the Samsung IFH Series (models IF015H, IF020H, IF025H)
Draper announced a new projector enclosure, the 'Silent Partner' which is for units from 5,000 to 15,000 Ansi lumens and is available in 120V or 240V versions. As well as reducing noise using a convoluted exhaust airflow path and acoustic insulation foam, the enclosure has a filter and fans to reduce dust and the fan is thermostatically-cooled for optimum efficiency. The unit can be used on a tabletop or on a ceiling. It can also be attached to a lift for concealed storage.

Matrox and IBase announced a new SI-61S system for nine monitor video walls used for driving 3 x 3 panel arrays. There are nine HDMI ports and a dedicated graphics processor that can support resolutions up to a full 5,760 x 3240 resolution (18.7 megapixels), 2.25 times more resolution than UltraHD. The systems use Intel Core i7 processors and a Matrox C900 graphics card.
Samsung and Cisco said that they have completed the HDMI-CEC compatibility test between Samsung's QMH, QBH displays and Cisco Spark Room Kit & Kit Plus. Now, Samsung UHD Smart Signage, QMH Series displays and the last firmware release of Tizen 3.0 can be integrated with the Cisco Room Kit Series featuring non-touch and play synchronisation for smooth user experience.
Sony announced new 10 point infrared and capacitive overlays at DSE for its Bravia Professional Displays, along with optional front display covers in white or wood finishes.
| | |
| --- | --- |
| Model name | Description |
| TO-12XX-IR10 | 43", 49", 55", 65", 75", 85", 100" Infrared touch overlays (10 points) |
| TO-12XX-CA10 | 43", 49", 55", 65", 75" Capacitive touch overlays (10 points) |
| FC-12XX/W | 43", 49", 55", 65", 75", 85" Frame covers in white finish |
| FC-12XX/WO | 43", 49", 55", 65", 75", 85" Frame covers in wood finish |