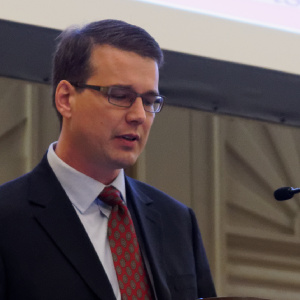 Tim Anderson is the VP of Product Management from Compound Photonics which is "the largest projection company that you have never heard of", as it has been, somewhat, in stealth mode.
The company has been developing a number of projectors including a small 1080P unit (with a volume of 2 cc), 4K engines and 4K & 1080P LCOS. The company has lasers, including green lasers for HUDs and the company has technology for optical sensors and for infrared laser gesture tracking. The company has 300 employees spread around the world, including Phoenix, Arizona and Newton Aycliffe in the UK.
What's next for the firm? The company has an engine for micro projection, but it has an RGB laser projector (not laser phosphor) with 4K resolution and with brightness at 3,000 lumens. It doesn't want to go just into home cinema, but into the wider commercial projector, market including education and business.
Do projector manufacturers really listen to customers, Anderson asked? Projection is under attack from flat panels, but projector makers are not really investing to innovate. There is a 3% price reduction and 5% lumens boost each year, but that is not good enough. Lamp replacement is a big issue in projection, but 98% of projectors in the mainstream are still lamp-based and that is an issue. There's a clamour for solid state light sources.
Resolution is also an issue where projector makers are not doing enough. While FPDs start at 1080P, 65% of projectors currently sold are at XGA or below and that means they are seen as lower end by consumers. The "elephant in the room" is ambient light and the projection industry solution has been to throw lumens at the problem – rather than working on dealing with ambient light in better ways.
His recommendation to the industry is:
Ditch the lamp. There are a lot of blue laser and phosphor models, but there are not enough being sold yet. RGB laser is the best way to drive a projector, in his view, as the cinema business has found. Lasers can approach full 2020 coverage and white point can be problem with lamps. Laser can solve that. Speckle is always an issue for laser, but the firm has overcome the issue, although Anderson didn't explain how.
Resolution should improve – big images are OK, he said, but they shouldn't be big pixels. The reality of the last 10 years has been an increase in volume in XGA projector sales. Arguably, projection should not be less than 1080P. The concept of the retina display is well established, he said. Looking at a 1 arc minute resolution – with a 100″ screen, you have to move 28′ (9m) away to get one arc minute – the pixels disappear. For everyone else there are visible pixels at XGA. Moving to 1080P, 60% at the rear of the class will get a 'retina display' performance. Users do not perceive the value of projectors, partly because of the resolution issue. At 4K, even the teacher at the front effectively gets a retina display. Compound Photonics has a 0.55″ native 4K LCOS chip with 3um pixels.
Ambient light is always an issue. Customers expect that with a bright projector they will get a good image even in bright ambient light conditions. If it has a wide gamut, the projector is able to measure the ambient light and can correct to deliver something much closer to the desired colour, taking the ambient light into account. There are multiple other technologies that can help and the firm is working on a screen that only reflects the specific light from the RGB primaries, which are, of course, finely tuned.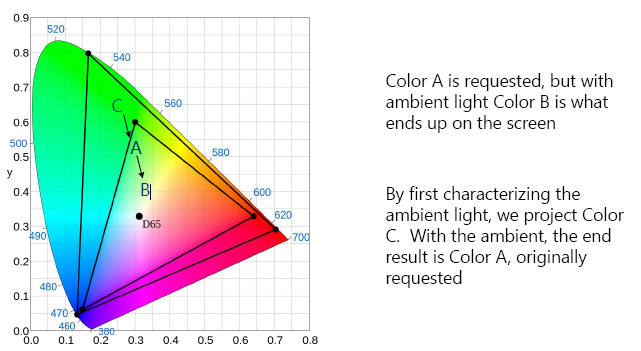 In questions, Anderson said that really only projection screen technology could improve the black levels and Sony and DNP are working on this.
Analyst Comment
Anderson got considerable support for his point of view from some delegates at the event. I believe he is right – an XGA display these days is lower resolution than my smartphone. Mind you, the price of a projector may also be less than the smartphone! (BR)