Innolux has made breakthroughs in the latest, cutting-edge technologies and their various applications to develop industry-leading products —InnoLED, Multi-user N3D, PolarBlack, and miniLED—that showcase its research and development prowess. These flexible applications that span industries have helped the company build a robust industry ecosystem.
Innolux will present its wide range of applications and smart solutions at the 2022 Touch Taiwan Smart Display Exhibition from April 27 through 29 at the Taipei Nangang Exhibition Center, leading the industry to achieve new heights in the next generation of display technologies.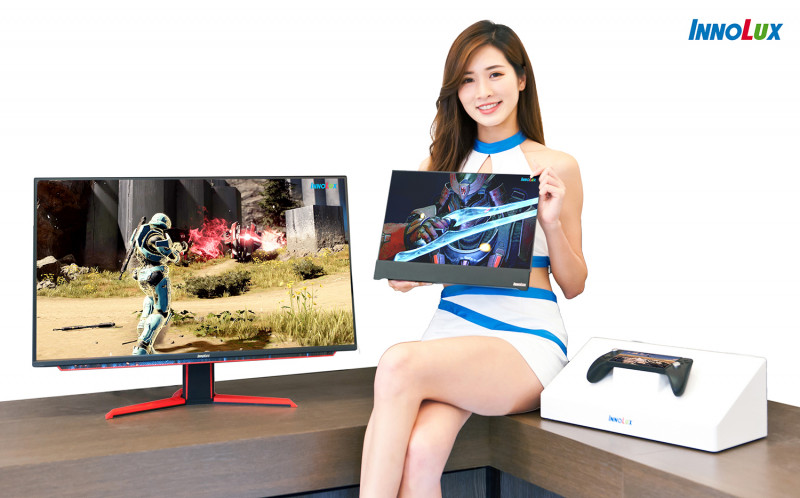 Creating stunning next-level images with the groundbreaking InnoLED display technology
Innolux will present the industry-leading applications derived from its proprietary InnoLED technology, including the bezel-less Supreme Gaming LCD, which utilizes a super-high contrast ratio made possible by the new InnoLED technology to achieve a wide color gamut, low power consumption, low blue light, and its super-thin design that offers the optimal gaming experience. The 16″ Thin Bezel 165Hz miniLED Gaming Notebook combines the IGZO panel with InnoLED's large number of miniLED backlight partitions to achieve greater depth of field effects, better detail in colors and dark areas, and deeper, more vibrant colors. The panel also supports a super-high refresh rate that minimizes motion blur, allowing gamers to easily see their targets and unlock their potential as they enjoy the ultra-smooth gameplay.
The next step in 3D displays with industry-leading N3D technology
Innolux's proprietary industry-leading N3D technology is built around light-field display technology, which minimizes the discomfort from prolonged use. The N3D technology is utilized in the 31.5″ Multi-User N3D Display for multiple viewers and the 15.6″ 4K N3D Notebook for single users. These products provide viewers with a hyper-realistic 3D experience and feature a multitude of industry-leading innovations in 3D displays, including low-computational-load and wearable-free 3D graphics. They promise to give Innolux a major head-start in seizing business opportunities in the fields of omnichannel retailing, smart healthcare, etc.
A visual feast with Innolux's proprietary PolarBlack technology
Innolux has been investing in the development of TFT-LCD technology for many years and has achieved breakthroughs in notebook panels with its proprietary PolarBlack LCD technology, which pushes the envelope in color gamut, contrast, and brightness. The 16.0″ PolarBlack laptop to be showcased at the exhibition features a super wide color gamut, high brightness (500 nits), ultra-high contrast ratio (3,000:1), and low power consumption (30% lower than regular LCD displays). With its vibrant colors, high definition, and ability to show fine details in both bright and dark areas that outperform even high-end OLED notebook displays, this product redefines the user experience for a new generation of consumers.
Accelerated development of next-generation displays to seize new business opportunities
With its next-generation miniLED backlight display technology, Innolux leads the industry in introducing sub-11-inch tablet displays. For the exhibition, Innolux will present its 10.95″ WQXGA miniLED Tablet, which utilizes the company's exceptional miniLED backlight technology to achieve a high contrast ratio, high brightness, low power consumption, and high dynamic range. It also features a unique modular design with great compatibility produced via an optimized backlight module manufacturing process, thereby effectively shortening clients' product development cycles, reducing development costs, and boosting their competitive advantage. The 16.0″ 165Hz miniLED Gaming Notebook and 17.0″ 4K miniLED Gaming Notebook are both equipped with ultra-high dynamic range (HDR-1000), a high refresh rate, and the new miniLED backlight technology to produce realistic images with ultra-high brightness and contrast, providing gamers with an incomparably immersive gaming experience.
Collaboration with strategic partners to build the next generation of comprehensive display solutions
As the next generation of display technologies continues to evolve, the Active-Matrix mini-LED will drive another leap in technological development. With its robust TFT-LCD foundation and production quality, Innolux is working with its strategic partners (PanelSemi) to develop its comprehensive The Driving Solution of Active Matrix on TFT Substrate, which is powered by AM TFT substrate that enable precise control of output current to produce bright, high-contrast, high-definition images. The Active-Matrix on TFT Substrate can also be applied to rollable display products for use in a variety of fields due to their advantage of being rollable, ultra-thin, easily installed, and highly portable, while at the same time producing high definition dynamic images.
The 2022 International Smart Display Application Conference will be held alongside the exhibition. On April 28, Prof. Chiu-Lien Yang, general director of the Innolux Technology Development Center, will host a seminar titled "MicroLED leads new opportunities in the display industry". Visitors are welcome to join us at the 2022 Touch Taiwan Smart Display Exhibition and learn how Innolux's road map for innovative display technologies will lead the industry to new heights.