One of the demos focused on Dolby Cinema. While we did not sit in a real Dolby Cinema theater (that is being constructed at the site), we did see some real images. The projector is specially designed to deliver ultra-high contrast. It is essentially two 3-chip DLP projectors in series so you get double modulation of each pixel for extremely low black levels. The brightness has also been improved to deliver 32 fL – more than double the DCI standard of 14 fL. It clearly exceeds the 5000:1 contrast of film, although Dolby did not state the contrast level.
In the demo we saw, the room was made pitch black. First, the normal gray glow of a typical projector was shown on the screen, then it went to Dolby black. You could just, barely, make out the illuminated area once fully dark adapted, but truly black.
We were shown some test images and footage to highlight the capabilities of the HDR capabilities of the projector. I noticed that the rapid change from a very dark scene to a very bright scene was actually a little discomforting as you are not able to adapt quickly enough. This is an issue film makers will need to keep in mind.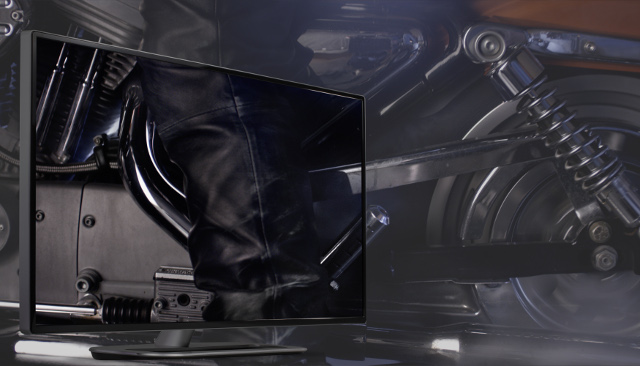 This is a RGB laser-based projector so Dolby also discussed the wide color gamut capabilities. Cinema content today is all specified and delivered in a P3 color gamut. But the laser primaries of the projector make it able to delivery images that are nearly 2020 gamut. That means film makers can start to consider creating content in this wider gamut if it is to be shown on RGB laser projectors. There is no DCI spec for this yet, but it may be time for the organization to start thinking about one.
A clip from the movie Inside Out was shown to highlight the wide color gamut. Some of the colors were outside of P3 and were actually displayed theatrically on RGB laser projectors. So, this is already happening without a DCI spec. (For more on this, see our report from IBC (Hollywood Excited by HDR & WCG and "The sparkle in actors' eyes")
The new Star Wars movie is the first one to be shown in Dolby Vision that will utilize the high contrast and wide color gamut capabilities of the Dolby Cinemas. Currently, there are 12 operating Dolby Cinemas worldwide with eight being housed by AMC. More are coming on-line at a 2 per month rate, said Dolby. AMC has agreed to install 100 of them!
Dolby provided a coupon to attend the Dolby Cinema in Time Square, New York, which I plan to visit to see the new Star Wars film and get a booth tour. Look for this coverage soon, I hope.
Dolby Vision was also showcased on our visit. This mostly featured an overview of the technology and the playback of some clips on the new Vizio 65" reference TV. Dolby worked quite closely with Vizio on the implementation of Dolby Vision and actually optimized the playback for the six different modes the TV offers. There is also a reference mode that is the most accurate playback for creative intent.
The Dolby specification for Vision is that the peak brightness of a 20% patch of full white should be 800 nits. The Vizio set meets this and also has a full white spec of 800 nits. Not all HDR TVs will be able to do this however, so ask about it.
The 65" Vizio set is expensive at $6K. But this will change n 2016. Dolby says that Skyworth and TCL have already announced they will offer Dolby Vision TV for the China market and we expect more announcements at CES. The bottom line – Dolby believes it will be possible to get a Dolby Vision TV in the second half of 2016 for $2K or less. That just might make my Christmas list next year. – CC