DisplayMate has issued its detailed review of the OLED display on the new Apple iPhone X. Dr Ray Soneira from DisplayMate said that the display displaces the Samsung Galaxy S8 as the best smartphone display, based on the display calibration used on the unit.
DisplayMate that, like the Samsung, the Apple display has damond sub-pixels and uses sub-pixel rendering. It has a 458 ppi pixel density and supports both the sRGB/Rec. 709 and DCI P3 gamuts – with automated switching where images support the correct ICC profile to indicate the colour space used. Each phone is individually calibrated at the factory and DisplayMate found that the phone has an absolute colour accuracy of 1.0 JNCD for sRGB/Rec. 709 and 0.9 JNCD for P3.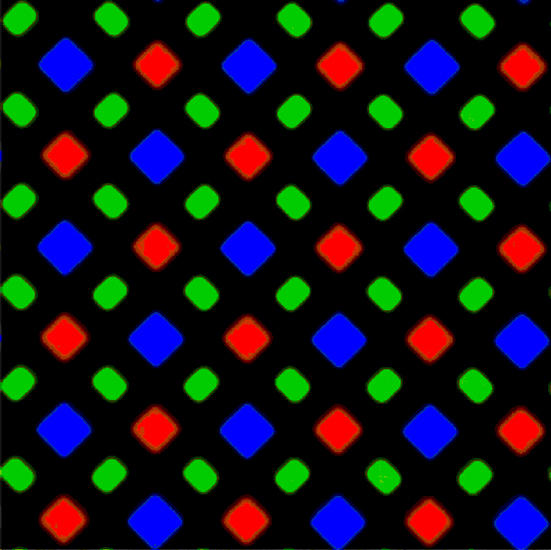 DisplayMate said that this is a shot of the Apple OLED obtained with a microscope camera. Image:DisplayMate
The iPhone X hits a new high level for full screen brightness of 634 cd/m², although the Samsung Note 8 can go up to 1,240 cd/m², but only from small areas, where the iPhone X can go up only to 809 cd/m².
DisplayMate has long championed the importance of good performance in high ambient lightness conditions, and the reflectance is 4.5% and with the good black, the contrast is fro 141:1 to 180:1, the highest that Soneira has measured on a smartphone. The phone also has a 'True Tone' viewing mode that adjusts not only the brightness, but also the colour of the ambient light to optimise performance.
Turning to viewing angles, the Apple display loses 22% of its brightness at an oblique angle of 30º, not perfect, but much better than LCDs which typically lose 55% at that angle, according to the firm.
Finally, Soneira said that in his subjective opinion, the picture quality is 'absolutely stunning and beautiful' and is probably more accurate than any other display that you might have.
Analyst Comment
Soneira has been drawing attention to the accuracy of the calibration of the Apple range of displays and its support for the P3 gamut. The accuracy and surface treatment for reflections seem to have lifted the quality of the Apple version of this Samsung panel above the level of the Korean one. (BR)