The Google Pixel 3 XL's new 6.3-inch AMOLED flexible display with diamond sub-pixels makes the grade by meeting and exceeding existing top performance benchmark records. So says DisplayMate's Dr. Ray Soneira, who has established the go-to lab for display industry benchmark testing.

In the recently published findings from his smartphone shoot-out series, the new Google Pixel 3 XL display demonstrated top marks in six major measurement categories either matching or besting the Samsung and Apple flagship smartphone devices. Google now shares the title of Best Smartphone Display with its rivals with, Soneira wrote in his shoot-out assessment,
"close to text book perfect calibration accuracy and performance that is visually indistinguishable from perfect. Based on our extensive lab tests and measurements the Pixel 3 XL receives a DisplayMate Best Smartphone Display Award earning DisplayMate's highest ever overall display assessment grade of A+ by providing considerably better display performance than other competing smartphones",
The Pixel 3 XL excels in display categories including
Absolute color accuracy (highest absolute color accuracy 1.1 JNCD – visually indistinguishable from perfect).
Smallest shift in color accuracy with change in image content (APL 0.7 JNCD).
Highest contrast ratio (Infinite).
Lowest screen reflectance (4.3 percent).
Smallest brightness variation with viewing angle (28% at 30º).
Highest visible screen resolution 3K (2960×1440) – (Soneira notes that "4K does not appear visually sharper on a Smartphone.")
Get full details on the DisplayMate Pixel 3 XL Shoot-out using the provided link.
Matching these companies is no trivial task in a world dominated by Apple Xs and Samsung devices, and, as Soneira points out, Google achieved the high marks, joining the shift to AMOLED displays on high end /flagship smartphone devices. As Soneira puts it,
"OLED has evolved into a highly refined and mature display technology that now produces the best and highest performance displays for Smartphones. OLED Display Performance continues to provide major record setting improvements with each new generation".
Soneira confirmed to us that the performance of the Pixel 3 was very similar to the display in the Galaxy S9 and that strongly suggests that the display comes from Samsung Display.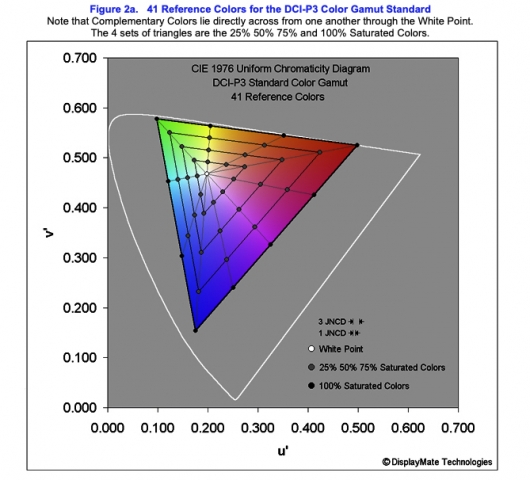 Google Pixel 3 XL Accuracy chart Source, DisplayMate labs
There's a lot to like in the new Google Pixel 3 XL including it's large full screen display "that fills almost the entire front face of the phone from edge-to-edge. The home button and navigations buttons are incorporated within the touchscreen display," Soneira said. It comes with a taller height to width aspect ratio of 18.5 : 9 or about 16% larger than most smartphones. "It is taller in portrait mode and wider in landscape mode. This provides extra space for notifications and for displaying multiple apps and content simultaneously on-screen side-by-side," according to Soneira.
Perfect Sharpness
Resolution tops out at 523 ppi (pixels per inch) from the (2960×1440) 3K Quad HD+ AMOLED panel. "That's 4.2 Mega Pixels, double the number on your HDTV. It can display more than four complete HD 1280×720 images at once," Soneira noted. To get there, the display uses a diamond pixel and sub-pixel rendering, "providing significantly higher image sharpness than can be resolved with normal 20/20 Vision at the typical viewing distances of 12 inches or more for Smartphones, so the display appears perfectly sharp," Soneira wrote.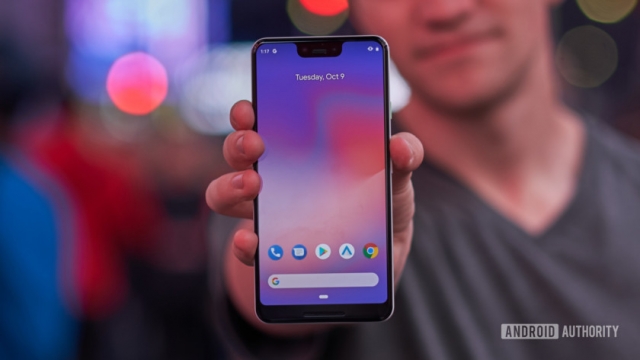 Google's new Pixel 3 XL 6.5-inch flexible AMOLED display with iPhone-like notch for camera and other front facing components, source: Androidauthority.com
The Pixel 3 XL uses sub-pixel rendering, which further improves image sharpness because the individual red, green and blue sub-pixels are treated as independent addressable image elements and are not bound together into fixed pixels, so the closest sub-pixel is used when rendering the image. In some cases sub-pixel rendering can make the screen appear to have up to three times the resolution of traditional pixel rendering. As a result, for smartphones it is absolutely pointless to further increase the display resolution and pixels per inch (ppi) up to 4K (3940×2160 pixels) for a silly marketing wild goose chase into the stratosphere, with no visual benefit for humans, according to Soneira. (We have pointed out several times that 20/20 vision is not 'perfect', but average vision, so plenty of people can see better than this. It also doesn't take into account human vision performance in vernier acuity and other areas. Soneira's view also discounts any use of the smartphone in a VR headset, but he doesn't see this as worth taking into account. – Man. Ed.)
Two industry standard color gamuts are supported in the Google Pixel 3 XL, the sRGB / Rec.709 color gamut (used for most current consumer content), plus the wide DCI-P3 Color Gamut (used in cinema). Soneira noted "the DCI-P3 gamut is 26% larger than the sRGB / Rec.709 Gamut. But automatic color management provides many more Gamuts…") The new Google panel has automatic color management that will automatically switch (based on its ICC profile) to the proper color gamut for any displayed image content within the DCI-P3 color space. "Images automatically appear with the correct colors, neither over-saturated or under-saturated. Automatic color management with multiple and varying color gamuts is a very useful and important state-of-the-art capability that all manufacturers will need to provide in the future," Soneira stated.
Finally the Pixel 3XL display system includes three user selectable color modes that provide control of "Vividness" of displayed images for each color gamut. This includes a "Natural Mode" (targets accurate colors) a "Boosted Mode" (boosts color gamut to increase color saturation of images) and the "Adaptive Mode" ( provides an adjustable color gamut up to the full native color gamut of the OLED display).
Suffice it to say that Google has gone above and beyond with its new Pixel 3 XL display, having reached the highest accolades from DisplayMate Labs. Be sure to see the full test results of this impressive new flagship display system that sets the industry standard in most all display metrics categories. – Steven Sechrist
DisplayMate Gives Note 9 an 'A+'
DisplayMate Tests the S9 Display
DisplayMate Says iPhone X Breaks New Mobile Display Ground
Sharp Officially Announces First Smartphone with Flexible OLED
OLED Panels Could Replace 200m LTPS Panels in Smartphones by 2022