My colleague Norbert Hildebrand has already written about CES Unveiled (Display Gadgets at CES Unveiled) and I won't repeat his coverage. I do want to fill in two gaps where he missed items of interest.
IonVR showed their smartphone-based VR display at CES Unveiled. Fundamentally, it was similar to the cardboard one from Google and the NY Times I wrote about in my Display Daily (NY Times and Google Show VR ). Of course, this unit was much more sophisticated and had things like adjustable interpupillary distances (disabled by a blob of glue at CES Unveiled) and straps to hold it comfortably on your head. The image was better than I saw with the NY Times cardboard VR viewer, although that can largely be attributed to the fact IonVR was using a Samsung Galaxy S6 phone with a 2560 × 1440 pixel display while I had been using a iPhone 5c with a 1136 × 640 pixel. While pixels were still visible with the higher resolution display, it was not nearly so annoying.
Content for previous generation VR headsets has been scarce, in part because of the variety of formats for the variety of available headsets. With the announcement that YouTube (i.e. Google) will begin a VR service, this problem is likely to go away. Certainly this service can be expected to be compatible with smartphone-based headsets such at the cardboard one from the NY Times or the better one from IonVR.
Meko's Matt Brennesholtz wearing the IonVR headset at CES Unveiled.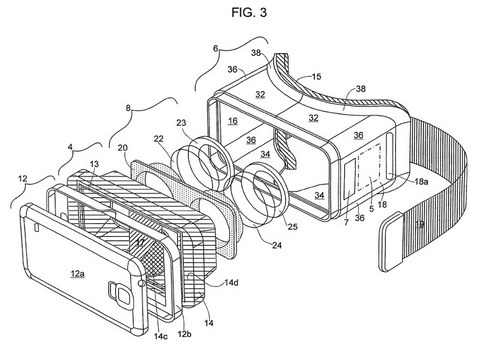 Drawing of system from Published US Patent Application 2015/0253574
IonVR's headset fits VR-capable smartphones from a screen size of 4.6″ – 6″. The headset is designed specifically to enable the user to keep the phone case on during use. According to the company, the company has patent-pending technology designed to reduce VR motion sickness, although details of what that technology is are not available. The patent application mentions a microphone, headphones, a camera, a display, communication components, motion sensors and movement trackers, filters, battery chargers, and warning devices. It is not clear if these are separate items or if they are just parts of the smartphone. In any event, they were not separate items in the prototype shown at CES Unveiled. IonVR is accepting pre-orders for their headset at $229 with an estimated Ship date of Q1 2016.
All in One HC from AiO (http://www.avconceptproducts.com/) is what they call "The world's first wireless & autonomous videoprojector." This is a compact, portable projector targeting the consumer market. It uses a 0.45" 1280 x 800 DLP imager and RGB LEDs to produce what is said to be a 1000 lumen projector. The projector is a fairly compact 225 x 227 x 55mm (8.86 x 8.84 x 2.16 inches) and weights 1.2KG (2.2 pounds). It has Android built in, running on a quad-core 1.5GHz processor. It has Bluetooth and Wi-Fi connectivity.
Perhaps the most interesting thing about the projector is what it does not have: any conventional wired video interface. The only cable is the 110/220V power cable for the internal power supply. No HDMI, no MHL, no composite video. Instead it is designed around wireless video connectivity. Content can be streamed directly to the projector off of the Internet or, via Miracast, from a mobile devices. Want to watch a movie you have on Blu Ray? Not a problem. The projector will include an AirHDMI dongle. Plug this into the HDMI output of any Blu Ray player, Set Top Box or computer and it streams the video wirelessly to the receiver in the projector.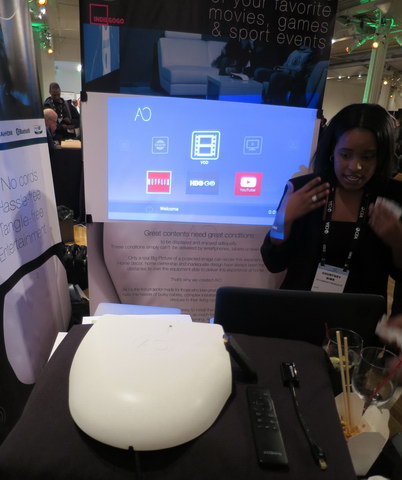 AiO All in One HC Projector at CES Unveiled
The company is accepting pre-orders now via IndiGoGo, a crowdfunding website, for $999. While the rep at CES Unveiled said the unit would be available in Q1 2016, I wouldn't count on this since they are still a long way from their campaign goal. –Matthew Brennesholtz