One thing is for certain, Display Daily has changed for 2023. Since Jon Peddie Research acquired the site in the latter part of 2022, we have been working on updating the site, and making plans for 2023. Let's start with a small list of changes that you will notice immediately:
First, if you want to talk to us about anything here are your options: for any support related to your subscription or access to the site, email [email protected]. If you want to have general inquiries about the site or company, use our Contact Form.
We have streamlined memberships. There are 2 membership tiers only: Insider for individuals and Enterprise for company accounts. Some of the other membership tiers will be deprecated over the coming months as they run out but we made the decision because the vast majority of our subscribers are Insiders and corporate users.
The site has been refreshed and revamped. We hope you noticed and like it. But, we love feedback so, feel free to get in touch and tell us what you think or just let us know what we can do to improve. Feel free to connect with me on LinkedIn if you want to have a more direct discussion.
Being a Display Daily Insider
Simplifying everything was a key focus of our intention for Display Daily for 2023. We want everyone to be a Display Daily Insider because that is where we will be putting most of our efforts into developing our services. Display Daily is a site for professionals in the display industry and all the periphery of interested parties. Insiders can access the site online and will get information sent directly to their inboxes. And, we are hoping to launch a group chat for anyone who wants to be involved in active and real-time discussions. It's going to be an experiment in building community for Display Daily, and also to help us have direct feedback loop for Insiders.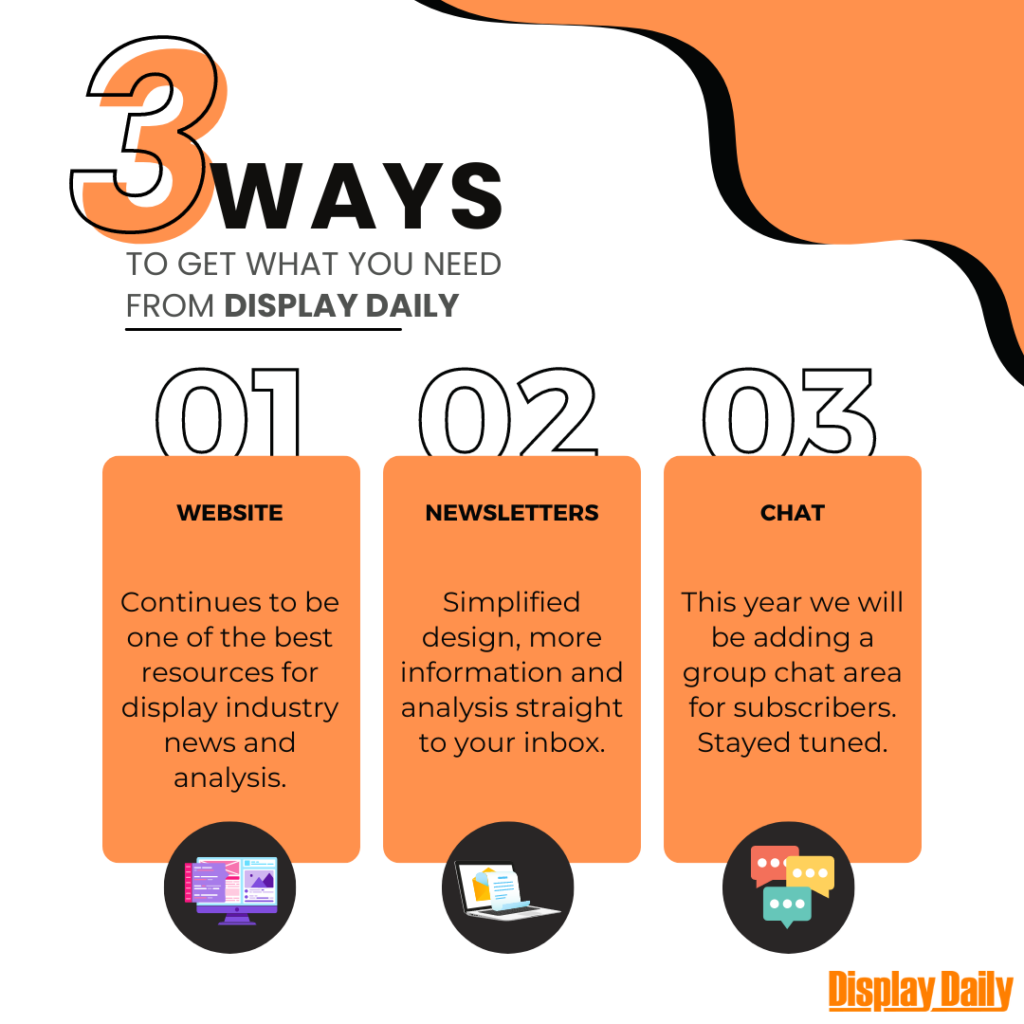 Our new approach will allow us to put more time, effort and resources into creating more original content and delivering greater value. That will mean that the content mix will evolve and formats will continue to change as we react to how you engage with the information we provide. We will also be integrating our research and content to find synergies between our different data sources on Jon Peddie Research, GraphicSpeak, and Display Daily.
However, no matter what directions we take the site, what is most important to us, is what is most important to all of you who come to Display Daily regularly.