Dell had almost the only reasonably broad presentation of client devices and desktop monitors at Gitex. The displays group had an area devoted to its monitors, projectors, the more recent LFDs and even display accessories including mounting arms and adaptors. The MEA market is around 4 million monitors per year, so it is astonishing to us that at the most important event in the region, only Dell seems to take monitors seriously!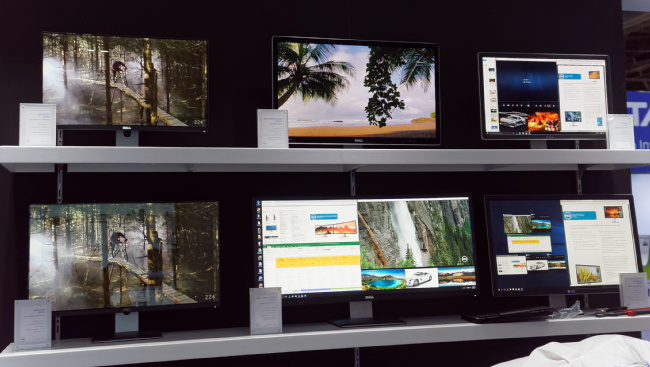 We had another look at the C7016H 70″ display which we reported on when Dell showed it (quietly) at Infocomm. By the time the unit starts to ship in MEA, in Feb 2016, it will include wireless connectivity. The set is unusual in that uses a TV grade panel, but has a full monitor controller/scaler – and so is a hybrid between the TVs that some companies are using in meeting rooms and the full professional 24/7 monitors. The company has had some success with the existing 55″ unit although in some applications it is running up against competition from sets with integrated chips.
Dell has been innovative in displays and was showing its 34″ 21:9 curved monitor – it is seeing interest in this product especially in the dealing room market. It also has a 27″ curved consumer monitor. The financial services segment is a market that is of particular interest and the firm has a new "Large and Vertical" display division that as well as developing the 55″ and 70″ sets is developing new displays for vertical markets such as finance and medical.
Dell is now shipping the P2416D monitor which is a 24″ inch version of its successful 2560 x 1440 monitors and it was being shown on the MKS14 docking stand which can support a range of connectivity as well as charging the notebook. The U2716D is a wide gamut monitor that supports AdobeRGB.
Another new 27″ is a gaming monitor that has response time and supports 2560 x 1440 as well as G Sync functions. Slightly surprisingly, the monitor is badged as Dell and doesn't try to exploit Dell's Alienware brand. On the one hand, this could make it easier for the monitor to be sold on other PCs, but if we had been the product manager, we would have preferred the Alienware brand which is clearly identified with gaming.
We talked to Dell about exploiting mobile devices and the firm is looking at a range of possibilities from wireless charging to integrating the display from the phone onto a desktop monitor.
Many of the latest Dell monitors have quite sleek designs with very minimal bezels. This trend is likely to be continued and further developed in the future.