Corning has released new versions of its Gorilla Glass.
The main smartphone glass has been upgraded from version 5 to Gorilla Glass 6 which increases the durability of the glass and Corning said that on average, in lab tests, Gorilla Glass 6 survived 15 drops from 1 meter onto rough surfaces, and is up to two times better than Gorilla Glass 5. Under the same test conditions, competitive glass compositions, such as soda lime and aluminosilicate, did not survive the first drop. The firm quoted a recent worldwide Toluna consumer study revealed that, on average, people drop their phones seven times a year, with more than 50% of the drops occurring at 1 metre or below.
Dr. Jaymin Amin, VP of technology and product development, Corning Gorilla Glass and Corning Specialty Materials, said:
"Gorilla Glass 6 is an entirely new glass composition that can be chemically strengthened to give it significantly higher levels of compression than is possible with Gorilla Glass 5. This enables Gorilla Glass 6 to be more resistant to damage. Moreover, with breaks during drops being a probabilistic event, the added compression helps increase, on average, the likelihood of survival through multiple drop events."
The company said that products using the glass, which has been formulated to also work well on phones with glass on the back, will appear in the next few months.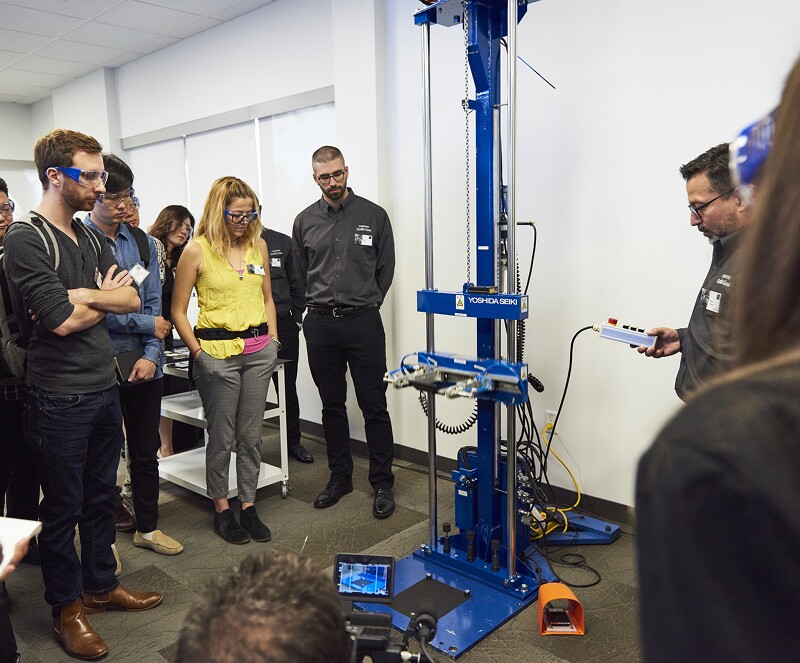 Corning showed the testing of its Gorilla Glass 6. Image:Corning
Corning also released Gorilla Glass DX and DX+ which are new glass composites that are optimised for wearables and are an extension to Gorilla Glass SR+.
Scott Forester, division VP, Marketing and Innovation Products, Corning Gorilla Glass, said:
"We have surveyed more than 85,000 global consumers over the past seven years, and we discovered that nearly 50 percent cited readability as a highly desired feature in a cover glass. But we also know that consumers don't want to sacrifice the scratch resistance and durability that they've come to expect. Gorilla Glass DX and Gorilla Glass DX+ address this challenge by delivering outstanding readability combined with best-in-class scratch resistance and the inherent toughness of Gorilla Glass, making them ideal for today's advanced mobile displays."
Both Gorilla Glass DX and Gorilla Glass DX+ are intended to enhance display readability by improving the front surface reflection by 75% versus standard glass, and increasing the display contrast ratio by 50% with the same display brightness level. These improvements in optical clarity can also lengthen battery life.
A point of differentiation between the two solutions is in the levels of scratch resistance. Gorilla Glass DX features enhanced optics with the same scratch resistance as Gorilla Glass while Gorilla Glass DX+ provides enhanced optics with superior scratch resistance approaching that of alternative luxury cover materials (e.g. Sapphire)