Compound Photonics is a company that has been quietly developing laser projection technology for 10 years. At Display Summit China, it made its first public appearance and described a little of what it is doing. The goal according to speaker Tim Anderson, VP of Product Management, is to bring to market a 3,000 lumen RGB laser projector aimed at the mainstream corporate market for an "affordable" price. The timing and pricing were not disclosed, however.
Anderson described Compound Photonics as, "…the biggest and most capable photonics and projector manufacturer, that you've probably never heard of." And it is true. The company is engaged in the whole ecosystem of RGB laser projection and is highly vertically integrated. Activities where they are active include:
4K Projection Engines
1080p Embedded Projector
4K & 1080p LCoS Display Sub-Systems
High/Low Power Broadband DPSS Green Lasers
Wavelength Stable IR Laser Diodes
IR Laser Gesture Solutions
Diffractive/Holographic Optics Including Active/Switchable Diffractive Elements for Low Cost Efficient Light Management
The company is well funded by three Russian billionaires and they now have over 300 employees working in six locations in the U.S. and UK. The two main facilities are located in Phoenix Arizona, which is the old Three-Five and Colorado Microdisplay LCOS manufacturing site, where LCOS panels are still produced. The other facility is in Newton Aycliffe, UK where they make IR and green lasers.
Anderson then ticked off some of the challenges the projection industry faces in trying to move to solid state light sources and imagers with higher resolution. He noted, for example, that today, 98% of projectors still use a lamp and 65% of products are at XGA or lower resolution, and little is done to combat the image degradation of ambient illumination.
That is why they are fully focused on speckle-reduced RGB laser sources, projectors with 4K resolution and development of screen technology to fight ambient illumination. They also have developed their own LCOS panels with what they claim to be the world's smallest 4K imager at 0.55". That equates to a 3 micron pixel pitch, which is quite small. But this small size may pose issues with the projection optics as they will need to be very high quality to have enough MTF at this spatial resolution.
The company is also working on some very compelling technologies to improve image quality. As shown in the diagram, if color A is the desired color from the content, the ambient lights desaturate it, moving it to point B. The technique they are developing measures the spectrum of the light in the room and then compensates for the color desaturating effects of this light on the projected image. This is possible as the RGB laser light source has a color gamut (~BT 2020) in excess of most content (Rec 709). As a result, the color of A is modified to point C so that when the light are on, it desaturates back to the desired color of A.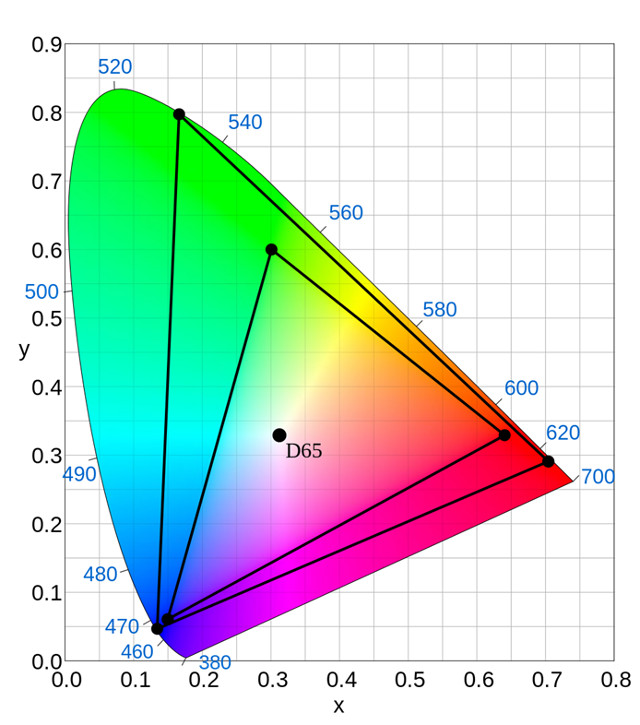 The company is also working on a wavelength-selective screen that would have RGB filters on the screen matched to the RGB laser light. This would allow reflection of just the laser light and the absorption (or deflection) of out-of-band light.
There is a lot more going on at the company, but this is all they chose to reveal at this time. Stay tuned, however. – CC