Last year, we were very impressed with the reflective technology shown by ClearInk. The company has a technology that uses eletrophoretic particles to frustrate the reflection of rays impinging on the display surface. As the particles can be very close to the front surface, the speed of response can be much faster than the EPD technology from E Ink. (Check our article ClearInk is a Clear Highlight of SID 2016 for more details). The company also announced a deal with Merck at the beginning of this year, so we were pleased to catch up.
We met with CEO, Frank Christiaens, and Dr. Lorne Whitehead one of the co-inventors of the technology (and who was involved with Brightside Technologies that Dolby bought to accelerate its HDR business).
There were a number of developments on display including monochrome motion video, the combination of video and static text and a new colour display based on the use of colour filters. Last year, the company had a prototype filter, but it had been made using the company's inkjet printer! This year, the filter was professionally produced and the colour performance was much better with better saturation. The claimed reflection rate is 38%, which is very high and without the 'metallic' look of many other highly reflective approaches. The monochrome display shown has 212 ppi, 83% reflection and 20:1 contrast. The company is still finding it challenging to get the active matrix substrates that it would like, but has been able to create some good demo displays.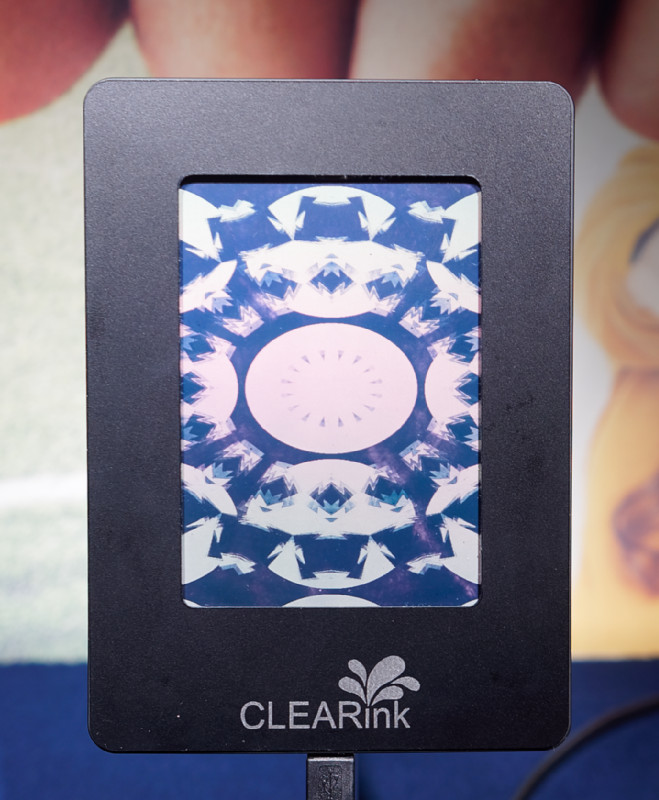 Clearink has mono displays or colour. Image:Meko
The motion video performance was very good. Although there is a limited grey scale and, at the moment, frame rate is only 24 or 30 fps because of driver restrictions, the video performance is surprisingly good and looks responsive and sharp, with little smearing. Eventually, the company expects to get to 60 fps. The company is still developing the dedicated drivers needed for the display, although it has been able to start from LCD drivers and is modifying them, rather than having to start from scratch.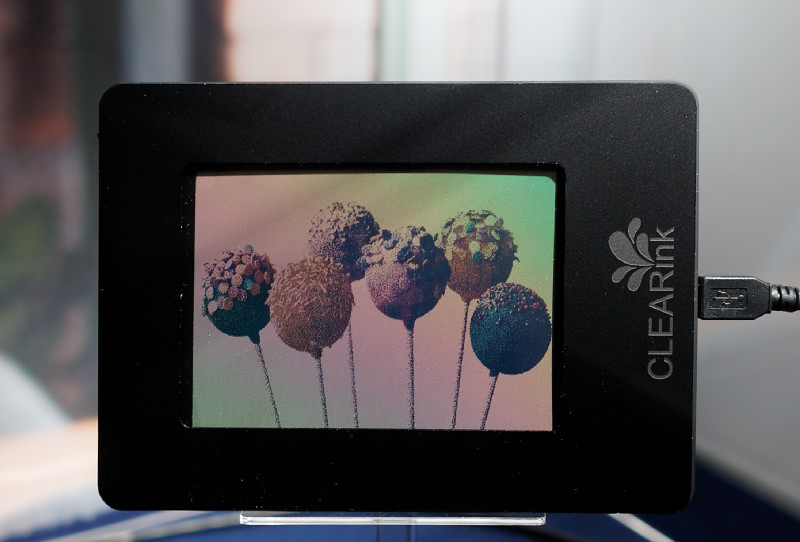 ClearInk's colour is good for a reflective display. Image:Meko
In terms of commercialisation, the company has booked its first licensing revenue ($3 million in 2016) and will start trial manufacturing with its partner, Truly in Shenzen. As we have previously reported, one of the advantages of its process is that it can use an existing LCD production line with very little modification. In the current circumstances, these will be cheap or free, we think.
Volume manufacturing will start in January 2018 in a G5 fab in Shenzen and the company has a deal with Jinfu in Suzhou for eBooks for schools. ClearInk told us that it has had equity investments from its first two customers. As well as the eBook market, ClearInk expects applications in wearables, ESLs (IoT), automotive and digital signage.
Analyst Comment
I may have met Dr Whitehead before, when I met up with Brightside many years ago. At SID he tried to spin the idea that the technology was really designed to help to get children 'out of the house' by making video more visible in daylight. I'm afraid I wasn't entirely convinced! Honestly, it seems perfectly OK to me to just have a really good idea for an exciting new display technology, without having to add a moral imperative!
I have watched a lot of different start-ups over the years. There have been few that seem to have such a 'joined-up' story as ClearInk which must have been helped by the strong experience of its board. (BR)