Clearink is an intriguing company that I have been writing about since it came out of stealth mode in 2016 at SID and was one of my four highlights of that event. It has since steadily progressed and I recently had a chance to catch up with VP of Marketing, Sri Peruvemba, in a call.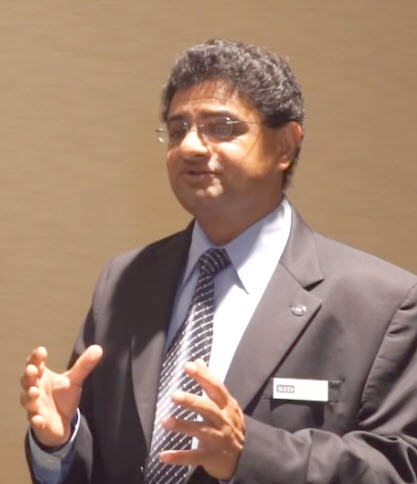 Clearink has a unique technology that offers a new approach to low power displays that can be bistable (like E Ink) but also with variants that can support video rates (unlike E Ink). The technology is based on the idea that light is reflected using TIR, but where electrophoretic particles are attracted to the reflective surface, the TIR is frustrated. The critical point is that the movement of the particle can be very small, and therefore much faster than other EPD approaches.
The firm has a strong management board with a lot of experience. The technology is designed to be extremely similar to LCD processes in manufacturing and there are lots of LCD makers that are struggling to stay competitive and are looking for new technologies. Product makers are also looking for new unique devices and the trigger for our catch-up with Peruvemba was the announcement of an investment by Lenovo in the firm. In May, the firm said that it had signed a deal with a 'leading tablet maker', but it seems that this is not Lenovo, so high profile customers are developing. The firm has been very focused about picking a relatively small number of clients so that it can focus its efforts. Peruvemba told us that "95% of potential clients' have been declined for now as the company focuses on unique and market leading companies.
The company now has offices in Fremont, California, Canada, China (Shenzen) and Eindhoven (where, of course, the low power display start-up, Liquavista, was based). As well as Lenovo, the firm has investment from M Ventures, which is the investment group of Merck. Merck is developing the ink for the firm's displays.
Since my call with the firm, another announcement was made – that it has done a deal with Tianma of China to work on manufacturing of modules and backplanes. That's a big deal as Tianma is the largest current supplier of LTPS smartphone panels. It's a company that's on a roll, not a failing company that is thrashing around for a new market.
One of the big areas for improvement since last summer is in in performance. The firm told us that its 9.7″ panel has achieved 16:1 contrast for colour and 20:1 for monochrome. These don't sound high when compared to transmissive displays, but are very good for reflective applications where power is such an issue. As well as tablets, wearables are a target and a 1.32″ display has also been developed.
Colour gamut has been pushed to 19% of NTSC and frame rates can be supported from 24Hz to 30Hz. That's enough for video playback, but Clearink continues to push to faster frame rates so that pen-based performance is even better.
The other big change in recent months has been in reducing drive voltages. When we spoke to Peruvemba in January, drive voltages for the video version were 10V to switch and 5V to hold. However, in bistable mode, the voltages were down to 4V to drive and 2V to hold. By the end of February, these voltages had been reduced to 3V to drive and 1V to hold.
Getting optimised drivers is one of the big barriers to display start-ups. Finding the NRE charges or persuading a driver company to invest to make driver chips are often very substantial hurdles. Getting the drive voltage down to those already widely used will be very helpful to Clearink which is continuing to work on optimising the driving waveforms.
Reducing the drive voltage also helps with power consumption. Peruvemba told us that even with existing higher voltage drivers, devices should be able to run video for five hours per day for 20 days. That increases to 30 days for static content.