At the upcoming ISE in the Amsterdam RAI February 10 -12, Christie Digital will officially introduce its latest projector targeting the Rental and Staging market, the Boxer 4K30 projector. This projector is a 3-DLP projector with 4K (4096 x 2160) resolution and 30,000 center lumens output (29,000 ANSI). The projector uses 1.38″ DMDs and provides 2000:1 contrast. Perhaps the most surprising thing about the projector is its lamps: two cartridges each with three 450W mercury lamps, for a total of six lamps. Conventional projectors with 30K lumen output use xenon lamps in the 6500 – 7000 watt range.
Christie Boxer 4K30 Projector
The use of six mercury lamps vs one xenon lamp provides two big advantages to Christie's rental and staging customers. First, the lamp power is lower, for a total of 2700W of lamp power vs. 6500W. This translates into lower total projector power. Christie says the Boxer 4K30 will operate on a 19A single phase 200-240V circuit while competitive projectors with xenon lamps require about 22.5A. Since 20A single phase circuits are more common, this may be a big advantage to the rental and staging company when it is time to set up the projector. The projector also features a Low Power Preview (LPP) mode. This allows a Boxer projector to be powered from a standard wall outlet (e.g. 15A, 110V in N.A.) that allows the projector to run a single lamp. This can be an advantage in the maintenance depot, allowing the projector to be set up, tested and software upgraded off normal wall power, or an advantage in the field, allowing the projector to be set up and aligned even before the 20A 220V power is available.
The second advantage of mercury vs xenon is the longer lamp life. The 450W lamps in the Boxer 4K30 are specified at 1500 hours to 70% output while competitive xenon lamps typically have a life of about 750 hours. According to Christie, the Boxer 4K30 is approximately 1.5x to 2.0x less expensive to operate as compared to equivalent brightness xenon projectors.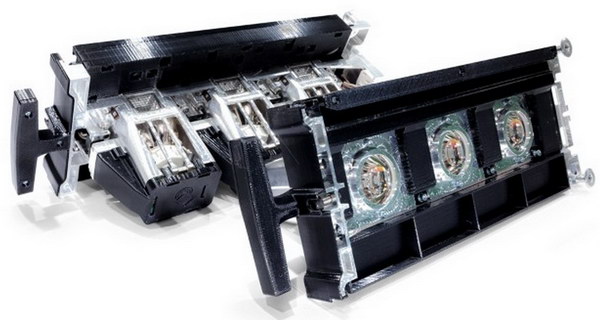 Lamp cartridges for the Christie Boxer 4K30
The 450W lamps come in two cartridges, each pre-aligned and pre-installed in the projector. Android NFC apps are available so rental and staging companies can check on the status of the various lamps. Currently, according to Christie, Apple does not allow the NFC capabilities in the iPhone 6 to be used for this application. It is intended that both cartridges operate together – operating one cartridge for an output of 15,000 lumens is not an option. The lamp power supply is designed to allow the projector to be dimmed by up to 20%, however. Also, if a lamp fails, the other lamps will continue to operate, with a lumen loss of about 5000 lumens per failed lamp.
Christie says the Boxer 4K30 has an excellent color space and supports the Rec709 HD color space. Typically, mercury lamp-based projectors have a cooler, bluer cast as compared to Xenon-based projectors which appear warmer and more yellow. Mercury has a typical color temperature of around 7600K as compared to xenon with a typical color temperature of 6800K.
Christie has two fixed focal length lenses for the projector and seven zoom lenses. These lenses cover the range of 0.72:1 to 7.69:1 throw ratio. All lenses except the 0.72:1 support motorized horizontal and vertical offset. An adapter is available for rental and staging companies that own existing D4K lenses. Christie M and J Series lenses are not usable with the Boxer 4K30 projector.
Another advantage of the Boxer 4K30 projector over competitive projectors is its smaller size. Dimensions are 959 x 597 x 305 mm (37.75 x 23.5 x 12 inches) and the weight is about 68Kg (~150lbs). This low weight allows the projector to be moved about by two people without a fork lift.
In addition to the advantages provided by its lamp system, the Boxer 4K30 has all the features required by rental and staging companies. These include Christie TruLife processing; built-in warp and blend functionality; upscaling of HD signals to 4K; and a variety of inputs including 3G-SDI, HDBaseT, Display Port, DVI-I and HDMI. The Boxer 4K30 also supports all existing J-Series, M-Series and D4K option cards except for S-Video. There is also an optional rigging kit available for the projector.
The Boxer 4K30 will be available in April, 2015. Price has not been announced. Matthew Brennesholtz