I've been penning my thoughts for Display Daily for well over a decade, and what a turbulent time that's been for the display industry! Back in December of 2011, no one could have predicted the state of, not only display technology, but the entire media creation and consumption marketplace. "Chaotic" is an appropriate word to describe it!

Just for fun, I've gone back a decade into my archives to see what the hot button issues were, and how they eventually resolved themselves (or didn't). Hold on tight, as we set the controls on the Way Back Machine…
From HDTVexpert.com:
"NPD DisplaySearch's latest numbers (O4 2011) show that LCD flatscreen TVs now account for 86.5% of all TVs sold worldwide. Plasma continues to decline as it pushes into a larger screen 'niche,' grabbing a miniscule 6.9% market share. Amazingly, CRT TVs still held a 6.4% share, while RPTVs managed to eke out a 0.0004% market share – look for this category to be killed off completely in 2012."
Also:
"Samsung managed the amazing feat of increasing its market share to 26.3% from Q4 '10 to Q4 '11, an all-time record and an amazing growth rate of 18% in an otherwise-flat (no pun intended) industry. LG was far behind Samsung with a 13.4% market share, essentially unchanged since Q4 '10. As for Sony, they also held steady at 9.8%, basically the same as a year before, while Panasonic saw a decline of 2% to 6.9%. Sharp – who continues to sell fewer LCD TVs than Panasonic, incredibly – experienced a decline of 7% from Q4 '10 to a 5.9% market share in Q4 '11. These five brands accounted for 62.3% of the 74,236,000 TVs sold."
Well, we all know that the last plasma TVs rolled off assembly lines in 2013 as Panasonic, LG, and Samsung had to write off enormous capital investments in plasma fabs. (although my Panasonic PDP is still doing sterling service, although no longer as my main TV [My PDP Finally Gets Re-assigned to Guests]- editor) CRTs and rear-projection TVs are now museum pieces. (The latter product category had about a ten-year run using microdisplay imaging) Samsung continues to lead the market in worldwide LCD TV shipments, with TCL and LG jockeying for second place and Hisense and Sony bringing up the rear. Panasonic exited the business completely in the United States, as did Sharp (now majority-owned by Foxconn).
CES Looms
With CES looming next week (I'll be there one more time), it's worth a look back at my Display Daily column for January 2, 2012:
"The television business is less fun than a root canal for Japanese manufacturers these days, and I predict one of them will finally throw in the towel to concentrate on other, more profitable CE lines. Will it be Sony? Not likely, even though they just agreed to pay $940 million to Samsung to exit the two companies' seven-year-old S-LCD joint venture. Sony will instead try to regain its financial footing (and pride) by outsourcing all TV manufacturing to Chinese fabs, which leads one to wonder what convincing argument can still be made to buy the Sony brand.

Sharp? They're decided to concentrate on making really big screens for a really small market. How long can that strategy work? Panasonic? We may see more production shift to lower-cost LCD and away from plasma to save $$. Toshiba? Hanging in there, but betting the farm on autostereo TVs isn't going to get the job done. Mitsubishi? Their market share has almost evaporated, and they are the most logical candidate to throw in the towel."
Remember S-LCD? Toshiba (along with Hitachi) finally bailed on television manufacturing, licensing its brand name for a line of low-cost LCD TVs. (Think Target and Wal-Mart.) And Mitsubishi did indeed throw in the towel later in 2012. Its projector division followed suit not long afterward, as the company shifted its focus to tiled videowalls for command-and-control displays.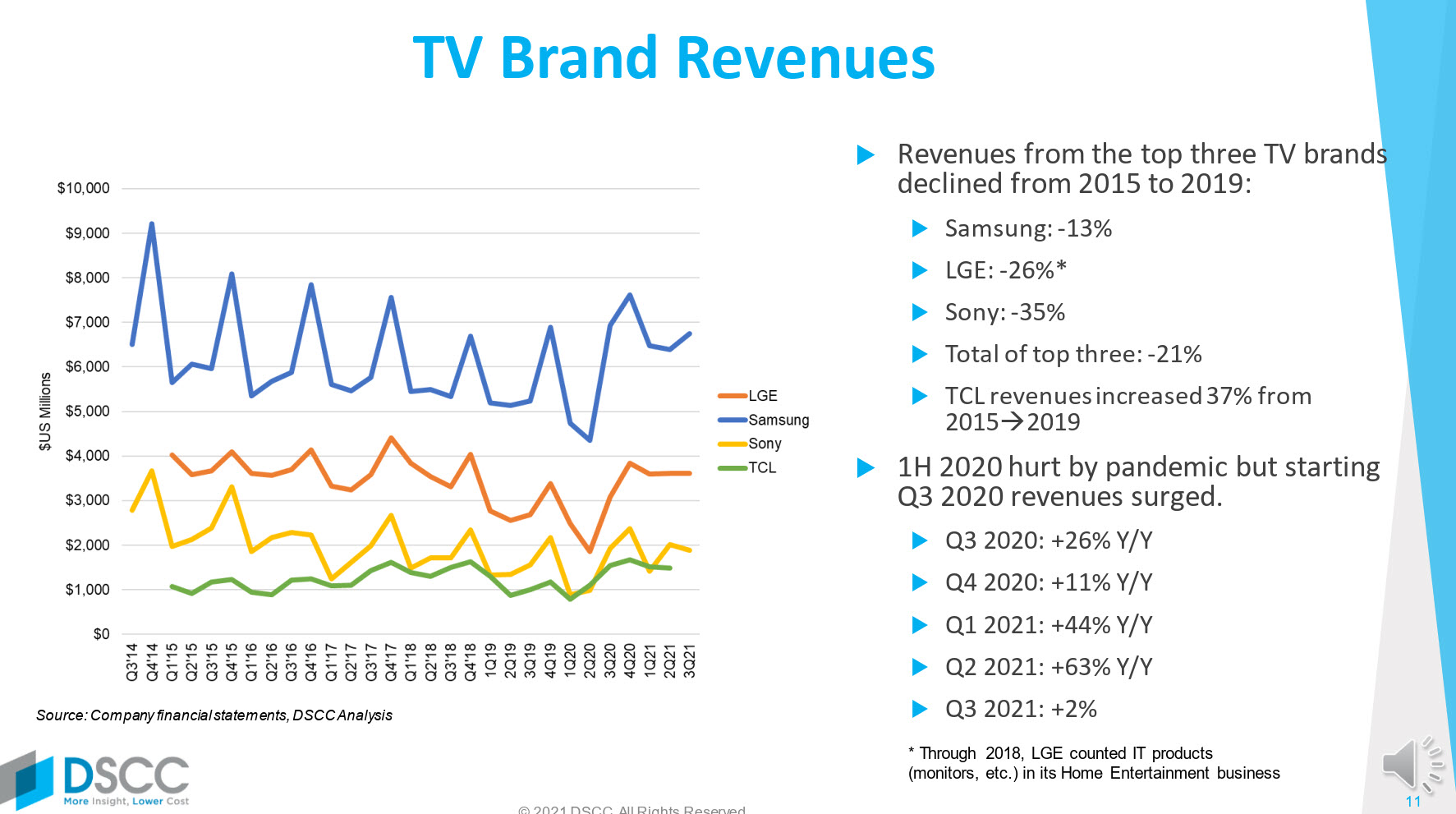 Data from DSCC shows Samsung still well ahead on TV Revenues
Also from that January 2 missive:
"3D TV is largely a bust so far, at least in North America. NPD DisplaySearch's most recent numbers make the case: According to their report from December 28, 3D penetration as a percentage of all TVs shipped in North America reached a peak of 10% in Q2 2012 and declined to 7% in Q3 2011. NPD's research shows that North American consumers favor large, inexpensive TVs with fewer features. Meanwhile, Western Europeans and Chinese are far more revved up about 3D, LED backlighting, and Internet connections."
Another excerpt:
"Connected TVs and peripherals, such as wireless Blu-ray players and set-top boxes from Roku and Apple offer the best chance for the TV industry to revitalize itself. A recent study from Parks Associates found that 20% of all households with broadband connections plan to buy a new flatscreen TV this year – and that twice as many of them favor Internet connectivity over other features, including 3D.

The report states that 20% of middle-class households (those with annual incomes of $50,000 – $75,000) intend to purchase smart TVs this holiday season, compared with 12% of households with incomes about $75,000. But consumers who intend to purchase a smart TV this holiday season are also more likely to cancel or downgrade their pay-TV service packages within the next year. And don't think for a moment that pay TV operators take that threat lightly!"
As it turns out, pay TV operators didn't take that threat as seriously as they should have. Roku went from an obscure brand to a major player in SVOD content delivery, and Netflix amazed analysts with its year-after-year double-digit growth. The result was an explosion in video streaming and a mass exodus from cable TV channel bundles that continues to this day, thanks to premium SVOD channels like Apple TV+, HBO Max, Netflix, Amazon Prime, Paramount+, Peacock, and the 800-pound gorilla Disney+. Fast broadband is the thing consumers want most now, not 200-channel bundles they'll never watch.
Looking Ahead to Las Vegas
So…what do I expect to see in Las Vegas next week, particularly since LG won't be showing any physical product in its mammoth booth (just self-service kiosks), and LG Display won't have a presence at the show? With the number of exhibitors down about 50% from January 2020, it won't be nearly as crowded. Only a handful of automotive manufacturers will attend, like GM, Mercedes, and Hyundai. Sony and Samsung will be there, along with Hisense and TCL. Of course, we're all looking forward to previewing Samsung's QD-OLED TV, and I'll be curious to see how much 8K TV will be promoted.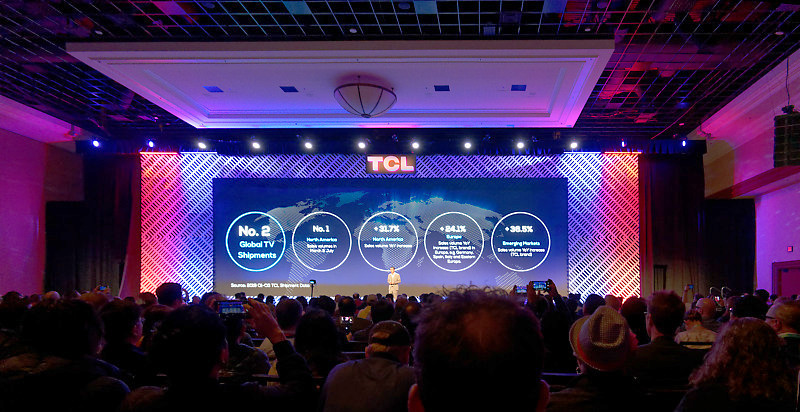 I suspect the press events will be smaller than this one with TCL at CES 2020 (Image:Meko)
Will the hype around 5G continue? Will any TV brands incorporate it, like Konka did two years ago? How many MicroLED displays will show up at the LVCC? What's going on with HDMI and DisplayPort? Does anyone care about UltraHD Blu-ray anymore? Who will show foldable displays? What's new in automotive displays? Will we see more IPv6 WiFi products at the show? (Who remembers 3DTV?)
All good questions. I hope to come back from Vegas with a few answers… (PP)
Editor's Note – since this was published, GM, Mercedes-Benz, BMW and others have dropped out of CES.