Matt Brennesholtz tries a Brother WD-330C AiRScouter at NAB NY (Credit: M. Brennesholtz)
Brother showed their AiRScouter see-around monocular augmented reality (AR) HMD at NAB New York. Some versions of this product had previously shown at NAB in Las Vegas. The AiRScouter primarily targets camera operators who have a need to both see the real world and the image shown by the camera simultaneously. The largest part of this market is drone operators where FAA Part 107 regulations require that drone operators maintain a visual line-of-sight (VLOS) with the drone. This requirement can be met while still seeing the image produced by the drone camera by either a see-around HMD or a see-through AR HMD. Others who would find this capability useful, according to Brother, are camera operators who are required to move around while operating the camera, for example backing up while both watching the actors and the image generated by the camera.
Brother makes four different versions of the AiRScouter, as shown in the table. All the units produce the equivalent of a 19" monitor at 1 meter. There is a diopter adjustment to accommodate people wearing glasses. This adjusts the apparent distance of the virtual image without changing the angular FOV.
Model

WD-200B

WD-300C

WD-320C

WD-330C

MSRP

$599

$799

$1499

$1699

Resolution

720p (1280 x 720)

720p (1280 x 720)

720p (1280 x 720)

720p (1280 x 720)

Video Input

HDMI with HDCP (720p max) 60 or 59.94Hz

HDMI with HDCP (720p max) 60 or 59.94Hz

HDMI with HDCP (1080p, 1080i, 720p) at frame rates from 23.98 – 60Hz

SDI (1080p, 1080i, 720p) at frame rates from 23.98 – 60Hz

Control box

HDMI connector, 4.5″ x 3.3″ x 1.1″

Miniature control box with full-size HDMI connector

HDMI connector, 4.5″ x 3.3″ x 1.1″

BNC SDI connector, 4.9″ x 3.3″ x 1.1″

Power

2.5W, Micro-USB, 4 hour internal battery.

1.5W, USB Micro-B Port

3W, USB Micro-B Port, 3 hour internal battery

3W, USB Micro-B Port, 3 hour internal battery

Ingress protection

None

IP54 (head display unit only)

IP54 (head display unit only)

IP54 (head display unit only)

Field of View

17.8°

25.6°

25.6°

25.6°

Credit: Brother, Compiled by M. Brennesholtz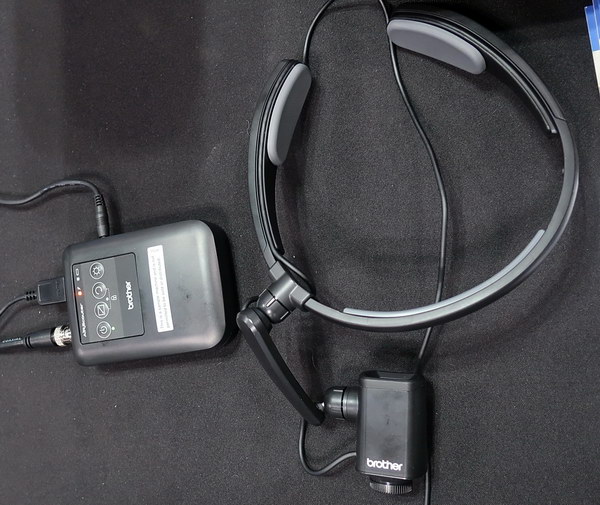 Brother WD-330C AiRScouter, with headband, display unit (bottom) and control box. (Credit: M. Brennesholtz)
I got to try the unit and, frankly, I was disappointed at the image quality. My biggest complaint was the color artifacts in the image that looked like color sequential artifacts. The Brother webpage says nothing about the display technology. The Brother rep I talked to at NAB-NY didn't know anything more about the technology other than it was LCD. I suspect it was a color sequential LCoS LCD display. While this unit may satisfy the FAA VLOS rules on keeping a drone in view while watching the camera output, I found the display unit covered a disturbingly large portion of my FOV, making it difficult to see distant objects properly and very difficult to see them in 3D. If I were a drone or camera operator who needed to see both the outside world and the image from the camera, I'd give this unit a pass. –Matthew Brennesholtz