Continental Automotive GmbH (Regensburg, Germany) is one of the world's largest suppliers of automotive components, electronic subsystems, and tires.
During the company's Press Day press conference, its spokesman made several interesting points.
The company, through a recent acquisition, is developing flash Lidar, which gives "much better picture quality under all circumstances" than standard scanning Lidar, the spokesman said.
Horizontal richness of data — how different cars brake at same location, for instance — demands a cloud structure.
AR subsystems must get smaller and provide higher-quality display.
In the Q&A, a representative from a transportation infrastructure organization asked what smart-highway infrastructure is required for Continental's autonomous car system. The answer was excrutiatingly polite, but stripped of the diplomacy that answer was basically, "We don't need smart highways." What we do need, the Continental rep said, is freshly painted lane markings and accurately updated data for the cloud-based highway map. This is a widely held view within the connected-car world. Local situational awareness will be obtained with vehicle-mounted sensors supplemented with vehicle-to-vehicle communications. Sensors mounted by or buried under the highway are unnecessary, expensive, and hard to update.
A Continental Breakfast

On the following Saturday morning, Continental hosted a press and analyst's breakfast and booth tour at the Renaissance Hotel. Helmut Matschi, Managing Director of the Interior Division, delivered the I'll-talk-while-you-eat breakfast comment.
The interior division focuses on system integration into vehicle, and they make high volumes. The Interior division takes care of information management. (The chassis division deals with the big, heavy stuff.) The interior division is an €8 billion business, selling millions of electronic digital products and assembling 66 billion components per year.
The division is supporting three main industry trends: 1) electrification; 2) connectivity; and 3) automated driving.
Matschi identified the division's three highlights at CES 2017.
Telematics. The company uses the cellular network and has also teamed with satellite company, Inmarsat. Connective redundancy is crucial because the vehicle must always be connected.
HMI. The head-up display (HUD) must have a larger size than it does

today

and a larger field of view to show the driver pedestrians and line markings. Implementing this with conventional technology would result in a HUD that is too large for OEMs. Continental recently invested in Digilens because the company's holographic waveguide technology, as used in aeronautics, could solve the automotive problem (see DigiLens Secures $22M from Key Strategic Partners). Matschi hopes for a product in 2022. If the driver could clearly and consistently see what the car "knows," it would "create trust toward the system."
Conti bought fleet management company Zonar. Zonar will help Conti add services to its growing services portfolio, which are currently in the "triple-digit millions of dollars."
In the Q&A that followed, Matschi made the following points:
In the Digilens HUD solution, the light sources can be DMD, and the volume of the unit can be 30% of the volume of

today

's units, making them much easier to fit in the crowded area under today's dashboards.
If all cars have HUDs, the current HUD/cluster-display redundancy is no longer necessary, which will cause major changes in vehicle's electronics architecture.
High-resolution flash Lidar is a crucial part of Conti's solution. The system does not scan so it has no mirrors. The sensor can see through snow and rain because of the optical wavelength used.
Uplink and downlink can be separate. If the uplink is for acknowledgment of downloads, it can be cellular, while the high-data downlink for software downloads and the like would be by satellite.
V2V (vehicle-to-vehicle) communications over 4G has a 100ms latency. 5G has about a

1ms

latency. During the walk-around that followed, it was mentioned that the the company's e-Horizon application now includes traffic-light assist, which is a V2V function.
Vehicle-to-satellite (V2X) is the next step, with updating of a single electronic control unit (ECU) and then simultaneously updating multiple ECUs in the vehicle.
Following the breakfast comments, the invitees were taken to various demonstration areas for presentations by area specialists covering both Continental and customer systems.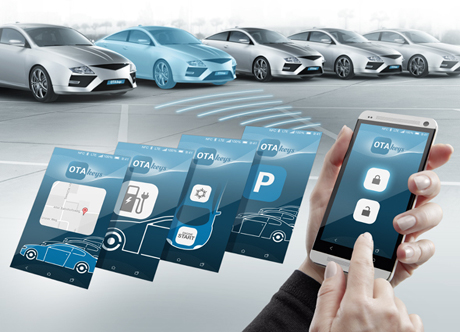 OTA Keys (Belgium) makes a system for sharing and fleet solutions, which is based on a virtual key app on your cell phone. One option is one-time access for Uber or package delivery. Another possibility is peer-to-peer car sharing. A vehicle can be shared by transferring the virtual key to another person and the key-share can be time-limited.
One concept involved a separate strip of OLED tell-tales (okay, "idiot lights") off the cluster so that the display designer doesn't have to reserve real estate for them. It can also make it easier to use the same cluster in different models.
The HUD area specialist extended Matschi's remarks. Continental has the first mass-production DMD HUD in the world, he said. It has four times the resolution as current units, true-color technology, 12,000 cd/m² or more, and will launch in February. He added that next-generation infotainment systems will be connected with Spotify-like functions, cloud-based navigation, and analytic scheduling with internet systems, Google calendar, and live traffic data. Your correspondent confirms that this HUD really did have a very large and bright image.
Zonar, the fleet management company Conti acquired, has a mobile vehicle-analytics app that manages vehicle status, configuration, and assets. It also incorporates a geofence that provides notification when a vehicle leaves a designated area. A dealer or fleet manager can manage multiple vehicles and can view trouble cards for all vehicles. All of this is managed through a cloud-based vehicle data platform.
Roger Lanctot of Strategy Analytics asked, "You have connected tires, don't you?" The answer, after a pause: "Yes, we do. We are heading toward predictive maintenance."
After this flood of information, automobiles outfitted with various Continental systems were available for inspection. –KIW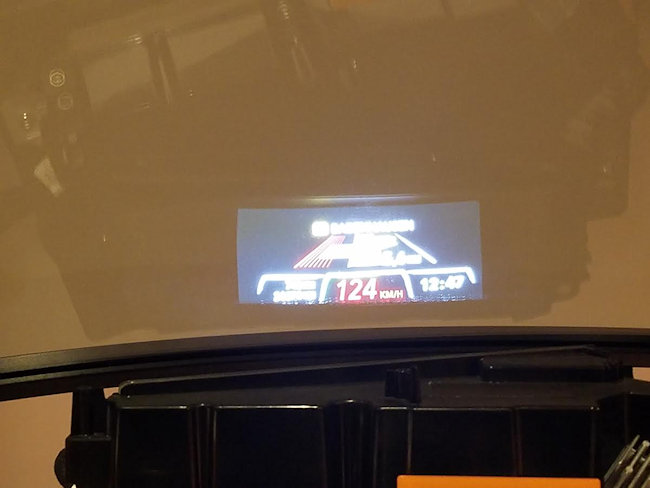 Continental's DMD-based HUD really did show an image that was brighter and larger than many others. These images are difficult to photograph and generally look better when viewed directly. (Photo: Ken Werner)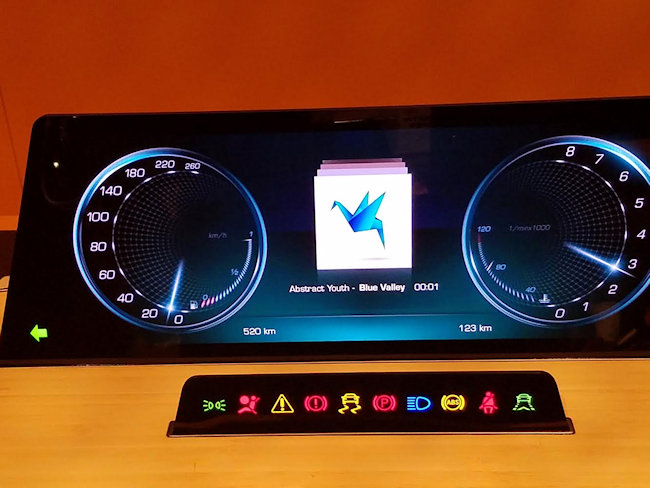 Continental showed a separate OLED panel for showing tell-tales. By removing these "idiot lights" from the cluster, Continental intends to provide more freedom to the cluster designer. (Photo: Ken Werner)