BOE has gradually been boosting its marketing around the world and had a good array of different panels for a range of applications this year. although CSOT of China, which came to San Jose last year did not take a booth this year) . BOE has been boosting its global presence and now has an office in Frankfurt as well as a US office.
We started by looking at a 98″ UltraHD panel that is intended for HDR and that has a black level that is claimed to be 0.001 cd/m² and 1000 cd/m² of brightness. The panel is available now and was shown alongside a 65″ 8K panel that is just 3.8mm thick.
Moving along, we saw an 82″ curved panel with 10240 x 4320 resolution (136 ppi), 102% of NTSC, 360 cd/m² of output and a radius of 6,500mm.
There were a number of IT panels including a 34″ curved 3440 x 1440 21:9 monitor panel with 1900mm radius. The company told us that it would have a 900mm radius panel by the end of this year. It uses BOE's ADS technology, which is the company's name for FFS. Brightness is 300 cd/m² and colour is 99% of sRGB. Two panels were shown, however the plan had been to show three – but the desk turned out to be too shallow!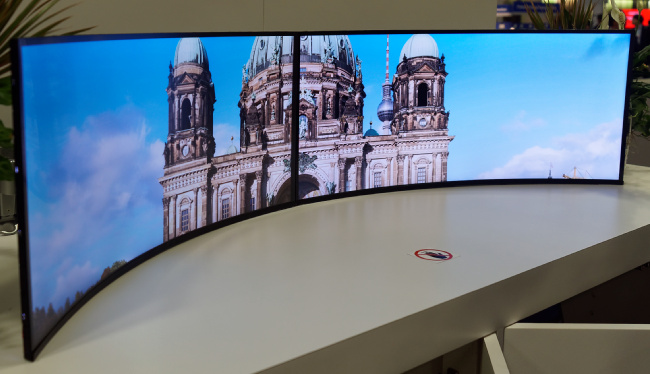 A 'borderless' monitor panel has a 21.5″ diagonal with FullHD resolution and bezels (under the cover glass) of 3.7/3.7/3.7/7.2mm and is available immediately. Brightness is 250 cd/m² and colour gamut is 72% of NTSC.
For mobile IT, it was showing a 15.6″ panel with UltraHD resolution (282ppi), using an oxide backplane and with 1.25mm borders (using gate on array techniques). The product should start shipping volume in 2017. Brightness is 350 cd/m² and contrast, 1,000:1.
Another panel of the same size and resolution uses BOE's Bright View 3 technology, but with an amorphous backplane and 72% NTSC colour coverage. Power consumption is claimed to be 50% of a previous equivalent product.
A 12.6″ tablet panel was being shown with 2880 x 1920 resolution (3:2 aspect ratio) and intended for high end products. It covers '80% of NTSC' as a colour range and has 2.8mm borders, while thickness is 1.9mm. Brightness is 320 cd/m²
Touch was also being highlighted with on-cell touch currently available and in-cell touch coming later this year. A 15.6″ FullHD panels with 120Hz / 10 point touch had a border of just 2.5mm.
In the mobile space, a 5.5″ UltraHD panel (806ppi) was shown in an auto-stereoscopic mode and with brightness of 330 cd/m².
A 10.1″ UltraHD panel uses OLED technology while for VR applications, BOE had put UltraHD into a 2.8″ module (1,600ppi!) and with 200 cd/m² of output and 100% NTSC colour. It uses an LTPS backplane and the BOE Bright View 3 LCD technology.
There was a 5.7″ 1440 x 2560 rigid OLED (515 ppi) that BOE says uses a new pixel arrangement and algorithm. Colour support is 100% NTSC and contrast is 20,000:1 and brightness is 350 cd/m².
A 5.2″ FullHD LCD panel has borders of 0.5/0.5/0.7/2.6mm with integrated touch.
Like Samsung, BOE had a flexible/foldable display with a 4.35″ diagonal and 100% NTSC support. The resolution is 1120 x 480 amd the bend radius was quoted as 5mm. Brightness is 350 cd/m².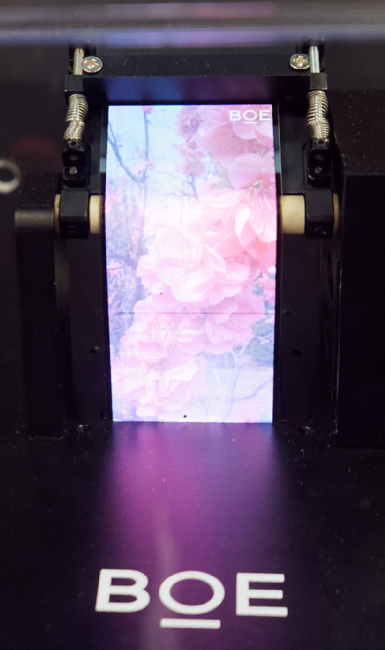 Planning to match Sharp, BOE has technology for free-form displays and had an eye-catching demonstration of its initials cut in displays. A 12.3″ automotive display was shown with dual curved tops and 1920 x 720 resolution (8:3 aspect ratio) with 1,000 cd/m² of output at 85% NTSC colour. Environmental conditions are quoted at -30º to +85ºC and the displays had borders of just 0.9mm.